Expedition Nevado Ranrapalca (6162 m)
About Nevado Ranrapalca: "Peruvian Andes – the Himalayas of South America" The name comes from the ancient Quechua language and means "place of many rocks." Ranrapalca Chinchey is in the solid, which can be seen very well from the city of Huaraz in its proximity and dimensions. The 6000 is one of the more unfrequented mountains of Peru, due to its technical demands. To climb this mountain, you need a lot of experience and a good physical condition. Before you try on the ascent, you should have well acclimatized in any case.
The Quebrada Ishinca Base camp: Besides a wide plan to put on your tent – offers indeed various possibilities to climb some interesting routes, as Urus Este Normal route, shorter than the Ishinca Normal one. Also the ascent of the neighbouring Urus Central and Urus Oeste shows low difficulties, but these latters are rarely climbed in favour of the very popular Urus Este. The super-classic Tocllaraju NW ridge and the most difficult Ranrapalca Normal route belong to another climbing range and complete the possibilities.
Ranrapalca is one of the most breathtaking mountains of Peru´s Cordillera Blanca. It is easily seen from Huaraz, and overwhelming to everybody climbing nearby Ishinca (5.530m), its North Face is a superb climb.
The Routes of Ranrapalca:
First time I attempted Ranrapalca was in the summer of 99 via the NE Spur; half way on the route my two basque friends and I had to traverse to the left to catch up with the NE slopes because the snow-ice conditions at 10:00 am where as bad as waist deep corky snow while climbing the sharp´s edge ridge with 600m fall to one side and 150m fall to the other. Not to improve, because the rockfall from the rocky band way above the NE slopes was continuously testing our nerves to the point to make us bail out. NE Slopes, D- From the Ranrapalca-Ishinca col, that can also be gained from Q. Cojup. Climb the easy slopes to the left of the ridge then two sections through seracs, 60º. And crossing the bergschrund and climbing the ice-wall of a small serac is the crux, specially if we have to find the point to go through it in the middle of the night with the only help of the light of our headlamps. On an easier terrain you could join the NE ridge and climb it to the summit plateu or climbing the slopes straight forward to the summit plateu. Traverse 500m South to the sharped summit.
NE Ridge: D From the Ranrapalca-Ishinca col climb steep mixed NE ridge to snow summit platform. Traverse 500m South to the sharped summit.
N Face: Scandinavian Direct 1996, MD/MD+ (V,60º[90º],VI+[V],900m)The route starts to the right of the central couloir of the N.Face. We would have to cross over the rock band on our right, and ascend the snow cone for about 150m. Traverse right under the serac over rock, mixed, ice an snow to head again up in order to climb between the 3rd. and the 4rth. group of rocks in the middle of the face, before arriving to that point we will have to go across the bergschround. From the rock group head up a little left just to leave another rock group right by our left. Keeping on that line we would be getting closer to the N spur to meet with it right at the very top of the face. A short rock section and a gentle snow slope will leave us in the summit plateu. Looking south opposite to us the knife edged summit crowning the summit plateu.
Descent via NE slopes: I suggest to abseil the first part. Some years it is hard to find the way through the bergschround of NE slopes, make sure to be there by daylight.
Recomended gear: Two ropes, some: friends (big/med sizes), nuts, ice-screws,snow-stakes,pegs and two iceaxes.
Difficulty

Condition

Included meals: B=breakfast; L=lunch; D=dinner
Services included in the prices:
Peruvian qualified and experienced local guide/s
All meals during the tour
Camping tents (2 persons)
Porters Nevado Ranrapalca (2 pax 1 porter)
Kitchen equipment
Cooks
Donkey driver and donkeys
Transportation as tour schedule / Huaraz
International flights to Lima / Peru round trip
Transfer from the airport for bookings of individual flights with different times of arrival / departure
Exit tax at the airport in Lima
Travel accident and health insurance
Luggage insurance and trip cancellation
Meals in restaurants in Lima and Huaraz
Personal expenses
Acclimatization Tour
Entrance fees to the Huascaran National Park
Transfer from the Hotel to the airport and bus station
Domestic flight Airline ticket LC-Peru
Hotel Casa Andina 2 nights in Lima
Hotel San Sebastián 4 nights in Huaraz
Pick up at the airport in Lima to the Hotel
Personal equipment (such as boots, ice ax, crampons, harness, sleeping bag, mat, Goretex, etc.)
Tips
What to Bring or take fo Day Hiking and Technical Equipment for Climbing Expedition
This equipment list is compiled to provide you with adequate help when choosing your equipment for a climb. Most items are required. Please consider each of them and make sure you understand the function and exclusive use for mountaineering, before substituting or removing items from this list. Please note that this list has been carefully annotated by the organizer. Remember that mountaineering, mountaineering or mountaineering is an extreme, risky sport, therefore everything related to it is of great attention.
These items should be on your hiking checklist:

Hiking backpack for hiking 30 to 40 liters

Light gloves for hiking or (Optional Mittens waterproof)

Medium weight socks

Sleeping bag (-10º to 15ºC)

Small daypack for one day hiking 20 liters

Weather-appropriate clothing (think moisture-wicking and layers)

Hiking boots or shoes

Medium weight parka with fibber fill or down

Rain poncho (or rain gear)

Long-sleeved shirts

Fleece or Wool sweater and/or trousers

Lightweight pants

Cotton short-sleeved shirts or t-shirts

Water bottle for hiking or trekking

Strong waterproof duffel bag

Flashlight with spare batteries and bulb

Towel for personal hygiene each participantFirst-aid kit

Regular and long underwear

Knife or multi-tool

Light cap and wool hat

Sunglasses with UV certification, Sun block, lips

The rest of the list Essentials as appropriate for your hike

Grooming and personal hygiene kit

One Hiking Buff per person
Technical Equipment for High Altitude Expedition Mountains

3 Locking carabiners, we recommended per person

We recommend 2 ice screws for each client

1 Daisy Chain (Life Line) per each person

2 Ice axes (per person) technical, we recommended GRIVEL company

1 ATC descender (Rappel), this is very necessary for technical mountains

2 Cords for prusik, very important (Size Cord 6 mm x 10 m. long)

Gloves(Good gloves) for expeditions over 6000meters

Harness, we recommended GRIVEL company

Sleeping pad / Mattress, we recommend with air or inflatable mattress

Crampons, we recommended GRIVEL company

Walking sticks (optional), a pair per person, we recommended GRIVEL company

Down Jacket for expedition

Very important to have personal clothing such as pants and jacket with GOROTEX certification

First aid kit, for high mountains, because we as guides cannot medicate clients

Backpack Capacity 60 liters, it is better to have a bigger backpack to go comfortably to the high camps, because here you have to carry all your personal things

Gaiters or Leggings, now modern boots already have built-in (Incorporated), but better to have an extra pair
Dressing appropriately for the mountains can make the difference between a pleasant trip and a really uncomfortable one. Clothing must provide the right degree of temperature, perspiration and be well ventilated. Preferably cotton clothing should be avoided, as in humid conditions they absorb body heat.
In general, the weather conditions in in the Andes of South America can vary from day to day and even throughout the day. Therefore, clothing must be versatile.
Please do not hesitate to contact us with any questions you may have regarding the necessary equipment.
FROM/TO
PRICE (USD)
TRAVEL STATUS
–
05 JUN 2023 / 08 JUL 2023
$ —
🟢
FROM/TO
PRICE (USD)
TRAVEL STATUS
–
FROM/TO
PRICE (USD)
TRAVEL STATUS
–
FROM/TO
PRICE (USD)
TRAVEL STATUS
–
» Additional dates available upon request
» Rates may vary from July 26th to 31th for the national holidays
| 1 PAX | 2 PAX | 4 PAX | 6 PAX | 8 PAX | 10 PAX | 12 PAX | 14 PAX |
| --- | --- | --- | --- | --- | --- | --- | --- |
| 3.100,00 USD | 1.710,00 USD | 1.550,00 USD | 1.450,00 USD | 1.300,00 USD | 1.250,00 USD | 1.100,00 USD | 1.050,00 USD |
Deposit for reservations: * 1.000,00 USD (900,00 EUR) ✓ Full payment 40 days before. No refund if you cancel less than 30 days!
Places:
*Available
Trip-code: Number ►PE-000
Duration: 04 days
Participants: Minimal: 2 Maximal: 6
Members: We don't have an open group to join – We can open a new group – Contact us!
Country / Location: Northern Peru
Mountain Guide: Octavio Salazar Obregon
Other dates / additional info: Contact us!
3% early bird discount when booking 6 months prior to departure 2023
Legend Booking-information:
EZZ Single room supplement
🟢 On this trip, places are still available.
🟡 On this trip, only a few places left.
🔴 This trip is sold out / closed.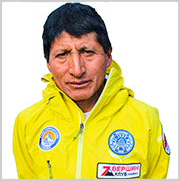 Juventino Albino Caldua
Expert guide certified by IVBV - UIAGM - IFMGA
Co-Founder, Peru Expeditions