Adventure Travel Agency In Huaraz - (Peru Expeditions Tours)
Are you a Adventure Travel Agency, Tour Operator, Mountain Club, Mountain Guide Certified professional guide by: IVBV – UIAGM – IFMGA, or are you looking for an individual or private travel, trekking, hiking, culture and expedition local guide leader in Peru and South America?Are you looking for local Tour Operator, Mountain guide or Adventure Travel Company from Peru? We are the solution!
Cultural treasures, stunning nature, and fantastic cuisine can all be enjoyed on a Peru tour. You can expect the best quality from the leading specialist in Peru. Get to know the real Peru with us!
Peru tours: trekking adventures, culinary delights and Inca culture
Fulfill a dream with your Peru trip and hike in the footsteps of the Incas to the legendary ruined city of Machu Picchu, which lies mystically in the mist-shrouded Andes. On an exciting canoe tour, you can explore the deep, densely vegetated jungle on the arms of the Amazon, meet wild animals and enjoy the beauty of untouched nature. Or just let yourself be fascinated by the overwhelming backdrop of the Andes and the deepest gorge in the world, the Colca Canyon, where large condors fly their rounds. Stroll on cobblestones past colorful house facades through the beautiful alleys of colonial cities such as Arequipa or Cusco and try Peruvian cuisine on the streets or in top restaurants, which is unique due to its mix of the traditional cooking skills of the Incas and modern influences. Did you actually know that you can discover one of the driest areas in the world in Peru with the Atacama Desert? Another highlight are the mystical Nazca Lines with their depictions of animals and people, which can best be admired on a sightseeing flight. These are just a few ideas of what you can experience on our Peru tours.
If you want to travel to Peru, you should know the following about the country:
About 31 million people live in Peru on an area of 1,285,216 km². This makes Peru the third largest country in South America. The official languages of Peru are Quechua, Aimara and Spanish. The landscape is characterized by an impressive variety of different types of vegetation. From the snow-capped Andes, which reach heights of over 6,000 meters, the lovely Pacific coast, the muggy Amazon region in the east, to the barren Altiplano highlands in the southeast, almost every nature lover will find their niche here. But cultural travelers will also get their money's worth here. World-famous archaeological sites, colonial urban centers and lively syncretistic folk cultures with colorful festivals attract people from all over the world year after year. Depending on summer or winter time, you can set your watch seven or four times. set back six hours. However, you will quickly forget this time difference after the long flight, because the breathtaking beauty of the country consoles you for any jet lag! The large proportion of the indigenous population in Peru is particularly exciting. Don't be afraid to get in touch with members of this exciting culture during your trip – there's a lot to discover and learn here. What makes Peru a very popular travel destination is its central location in South America. From here you can organize wonderful round trips to Bolivia, Chile, Ecuador or Brazil. Browse through our combined travel offers and take the opportunity to learn more about Latin America. One thing is certain: Peru is much more than just Machu Picchu!
Our offer for your Peru round trip:
Would you prefer to do your Peru round trip in a small group and appreciate the comfort of a English-speaking tour guide and a travel program that has been thought out down to the last detail? Then take a look at our popular Peru group tours , at particularly fair and reasonable prices. Or would you rather experience Peru individually and on your own according to your ideas? On our Peru individual tripsdecide how you want your journey to look like. You can put together all round trips yourself using our travel modules, or have one of our specialists tailor-made to your wishes. No matter which trip you choose, with Peru Expeditions Tours you will experience not only the most beautiful highlights but also insider tips off the usual tourist paths.
A bit of historical knowledge about your Peru round trip:
Dive into the Peruvian past with us on your Peru trip and explore the exciting depths of the history of this fascinating country with us. According to cave paintings, the first inhabitants of Peru began to immigrate to the region around the city of Ayacucho around 20,000 to 10,000 BC. The first and therefore oldest city in Peru is the settlement of Caral. Even as hunters and gatherers, the Peruvians made a living from all the delicacies that Peruvian cuisine is still known for today: corn, peanuts, cassava and pumpkins. A darker but also formative chapter of Peruvian history is the conquest by the Spanish. Power struggles not only line the founding of the capital Lima, but also the further history of the emergence of an entire country. Peru was only able to regain its independence in 1824 and the internal political situation stabilized over time. Slavery was finally abolished by the then head of state Ramón Castilla. At the beginning of the 20th century, the Peruvian economy experienced a grandiose upswing. Did you know that Peru is a world market leader, particularly in copper, rubber, sugar and cotton trade? Economic growth ensured that the poverty rate in Peru was halved in just a few years. And that was just a little excursion into Peruvian history. We are sure that you will find out a lot more about the exciting past of the country on your Peru tour! Embark on an adventurous discovery tour.
What makes Peru Expeditions Tours a special Peru specialist?
As a tour operator for Latin America, we are particularly proud of our two Peru Expeditions Tours offices in Peru. This not only allows us to offer you a particularly good price-performance ratio, our own team is also there for you with great passion. Our main office is in Huaraz, from where we coordinate all services in Peru and Bolivia for you. Our travel agency in Cuzco is a licensed Inca Trail operator, making Peru Expeditions Tours not only the only tour operator in USA, Australia, Canada, England and other English speaking countries that organizes the well-known Inca Trail for you directly, but also offers it in EUROPE. Also on the Salkantay Trail you can rely on the expertise of our team on site and book it with us first-hand! Our experts in Cologne are very familiar with the area and will be happy to advise you personally and comprehensively on your Peru trip and have lots of ideas and travel tips ready for you.
Dear Sir or Madam,
My letter of introduction is to work in cooperation as a travel company.
We would like to introduce ourselves to you as an experienced travel agency that can support you in planning your tours to Peru. My name is Eric Albino Lliuya, Peru Expeditions Tour "Managing Director".
About our company: Eric Albino together with his father Juventino would be honored to show you the beauty of the Cordillera Blanca mountains. Both Eric and his father are certified mountain guides. They have been actively guiding trekking groups and expeditions in the Cordillera Blanca for many years, building a strong experienced team.
Established in 1980 in Huaraz as a family business, the travel agency has since been run by its family members. Eric and his father both have impressive careers as mountain guides, along with over 40 years of managerial experience in the tourism industry. This multi-faceted experience allows Peru Expeditions to deliver exceptional service as we posses an in depth understanding of how to properly organize a professional expedition or trek from start to finish.
When preparing our tours our agency cooperates with licensed mountain guides certified by the International Federation of Mountain Guides Association (IVBV – UIAGM – IFMGA). Our guides also speak Spanish, English, German, French, and Italian.
The most popular tours we offer in Cordillera Blanca and Cordillera Huayhuash are:
• Ausangate trek and Machu Picchu
• Hiking Inka Trail to Machu Picchu
• Lares trek and Machu Picchu
• Choquequirao trek to Machu Picchu
• Salkantay trek to Machu Picchu
• Santa Cruz trek the best of Cordillera Blanca
• Huayhuash trek, this trek is considered as one of the most beautiful trek in the world
• Trekking around Huascaran and Alpamayo
• Trekking Quilcayhuanca, a beautiful hike in the Andean
• Alpamayo trek and expedition
• Huascaran expedition
• Trekking Ishincatal with Nevados Urus, Ishinca & Tocllaraju
• Nevado Pisco
• Nevado Diablo Mudo
• Nevado Vallunaraju
• Nevado Maparaju
• Nevado Artesonraju
• Diverse acclimatisation tours
• Individual and private trips and much more!
Others main destination are:
• Lima
• Arequipa
• Puno
• Trujillo
• Nazca
• Ica and Paracas tours
• Tingo Maria
• Iquitos jungle
• Pucalpa jungle
• Tarapoto jungle
• Chachapoyas
• Mancora Piura
• Huancayo
Peru Expeditions Tours has extensive knowledge and experience regarding each of these tours. I have attached a catalog in my email describing and illustrating these tours further.
We also offer guided tours in Bolivia, Ecuador, Chile, Argentina, Venezuela, Colombia, Mexico, and Brasil. We have the experience and network to prepare tours throughout all of South America.
We can organize everything for you on the spot including airport transfers, hotel bookings, transportation to the starting points, acclimatization routes, donkies, donky driver, carriers or porters, etc.
It is especially important for us to provide our customers with fresh and nutritious food throughout the tour from base camp to high camp.
Should your clients have any special requests or ideas of tailor-made tours, we are eager to meet your expectations.
Visit us on our homepage:
http://www.peruexpeditions.com
We look forward to our future cooperation. Do not hesitate to get in touch with us regarding any questions you may have.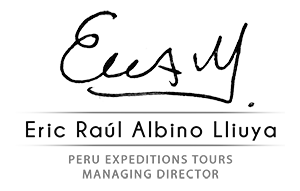 Yours faithfully,
Eric Raúl Albino Lliuya
Top Destinations in Huaraz Season 2024