Travel Agency for adventure and active vacations in Peru
Trekking and Expeditions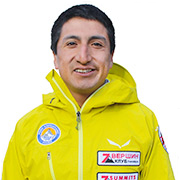 Eric was born in 1984 in Unchus viallge - Huaraz, Peru. Very early he was inspired by the mountains from trips taken with his father and grandfather. At 18, he began working as a trekking and mountain guide and support his father Juventino with tourism. Juventino is a Mountain Guide AGMP-UIAGM from Huaraz, Peru. Eric is responsible and organized groups trekking and mountaineering in the area of logistics and security in the Cordillera Blanca, Cordillera Huayhuash and South Americ
MAGAZINE THE AMERICAN ALPINE JOURNAL ARTICLE
Details:
Born 01. July . 1984
Lives in Huaraz, Ancash – Peru
Education:
High School 2002 Jorge Basadre Grohmann in Huaraz
Education/studied Centro de Estudios de Alta Montaña (CEAM), School of Mountain Guides from 2006 to 2008
Languages:
English language course intermediate VII (2006 to 2008), from Monday to Friday from 08:00 Hrs to 9:30 Hrs in the Casa de Guias – School of Mountain Guides, Parque Ginebra 28G – Huaraz city, Ancash – Perú
German language course Module 1 to 4 (from 17 October 2011 to 26 March 2012), from Monday to Thursday from 08:15 Hrs to 12:15 Hrs in the VHS-Bildungszentrum school, Schlossergasse 8-10 Frankenthal city – Germany
Associacions:
Member of DAV Summit Club – Deutsche Alpenverein since 2016, application area worldwide, especially expeditions, expedition-like things and training courses
'Since 2013 member of the Official Peruvian Mountain Guides Association and instructor of the mountain courses (AGOMP) in Peru
On 15th. October 2016, take the first aid training course in Schladming – Austria with the Berg- und Schiführer Steiermark – IVBV – UIAGM – IFMGA
Working Experience:
2005 – 2016 mountain guide and tour leader of "Peru Expeditions Tours" and different
A tour leader by BergSpechte Mr. Edi Koblmüller travel agency from Austria (2005-2019)
A tour leader by Suedamerika Tours Mr. Thomas Wilken travel agency from Germany (2009-2019)
A tour leader by 7 Summits Club 7 Summits Club Mrs. Lubmila and Mr. Alexander travel agency from Russia (2015-2019)
A tour leader by AndeanVenture Mr. Christian Schöttle travel agency from Germany (2014-2019)
A tour leader by Explore-Share Mr. Nicolas Vandepaer community platform from Belgium/Argentina (2013-2019)
A tour leader by AlcostaRica Mr. Armin Liedl travel agency from Costa Rica(2006-2019)
A tour leader by Mountaineering Association of Vojvodina Mr. Milivoj Erdeljan Association from Serbia (2013-2019)
A tour leader by Eco Field trips Mr. Ronen Raz travel agency from Israel (2005-2019)
A tour leader by BergHorizonte Mr. Christian Schubert travel agency from Germany (2016-2019)
A tour leader by ProjectCordillera Mr. Sam Williams travel agency from England (2016-2019)
Projects:
Peaks 150 Team: Mammut-Project/Huascarán – Successful expedition year 2012 Huascaran North Summit
Rescue organization recovery of bodies September,2, 2015 Huandoy Sur, Peru. Alexander Ruchkin and Vjacheslav Ivanov died on the descent on Huandoy Sur South face
Journeys:
Journey through the Andean countries of South America '2005 / 2019'
Since 2005 to 2017 guiding tours-expeditions in Ecuador, Bolivia, Chile & Argentina
On 2011 year first visit to Europe and experience in the Alps countries as Germany, Austria, Italy, Switzerland, etc. current location or visit is in Europe from 15th September to 13rd December 2018
Managing Director of: Peru Expeditons Tours
EDUCATION AND TRAINING COURSE AS A GUIDE
Centro de Estudios de Alta Montaña (CEAM) – School of mountain guides in Peru
Eric did his Education and training course as a aspirant guide by: CEAM from 2006 to 2008
His experience in South America and Europe
As a Qualify Guide and gain valuable, experience working in different countries in South America as: Peru, Ecuador, Bolivia, Argentina and Chile. Also in Europe as: Germany, Austria, Suisse, Italy, France, etc
MOUNTAINEERING EXPERIENCE IN HIS LIFE
Expert Mountain Guide from Huaraz, Peru.
Eric is a guide as well sport climber, he is traveling often in South Americain and Alps of Europa for climbing and guiding and organizing trips-expedition mountaineering. He counts with more than 50 lead-expeditions to the comercial high altitude mountaineers and guidig in the Cordillera Blanca, Cordillera Huayhuash and including other countries in South America as well in the alps. he led since 2005 the company Peru Expeditons Tours together with his father Juventino Martin Albino Caldua a mountain guide member of AGMP-UIAGM, in Peru his travel agency is leader in professionally managed expeditions in the Cordillera Banca and Huayhuash.
SOUTH AMERICA
Peru:
Nevado Alpamayo (5947 m)
Nevado Huascaran Sur (6768 m) normal route and route Escudo (direct and technical sign-route ), MAMMUT Project 150 years aniversary Huascaran North Peak (6655 m)
Nevado Tocllaraju (6034 m) normal route & record Climbing west side in 2 days
Nevado Ranrapalca (6162 m) new route south valley Cojub
Nevado Urus central (5495 m) new direct route south
Nevado Chopicalqui (6354 m)
Nevado Palcaraju central (6264 m)
Nevado Ishinca (5530 m)
Nevado Vallunaraju (5686 m)
Nevado Pisco (5752 m) normal route and direct route South Face
Nevado Diablo Mudo (5300 m) & Puma Rinri (5450 m) in the Huayhuash
Nevado Maparaju (5325 m)
Nevado Andavite (5518 m)
Ecuador:
Volcano Chimborazo (6310 m)
Volcano Cotopaxi (5897 m)
Volcano Cayambe (5790 m)
Volcano Iliniza Norte (5126 m)
Volcano Antisana (5758 m)
Volcano Guagua Pichincha (4784 m)
Volcano Rucupichincha (4698 m)
Volcano Pasochoa (4199 m) and others.
Bolivia:
Mountain Condoriri summit "Cabeza de Condor" Direct Route (5648m)
Mountain Huayna Potosi normal route (6088 m)
Volcano Sajama (6542 m)
Volcano Acotango (6052 m)
Volcano Parinacota (6348 m)
Mountain Illimani (6462 m)
Pequeño Alpamayo (5410 m) direct route
Cerro Kinkillosa (5008 m)
Cerro Austria (5321 m)
Chile:
The highest volcano in the world Ojos del Salados (6893 m)
San Pedro de Atacama – Exploring the city (2440 m)
San Pedro de Atacama – Tour to Valle de Luna (2500 m)
San Pedro de Atacama – Tour Exploring Guatin Canyon (3500 m)
San Pedro de Atacama – Exploring Geyser "El Tatio" (4300 m). Highest geysers in the world
San Pedro de Atacama – Climbing Lascar Volcano (5592 m)
San Pedro de Atacama – Climbing Toco Volcano (5604 m)
San Pedro de Atacama – Climbing Sairecabur (5971 m)
San Pedro de Atacama – Exploring Pukará de Quitor (2800 m) City Copiapo – After breakfast bus transfer to Laguna Santa Rosa (3600 m)
Laguna Santa Rosa – Transfer Laguna Verde (4400 m)
Laguna Verde – Climbing Cerro San Francisco (6018 m)
Laguna Verde – Transfer Refugio Atacama (5200 m) – Climbing Cerro Vicuñas (6067 m)
Camp Atacama – Trekking up to Refugio Tejos (5820 m) – Return to Camp Atacama
Camp Atacama – Trekking up to Refugio Tejos (5820 m)
Region Putre – Cerro Surunche (3878 m)
Region Putre – Hike to Lake Chungara (4600 m)
Region Putre – Akklimatisierungstouren – Jurasi (4800 m)
Region Putre – Cerro Guane Guane (5050 m)
Region Putre – Village Guallatire Summit (5400 m)
Argentina:
Aconcagua up to 6850m (not summit due to bad weather)
IN THE ALPS / EUROPE
Italy:
September / 2015 – Ortler via Hintergrat (3905 m), Südtirol
2015 / 2016 – Verschiedene Kletterrouten am Gardasee (Aprodite / Porci del Ai, Moonbears, Luna de argentea, Fiaba del Bosco, Il mercurio serpegiante, Il Scalette del Indria
April / 2016 – Klettern Tannheimer – Via Anita
April / 2016 – Klettern Gindlkante
Austria:
April / 2012 – Schneeberg (1051 m)
October / 2015 – Großes Wiesbachhorn via Kaindlgrat (3564 m)
October / 2015 – Wildspitze über Breslauer Hütte (3770 m)
May / 2016 – Skitour – Großglockner (3798 m)
October / 2016 – Schönfeldspitze (2653 m)
Germany:
April / 2012 – Zugspitze (2962 m)
September / 2015 – Watzmannüberschreitung (2713 m)
Switzerland:
October / 2015 – Versuch Matterhorn bis 4200 – Abbruch wegen Wetter
September / 2016 – Cavadiras Südkante (2948 m)
Croatia:
November / 2016 – National Park Paklenica: Rock Climbing different routes
Slovenia:
November / 2016 – Triglav (2864 m), via Tomineksteig and Bambergerweg
MOUNTAINEERING EXPERIENCE IN HIS LIFE
TRAVELED SO FAR FOLLOWING COUNTRIES FOR PHOTOGRAPHING, MOUNTAINEERING AND CLIMBING
Destinations:
Europe:

Germany, Austria, Italy, France, Spain, Holland, Italy, Switzerland

Asia:

Not yet visited this place

Africa:

Not yet visited this place

America:

Canada

South America:

Ecuador, Peru, Bolivia, Chile, Argentina

Central America:

Not yet visited this place

Oceania:

Not yet visited this place

Antarctica:

Not yet visited this place
MOUNTAINEERING EXPERIENCE IN HIS LIFE