Trekking Inca Trail to Machu Picchu
Trekking Inca Trail to Machu Picchu (Huayna Picchu 2.667 m): The Inca Trail to Machu Picchu (also known as Camino Inca or Camino Inka) consists of three overlapping trails: Mollepata, Classic, and One Day. Mollepata is the longest of the three routes with the highest mountain pass and intersects with the Classic route before crossing Warmiwañusqa (dead woman). Located in the Andes mountain range, the trail passes through several types of Andean environments includingcloud forest and alpine tundra. Settlements, tunnels, and many Incan ruins are located along the trail before ending the terminus at the Sun Gate on Machu Picchu mountain. The two longer routes require an ascent to beyond 4,200 metres (13,800 ft) above sea level, which can result inaltitude sickness.

Located 2,430 meters high in a place of great beauty, in the middle of a tropical mountain forest, the sanctuary of Machu Picchu was probably the most amazing urban creation of the Inca Empire at its height. Its walls, terraces and ramps seem gigantic being carved in the rock cliffs, as if they were part of it. The natural setting, on the eastern slope of the Andes, is part of the upper Amazon basin, which has a varied flora and fauna. (UNESCO / BPI)

Concern about overuse leading to erosion has led the Peruvian government to place a limit on the number of people who may hike this trail per season, and to sharply limit the companies that can provide guides. As a result, advance booking is mandatory. A maximum of 500 people are allowed on the trail each day, of which only 200 are trekkers, the rest being guides and porters As a result, the high season books out very quickly. The trail is closed every February for cleaning. This was originally done informally by organizations such as South American Explorers but is now managed officially.

Inca Trail – A short history: The Inca Trail to Machu Picchu is in fact a small part of a vast network of trails and roads built by the Incan Empire over 500 years ago. Depending on which resource you read, the Inca trails (or Qhapaq Ñanare, which means network of trails) are estimated to have covered anywhere between 23,000km and 45,000km in distance – basically a lot! Consisting of mainly paved stone, the trails were integral in connecting the Tahuantinsuyo Empire, which ran from Colombia and Ecuador in the North; through Peru; Chile and parts of Argentina, and into Brazil and Bolivia (as seen on the map adjacent). The trails varied in size from 6-8m roads at their widest (typically in the coastal areas) to narrow 1m trails in the mountainous regions of the Andes. The trails were used for a variety of reasons including trade, efficient transport and war. Peruvian historian, José Antonio del Busto, believes the trails expanded rapidly under the rule of Huayna Capac, who is thought to have added 16,000km of trail to the network. Del Busto explains: "It is said (Capac) placed emphasis on the roads so as to be able to get his army around quicker and be able to crush the rebellions that flared up during his reign." The one very unique characteristic of the trails is that they were built with the llama mind. The trails, particularly in the mountainous region, are steep, stepped and high – landscape characteristics that llama are well adept at traversing. Author Hugh Thomson writes in his acclaimed and highly recommended book, The White Rock: "We are used to a road system designed for the horse and then for the car: a system which tries at all cost to avoid steep gradients and whose ideal (so established by the Romans) is the straight road over flat ground. The Inca needs were very different: the expansion of their Empire was driven by the llama". When the Spanish arrived in Peru in the 15th century they were amazed by the scale, ingenuity and beauty of the trails, despite having severe difficulty traversing them on horseback. Hernando Pizarro, one of the first conquistadors to arrive in Cusco, wrote, "The path in of the mountains is something to see, because it is built in very difficult terrain. In the Christian World we have not seen such beautiful roads. All of the crossings have bridges of stone or of wood." Unlike the majority of trails, which were used for practical means, the Inca trail to Machu Picchu was solely used as a pilgrimage or religious route. It had no commercial use and is hence often referred to as the "Royal Road", "Royal Sacred Highway" or "The Road of the Inca King". The various Inca sites found along the 26-mile (45km) trail seems to support this theory. Hiram Bingham, an American academic and explorer, who discovered Machu Picchu in 1911, was amazed when he discovered the pilgrimage route leading to the city. Between 1913-1915 Bingham and his team uncovered much of the overgrown trail, and in the 1990s large portions of the route were restored. Today, the trail, which is situated in the Historic Sanctuary of Machu Picchu, is considered one of the greatest trekking trails in the world and is hiked by thousands of tourists every year.

Inca Route options: There are a number of ways to visit Machu Picchu, including catching a train or trekking on one of the alternative trails to Aguas Calientes – the town in the valley below Machu Picchu. But none of these alternatives is as popular and arguably as impressive as the Inca trail trek to Machu Picchu (aka Camino Inca or Camino Inka). Celebrated as Peru's most famous hike, and one of the world's most iconic trekking experiences, the classic Inca trek to Machu Picchu provides an awesome combination of sub-tropical Andean mountain environments, including cloud forest, alpine tundra and jungle, with an impressive array of Inca archaeological sites; some of which are worthy of a visit on their own! The 'Classic' trail is typically completed on a 4D/3N itinerary but can also can be lengthened by a day or shortened to a 2D/1N trek on the so-called 'Short Inca Trail'. There is also an option to combine the Salkantay trek with the classic trail route for an epic and challenging 7D/6N adventure.

Some trekking companies depart from KM88, but this is rare as cars can only go as far at KM82. If you are travelling by train from Cusco it is possible to start from KM88, but the trail from this starting point joins up with the route from KM82 very quickly so there is no significant difference in the starting experiences. The total trek distance from KM82 to Machu Picchu is 45km (26 miles) and reaches a maximum altitude of 4,200m. It is a moderately challenging trek that can be completed by most people, as long as they are fit and well acclimatised (more on this below).

Note: the map is not to scale and the itinerary, particularly with regards to camping sites, can vary from tour company to tour company.

Inca Trail Permits: Permits for the Classic Trail route are tightly restricted and nearly all dates each year sell out months in advance. This applies to all operators! If you are looking to book onto the classic pilgrimage route and find permits sold out for your preferred dates we recommend you look for either a Lares trek or Salkantay trek.

Best time to hike the Inca Trail: Two seasons dominate the weather in the sub-tropical Peruvian Andes – the dry season runs from late April through to early October, and the wet season starts in late October and continues through to April. The Inca trail is busiest during the dry season months, particularly May-September. If you want to hike at this time in the year it is advised that you book your trek at least 6 months in advance. The dry shoulder months of March / April and October / November, can also make a good time for trekking, although the probability of rain is higher. Here is a schematic showing the average number of rain days per month in the Machu Picchu Sanctuary. December, January and February are the wettest months, and the Classic Inca Trail and Salkantay / Inca Trail Combo is in fact closed for maintenance in February (it is possible to trek the Short Inca Trail or any of the alternative treks to Machu Picchu during Feb). Temperatures in the region are fairly consistent throughout the year, with days reaching into the high 20 Celsius (70s and 80s Fahrenheit), and dropping into the low digits to sub-zero temperatures at night and in the early mornings.

Temperature fluctuations are also common as you ascend high passes or drop into sun-exposed valleys. It is important that you take layered clothing to adjust comfort levels as temperatures fluctuate throughout the day and across different levels of altitude (see Inca trail packing list below). Micro-climates in the mountains mean that it is possible to encounter rain at anytime in the year, so do bring wet weather gear as well.
Difficulty

Condition

Included meals: B=breakfast; L=lunch; D=dinner
Services included in the prices:
Acommodation in Cusco x 3 nights
Breakfast is included in Hotel rate
Private Tourist bus from Cusco to Km 82 (initial point) we pick you up from your hotel
Professional Inca Explorers English Speaking guide (with license)
Entrance fee to the Inca Trail Park and to Machupicchu ($ 98.00)
Specialized Cook + assistant
Nutritious, delicious meals with fresh, high quality ingredients, high in energy value and prepared carefully to avoid illness. 3 Breakfast, 3 Lunch, 3 Dinner, & drinks
Happy Hour with Machu Tea -every afternoon
Warm water each morning to wash yourselves
Boiled Purified Water after breakfast to refill your water bottles
Camping Equipment : two person tent – 3 season (brands The North Face, REI)
Tent for kitchen, tent for dinning , mattresses, camping stools, camping tables and cooking gear, oxygen, first- Aid – Kit
Fairly treated Porters carry the camping equipment, tents, food, cooking gear, dining tents.
Extra porters to carry your duffel bag this includes your sleeping bags. Max 6 kilos p.p (clients carry a day pack with essencial belongings)
Health and Insurance for our porters, cooks, assistants, field crew and Inca Explorers staff
Bus from Machupicchu down to Aguas Calientes ( 25' )
Afternoon tourist train/Bus to Cusco – Expedition class
Transfer from train station to Hotel
Meals not mentioned in the program (example: dinners in Cuzco)
Entry fee to Huaynapicchu Mt.( add $65.00). **Require to make reservations in advance
Sleeping bag Add $ 20.00 (for the whole trip, sleeping bags are from down and feather)
If you want to upgrade your train to Vistadome Class or to an earlier train $ 40.00 p.p
Gratuities
Extra personal expenses
Internal Flights, insurance. Visas. Cancellation fees
Excursion to the Sacred Valley ,City Tour in Cusco, River Rafting
What to Bring or take fo Day Hiking and Technical Equipment for Climbing Expedition
This equipment list is compiled to provide you with adequate help when choosing your equipment for a climb. Most items are required. Please consider each of them and make sure you understand the function and exclusive use for mountaineering, before substituting or removing items from this list. Please note that this list has been carefully annotated by the organizer. Remember that mountaineering, mountaineering or mountaineering is an extreme, risky sport, therefore everything related to it is of great attention.
These items should be on your hiking checklist:

Hiking backpack for hiking 30 to 40 liters

Light gloves for hiking or (Optional Mittens waterproof)

Medium weight socks

Sleeping bag (-10º to 15ºC)

Small daypack for one day hiking 20 liters

Weather-appropriate clothing (think moisture-wicking and layers)

Hiking boots or shoes

Medium weight parka with fibber fill or down

Rain poncho (or rain gear)

Long-sleeved shirts

Fleece or Wool sweater and/or trousers

Lightweight pants

Cotton short-sleeved shirts or t-shirts

Water bottle for hiking or trekking

Strong waterproof duffel bag

Flashlight with spare batteries and bulb

Towel for personal hygiene each participantFirst-aid kit

Regular and long underwear

Knife or multi-tool

Light cap and wool hat

Sunglasses with UV certification, Sun block, lips

The rest of the list Essentials as appropriate for your hike

Grooming and personal hygiene kit

One Hiking Buff per person
Technical Equipment for High Altitude Expedition Mountains

3 Locking carabiners, we recommended per person

We recommend 2 ice screws for each client

1 Daisy Chain (Life Line) per each person

2 Ice axes (per person) technical, we recommended GRIVEL company

1 ATC descender (Rappel), this is very necessary for technical mountains

2 Cords for prusik, very important (Size Cord 6 mm x 10 m. long)

Gloves(Good gloves) for expeditions over 6000meters

Harness, we recommended GRIVEL company

Sleeping pad / Mattress, we recommend with air or inflatable mattress

Crampons, we recommended GRIVEL company

Walking sticks (optional), a pair per person, we recommended GRIVEL company

Down Jacket for expedition

Very important to have personal clothing such as pants and jacket with GOROTEX certification

First aid kit, for high mountains, because we as guides cannot medicate clients

Backpack Capacity 60 liters, it is better to have a bigger backpack to go comfortably to the high camps, because here you have to carry all your personal things

Gaiters or Leggings, now modern boots already have built-in (Incorporated), but better to have an extra pair
Dressing appropriately for the mountains can make the difference between a pleasant trip and a really uncomfortable one. Clothing must provide the right degree of temperature, perspiration and be well ventilated. Preferably cotton clothing should be avoided, as in humid conditions they absorb body heat.
In general, the weather conditions in in the Andes of South America can vary from day to day and even throughout the day. Therefore, clothing must be versatile.
Please do not hesitate to contact us with any questions you may have regarding the necessary equipment.
Hotel: American Buffet breakfast
City Tour Includes: Private Tourist transport, professional English speaking guid
Not include: Visitors pass $ 53.00
Reservation:
Important: Important – Under current park regulations, trek permits are sold on a first come/first served basis, and are limited to 500 persons per day, including passengers, guides, cooks and porters. We would recommend you to make your reservations as far in advance as possible, popular dates from April to August get book early.
To make your reservations we require the following information:
** your full name as it appears on your passport
** your nationality
**passport number
** date of birth
**occupation
**gender
** If student you must send scan your ISIC Card current from
** If you required to hire extra porter to carry your personal day belongings ( we need to reserve their spaces as well)
**Deposit of 500.00 per person of the tour price in advance. You may want to charge on your credit Card Visa (we only take Visa Card)
**Remain balance will be paid upon arrival in Cusco
Extra excursions in Cusco with our travel agency:
(You can pay for these separately upon arrival in Cuzco)
City tour in Cusco: Everyday 13:00 – 18:00 pm
Price: $ 25.00 Min 4 ✓
In the early afternoon enjoy the Cusco city tour that includes the visit to impressive Incan temples & ceremonial sites around Cusco city like; Sacsayhuaman (Temple of the lightning ) with its incredible-precise stone work and its megalithic constructions, the amphitheatre of Qénko, Puka Pukara and Tambo Machay ( temple dedicated to the water). Then Visit the Cathedral and the Koricancha, the holiest Incan ritual site in the area. With it finest stone work . Return to your hotel and free time at leisure to explore the city its picturesque streets, souvenirs shops, splendid Cusco restaurants.
Sacred Valley of the Incas: Daily departure 08:30 – 18:30 pm
Price: $ 39.00 p.p Min 4 Pax ✓
After breakfast we travel to the Sacred Valley of the Incas, the amazing landscapes and Andean mountains views accompany us in our journey, as we see traditional villages, farming scenes & colorful clotting. Then we descend to the sacred Valley of the Incas and note that Incan people found in this as a paradise for farming and develop advanced irrigation techniques. Later in Pisac town on a side of the Urubamba River visit the Pisac traditional food market and the handy crafts market, and the site above this town from where you have a amazing view of all the Valley.
We continue along the Valley and reach Urubamba where you can have lunch ( this is on your own)Afternoon we go toward to Ollantaytambo Village an authentic Inca living town we ascend to The Ollantaytambo ruins an outstanding ritual site, formed by enormous beautifully carved stones and wonder how come they could transport megalithic blocks at such a location. Enjoy of the same impressive views over the valley. Later it was used as a fortress by Manco Inca Yupanqui in the final inca's rebellion against the Spanish invasion. We return to Cusco.
River Rafting at Urubamba river:
The Urubamba river runs from the high Andean ranges down through the Sacred Valley of the Incas, past Machupicchu and into the jungle. It has some exciting white water depending on the section of the river being done and the time of the year. One of our most popular rafting sections during the season is the "Cusipata" section of the river on the Upper Urubamba. There are good class IIl rapids and the water is not contaminated, as unfortunately the Sacred Valley of the Incas sections of the river are.
Day 1: We pick you up at your hotel , after one and a half hours drive we arrive to the put -in at the shores of the Upper Urubamba River, at "CASA CUSI" our private campground. Our professional Rafting Guides will give you a safety talk and provide you with all the proper equipment for Rafting. We would be floating for approximately two and a half hours, running class II and III , introductory type rapids. Afterwards , we arrive to the take-out where our private bus will be waiting for us to take us back to CASA CUSI, where a hot Sauna will be waiting and a full course lunch will be provided. Our return to Cusco should be around 5 in the afternoon
Price: $ 45.00 p.person ✓
Includes:
Transportation from Cusco to the put-in at the River
All the rafting equipment, such as Helmet , Life jacket, paddle, self bailing Raft
Spray Jacket, wet Suit
Professional English speaking Rafting guide
Delicious lunch
Transportation back from the River
FROM/TO
PRICE (USD)
TRAVEL STATUS
–
FROM/TO
PRICE (USD)
TRAVEL STATUS
–
FROM/TO
PRICE (USD)
TRAVEL STATUS
–
FROM/TO
PRICE (USD)
TRAVEL STATUS
–
» Additional dates available upon request
» Rates may vary from July 26th to 31th for the national holidays
| 1 PAX | 2 PAX | 4 PAX | 6 PAX | 8 PAX | 10 PAX | 12 PAX | 14 PAX |
| --- | --- | --- | --- | --- | --- | --- | --- |
| — USD | — USD | — USD | — USD | — USD | — USD | — USD | — USD |
Deposit for reservations: — USD (– EUR) ✓ Full payment 40 days before. No refund if you cancel less than 30 days!
Places:
*Available
Trip-code: Number ►PER-
Duration: 07 days
Participants: Minimal: 4 Maximal: 12
Members: We don't have an open group to join – We can open a new group – Contact us!
Country / Location: Peru
Mountain Guide: Eric Albino Lliuya
Other dates / additional info: Contact us!
3% early bird discount when booking 6 months prior to departure 2023
Legend Booking-information:
EZZ Single room supplement
🟢 On this trip, places are still available.
🟡 On this trip, only a few places left.
🔴 This trip is sold out / closed.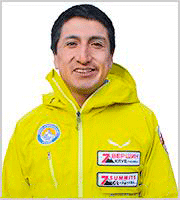 Eric Albino Lliuya
Expert guide certified by AGOMP
Tour-guide of Peru Expeditions