The Salkantay Trek to Machu Picchu
The Trekking Salkantay: This amazing trek runs beneath the magnificent Salkantay mountain (6.271m/20569ft), one of the highest and most stunning in the Peruvian Andes. Your first two days are dominated by the impressive "Apus" of Salkantay and Huamantay, as you pass through the high puna landscape. On the third day you descend to the warm cloud forest, to reach Aguas Calientes on the fourth day.

The impressive Sacred Inca city of Machupicchu is visited on the last day of the program. This tour is an interesting alternative for those not having found spaces on the Inca Trail trek to Machu Picchu. The Salkantay Trek (or Salcantay Trek),was recently named among the 25 best Treks in the World, by National Geographic Adventure Travel Magazine.

Salkantay trek – A brief overview: The Salkantay trek (sometimes referred to as the Salcantay trail) is the most popular alternative trek to Machu Picchu, and for good reason – it offers hikers an incredibly diverse trekking experience, is relatively easy to access from Cusco and unlike the Classic Inca Trail, there are no permit limitations. In fact, the Salkantay trek can be completed without the use of a guide or tour agency (see DIY treks at the end of this article) The trail sojourns through incredible landscapes where lowland jungle gives way to highland alpine settings and glaciated mountains, the most impressive of which is Nevada Salkantay (more on this below). National Geographic Adventure Magazine rated the Salkantay trek as one for the 25 Best Treks in the World. The trek is typically completed on a 5 Day /4 Night itinerary; however it is possible to do the trek on a 4 Day / 3 Night itinerary or to combine the trek with the Classic Inca Trail (see Salkantay / Inca Trail Combo below).

Nevado Salkantay: One of the key features of the Salkantay trek is the mountain that gives it's name to the trail. Mount Salkantay (or Nevada Salkantay / Salcantay) is one of the most iconic mountains in the Cusco region and the highest mountain on the Willkapampa range. Trekkers on the Salkantay trail spend a day approaching the mountain from the south and then another day in close proximity to the mountain as they scale the Salkantay Pass, which at 4,600m provides amazing vistas into the valley below. Situated 60km North-west of Cusco city, Salkantay which stands at 6,271m, is the 12th highest mountain in Peru and the 38th highest in the Andes. For mountaineers, Salkantay has a reputation of being a very tough summit. In fact the Quechua name, Sallqantay, means 'Savage' or 'Wild'. Although it was first successfully climbed in 1952 by a French-American expedition, the mountain is not often conquered. The easiest summit assault passage is around the North-east ridge – which won't be visible on the Classic Salkantay trail but is visible for trekkers on the Salkantay / Inca Trail combo. Machu Picchu is directly north of Salkantay. Although the mountain is not visible from Machu Picchu, the Southern Cross star formation, when viewed from Machu Picchu's sundial appears directly above Salkantay summit during rainy season. It is for this reason that the Incas considered Salkantay to be one of the principal deities controlling weather in the region. Even today, Salkantay features very prominently in the local beliefs of the people who live in the Cusco region.

Best time to do the Salkantay trek: There are two main seasons in the sub-tropical Peruvian Andes – a dry season that runs from late April through to early October, and a wet season that starts mid to late October and draws to a close in April. The peak trekking season to Machu Picchu occurs during the dry season and is busiest between May and September. The Classic Inca Trail is very busy during these months and permits sell out months in advance. Those who don't get permits for the Inca Trail typically overflow onto the Salkantay trail, which means that between May and September the route can be busy. That being said, you will not get a sense of overcrowding that can be the case on the Inca Trail. The Salkantay trek can technically be completed all year round, although we highly recommend avoiding the months of December, January and February when rainy days are the norm. The best trekking months run from the shoulder wet months March / April all the way through to the shoulder dry months October / November. Temperatures throughout the year follow a very consistent pattern. Days are warm, in the high twenties Celsius (70/80 Fahrenheit), and cold at night and in the early mornings (single digits Celsius and sometimes below zero degrees). Temperature fluctuation is further exasperated by the micro-climates that dominate as you ascend and descend in altitude. Key to staying comfortable throughout the trek is layering (see our equipment packing list section below for details on ideal clothing requirements).
Difficulty

Condition

Included meals: B=breakfast; L=lunch; D=dinner
Services included in the prices:
Professional guides: All of our guides studied English and Tourism at University. They all grew up in this region and have a true passion to teach others about their heritage. They are all a lot of fun to be around, but know when they need to be professional and will always look after you to make sure you are safe and happy – enjoying the tour.
Briefing: The night before your trek, you will come to our office for your briefing with your guide. It is at the briefing that you will receive your duffel bag that will be with the porters while you hike. This bag should not exceed 7kg/14 lbs and does need to include your sleeping bag and air matt if you have chosen to rent/bring one. Don't worry, there is plenty of room for your things for the trek. Remember layers are key.
Porters & Horsemen: We include your personal porter who is responsible for carrying your duffel with your personal items. There is no additional fee for this. We will give you your duffel bag at your briefing the night before and this should be filled with the things you need for night and the next day. You will not have access to your duffel until your evening campsite.
Emergency horse: All of our alternative treks include an extra horse for our clients to use if they need a little break from trekking. Due to the path conditions, this horse is only available for the first day and a half, so please save your energy. If you are feeling unwell, there is a possibility to take a car to the second campsite with the porters.
Hotel: The trek will include 3 nights of camping and 1 night in a hotel in Aguas Calientes, the town below Machu Picchu. We include a 3 star hotel, typically at Inti Punku Inn (or similar) if available. Your booked hotel will be listed on your confirmed invoice. Upgrades are always possible.
Transportation: All your transportation is included in this trek. You will be picked up directly from your hotel around 4:30 AM (unless you are staying in Ollantaytambo before the trek) and brought to the trailhead to begin your trek. Your train returning after Machu Picchu is Expedition class and can be upgraded on your way home to the Vistadome train for $65 per person. Once you arrive to the train station, you will be brought back to your hotel in Cusco. Your roundtrip bus ticket from Aguas Calientes to Machu Picchu is also included.
Equipment: Tika Trekking has the best equipment. We use 4 man, Eureka Timberline tents that only need to be shared by 2 people. This allows some room to spread out and keep your duffels safely with you. You will have a spacious dining tent to enjoy your meals.
Food: Many of our past trekkers have commented about the wonders of the Tika Trekking chefs. They make magic happen on the trail in a small tent over a single flame. We honor all food restrictions – but make sure you remind your guide at the beginning of the trek. Food is served family style and there will be plenty of options for everyone – and always food left over. Do not worry – nothing goes to waste. Our porters will make sure to eat every bite.You will enjoy breakfast, lunch and dinner each day of the trek along with a happy hour of some tea and snacks. You will also be provided a snack each morning for you to bring with you and enjoy along the hike. Lunch the last day is not included.
Water: Beginning from your first lunch until your last breakfast, Tika Trekking will supply all the water you need for your trek. This water will be boiled, filtered and then cooled down before distributing. You must supply your own water bottles or camelback and we recommend carrying about 3L. We will refill at each meal and encourage you to drink as much as possible as you hike. Hydration is key to feeling great in the mountains.
First aid: Your safety is our number 1 concern. All our guides are trained and re-trained every single February with a medical doctor. They all will have first aid kits and full oxygen tanks in case anything happens. We will get you off the trail as quickly and comfortably as possible, if needed and will make sure you get directly to a clinic for treatment. This is not something to worry about – but if something happens, we will be there for you.
Extras: We believe its the attention to small details that separates us from other outfitters. Every trekker receives a small pillow to sleep with, a foam matt to insulate them from the cold ground, a daypack cover to protect their things while hiking, a rain poncho (slightly thick to keep in good shape). We want this to be your best vacation and will work very hard to make sure this happens.
Rentals: Every trekker needs a sleeping bag when you choose the camping option
Inflatable air matts are optional, but do help in getting a good night sleep
Walking sticks are definitely encouraged and must have a rubber tip when bringing your own
If you don't have or want to bring any of the above, they are all available for rent: Sleeping Bag: $25 US Inflatable Air Matt: $20 US Walking Sticks (Pair): $20 USHUAYNAPICCHU: Huaynapicchu is the mountain that stands next to Machu Picchu and has beautiful views from the top of Machu Picchu from above
It takes 45 minutes to get to the top and then 45 minutes back down and is quite steep for those scared of heights
This is done after your tour of Machu Picchu and is $25 per person to hike
This is extremely popular and needs to be arranged at least a month or two prior to your trek
Please understand that we can't control weather and cloudy days will prevent perfect pictures
What to Bring or take fo Day Hiking and Technical Equipment for Climbing Expedition
This equipment list is compiled to provide you with adequate help when choosing your equipment for a climb. Most items are required. Please consider each of them and make sure you understand the function and exclusive use for mountaineering, before substituting or removing items from this list. Please note that this list has been carefully annotated by the organizer. Remember that mountaineering, mountaineering or mountaineering is an extreme, risky sport, therefore everything related to it is of great attention.
These items should be on your hiking checklist:

Hiking backpack for hiking 30 to 40 liters

Light gloves for hiking or (Optional Mittens waterproof)

Medium weight socks

Sleeping bag (-10º to 15ºC)

Small daypack for one day hiking 20 liters

Weather-appropriate clothing (think moisture-wicking and layers)

Hiking boots or shoes

Medium weight parka with fibber fill or down

Rain poncho (or rain gear)

Long-sleeved shirts

Fleece or Wool sweater and/or trousers

Lightweight pants

Cotton short-sleeved shirts or t-shirts

Water bottle for hiking or trekking

Strong waterproof duffel bag

Flashlight with spare batteries and bulb

Towel for personal hygiene each participantFirst-aid kit

Regular and long underwear

Knife or multi-tool

Light cap and wool hat

Sunglasses with UV certification, Sun block, lips

The rest of the list Essentials as appropriate for your hike

Grooming and personal hygiene kit

One Hiking Buff per person
Technical Equipment for High Altitude Expedition Mountains

3 Locking carabiners, we recommended per person

We recommend 2 ice screws for each client

1 Daisy Chain (Life Line) per each person

2 Ice axes (per person) technical, we recommended GRIVEL company

1 ATC descender (Rappel), this is very necessary for technical mountains

2 Cords for prusik, very important (Size Cord 6 mm x 10 m. long)

Gloves(Good gloves) for expeditions over 6000meters

Harness, we recommended GRIVEL company

Sleeping pad / Mattress, we recommend with air or inflatable mattress

Crampons, we recommended GRIVEL company

Walking sticks (optional), a pair per person, we recommended GRIVEL company

Down Jacket for expedition

Very important to have personal clothing such as pants and jacket with GOROTEX certification

First aid kit, for high mountains, because we as guides cannot medicate clients

Backpack Capacity 60 liters, it is better to have a bigger backpack to go comfortably to the high camps, because here you have to carry all your personal things

Gaiters or Leggings, now modern boots already have built-in (Incorporated), but better to have an extra pair
Dressing appropriately for the mountains can make the difference between a pleasant trip and a really uncomfortable one. Clothing must provide the right degree of temperature, perspiration and be well ventilated. Preferably cotton clothing should be avoided, as in humid conditions they absorb body heat.
In general, the weather conditions in in the Andes of South America can vary from day to day and even throughout the day. Therefore, clothing must be versatile.
Please do not hesitate to contact us with any questions you may have regarding the necessary equipment.
FROM/TO
PRICE (USD)
TRAVEL STATUS
–
FROM/TO
PRICE (USD)
TRAVEL STATUS
–
FROM/TO
PRICE (USD)
TRAVEL STATUS
–
FROM/TO
PRICE (USD)
TRAVEL STATUS
–
» Additional dates available upon request
» Rates may vary from July 26th to 31th for the national holidays
| 1 PAX | 2 PAX | 4 PAX | 6 PAX | 8 PAX | 10 PAX | 12 PAX | 14 PAX |
| --- | --- | --- | --- | --- | --- | --- | --- |
| 2500 USD | 1250 USD | 1050 USD | 950 USD | 900 USD | 830 USD | 780 USD | 750 USD |
Deposit for reservations: — USD (– EUR) ✓ Full payment 40 days before. No refund if you cancel less than 30 days!
Places:
*Available
Trip-code: Number ►PER-
Duration: 05 days
Participants: Minimal: 4 Maximal: 12
Members: We don't have an open group to join – We can open a new group – Contact us!
Country / Location: Peru
Mountain Guide: Eric Albino Lliuya
Other dates / additional info: Contact us!
3% early bird discount when booking 6 months prior to departure 2023
Legend Booking-information:
EZZ Single room supplement
🟢 On this trip, places are still available.
🟡 On this trip, only a few places left.
🔴 This trip is sold out / closed.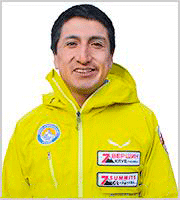 Eric Albino Lliuya
Expert guide certified by AGOMP
Tour-guide of Peru Expeditions

Daypacks: Daypacks are not provided by as. You must bring your own, but nothing too large as you don't want it to be too heavy while your trekking. Plus, Machu Picchu will not allow you to bring in a bag larger than 25L so if you have a large backpack it will need to be stored before your tour. Only essentials while trekking are needed to be on your back: water, snack, camera, sunhat, warm layer, rain layers, insect spray, sunscreen, and first aid kit
Headlamps: It is strongly encouraged to bring a headlamp for your night camping. There will be no lights at the camping site and hard to get to your dining tent or bathroom without. Flashlights are ok if you don't have a headlamp, but not as easy to use when you are changing for bed in your tent
Packing list: We do have a suggested packing list on the side of this trek to print for packing. But please remember, that layers are key to keeping things light. A few wicking t-shirts, fleece and hiking/yoga pants is all you need for the hike. A warm jacket, hat and gloves and comfortable shoes are good for the campsites and then something lovely for Machu Picchu day and pajamas. Please remember strong insect repellant with Deet for the ruins, they are quite buggy. And your passport needs to be on you at all times – you will need to enter the trail, the citadel and the train. Please also bring your customs card you received on the plane to the office, we will need a copy for our taxes
Flights: Flights do need to be arranged on your own and flying to Cusco can be a little tricky. Delays happen often and it is not uncommon for flights to be cancelled for no reason. Please make sure you arrive in the city at least 2 days before your trek start date. LAN Peru is the most reliable of the airlines that fly between Lima and Cusco with many time options, but Avianca and Peruvian Airlines are good companies as well. You will not be back from your trek until around 8PM on day 2, so make sure your flight is not until the next day when leaving Cusco
How many day before your trek: There are no rules to how many days you need to be in Cusco, but it is highly recommended to spend at least 2 days in the mountains before you start any trek. This can be in Cusco, Lake Titicaca or even Arequipa, but resting in the mountains and allowing your body to adjust slowly is the key to successfully and comfortably doing any trek in the Andes
Gratuities: We go out of our way to make sure our team is well taken care of with a proper salary, but tipping is always appreciated. This should be based completely on your satisfaction. Although it may not be customary to you, it is of considerable significance to the people who will take care of you during your travels
Charging your devices: At the second campsite, there is an opportunity to plug any of your devices low on charge. The local family charges 5 soles per device. Otherwise, we recommend bringing an extra charge supply to keep your music and camera going
Storage: All hotels in the Cusco area are equipped to keep your larger bags safe while you are trekking with us. If you prefer, you can always keep your bags with us. We will keep at our equipment deposit and will make sure they are safe
Travel insurance: This is not required, but always a good idea. For those of you used to living at sea-level, landing in Cusco will be a little different. Most people need 1 – 2 days to adjust, but in case you can't get used to the altitude, having some protection for missed tours, which will all be due in full, is a very good idea
Vaccinations: There are no needed vaccinations for Cusco other than your routine vaccinations, but other areas of Peru, most commonly the Amazon, do require additional treatment
Frequently Asked Questions
What our travelers or clients always ask questions before joining our trips, tours & expeditions, read all the information provided here.
Suggested FAQs