Ecuador: Volcanoes Pichincha, Corazon, Illiniza Norte, Cotopaxi and Chimborazo
The plateau of the volcanoes south of Quito, haciendas with wide areas, the outstanding snow mountains and the unbelievable vastness provide the framework for this trip. Group participants who do not want to do all five summit ascents can take advantage of numerous hiking opportunities, rent horses and bicycles or carry out cultural visits to old Inca sites and small Indio villages. Afterwards, jungle (Amazon), coast and the Galapagos Islands offer the opportunity to get to know Ecuador more comprehensively.
Cotopaxi & Chimborazo, Ecuador: The goals of this trip are mountain tours and ascents in the highlands of Ecuador, to stand on Cotopaxi and Chimborazo, to get to know the country and its people and to have a good time. The shapely and extremely popular Cotopaxi towers at almost 5,900 meters above Quito, the UNESCO-protected capital of Ecuador, our point of arrival in Ecuador. The Chimborazo (6,310m) is the furthest point from the center of the earth and the highest mountain in Ecuador. Our ice and snow trekking on the volcanoes of Ecuador offers you an exciting mountain experience with many mountain hikes and ascents from Illiniza, Cotopaxi and Chimborazo (15 days from/to DE, extensions).
Ecuador – trekking tour
The small country on the equator, named after this "Ecuador", has always attracted researchers from all over the world, including Alexander Humboldt when he explored the Chimborazo with an attempt to climb it and Charles Darwin, the father of the theory of evolution. Even today, Ecuador fascinates many travelers because it offers in a small space: snow-capped mountains, perfectly shaped volcanoes and turquoise-blue lagoons in the Andean highlands, evergreen cloud forests, the tropical Amazon lowlands with its fauna and last but not least the famous Galapagos Islands. Much of this may tempt you to extend our already very varied two-week mountain trip.
Volcanoes CLIMB COTOPAXI & CHIMBORAZO
We are planning 3-4 trips for Ecuador trekking. Highlights of the SummitClimb Ecuador volcano trekking trip are:
A well-established team with very experienced IVBV mountain guides
Visiting Quito: UNESCO World Heritage Site
Impressions of the Volcano Road, visit of Baños and Otavalo
Hacienda mountaineering, comfortable yet high up
Many mountain tours and hikes in just 2 weeks
Cotopaxi Climb & Chimborazo Climb
Diversity on the equator: Ecuador offers an incredible variety of landscapes in a very small area: A Galapagos cruise or a visit to the Amazon can be organized after the mountain trip. You can also visit the coast or put together a trip to a surrounding country (Peru, Bolivia) with its sights.
Cotopaxi – the most popular mountain in Ecuador
Of all 22 mountains over 5000 meters high, the Cotopaxi, located about 50 km south of the capital Quito, is the most climbed mountain in Ecuador and one of the most popular peaks in South America. It is one of the highest active volcanoes on earth with many recorded eruptions, the last big one in 1904, but it was also closed in 2015-2017 due to its activity. The first ascent was made on November 27, 1872 by the German geologist Wilhelm Reiß and the Colombian guide Angel Escobar via a freshly cooled lava flow on the west side of the mountain.
Chimborazo – the highest mountain in the world?
The Chimborazo with 6310m (6267m according to new measurement) and its proximity to the equator is the point on the earth's surface with the furthest distance from the center of the earth. Altitude data refer to sea level with normal pressure level and so many peaks remain between it and Everest (8848m). This "oddity" is due to the oval shape of the earth's surface, but is not recognized by all Ecuadorians. The Chimborazo remains the highest peak in Ecuador and the crowning goal of our diverse journey.
ECUADOR'S VOLCANO JOURNEY
Ecuador – country & people
With over 14 million inhabitants on 283,560 km², Ecuador has the highest population density of all South American countries. The proportion of the indigenous population is very high, with a strong mix of European settlers (mestizos). After gaining independence from Spain in 1821, the development into a republic in 1978 was marked by political and territorial instability. The official language, Spanish, is widely spoken, while English is only partially spoken. Traveling in Ecuador is quite unproblematic with relatively good roads and developed infrastructure. Most areas of the country are well developed and easily accessible.
Ecuador and Alexander von Humboldt
In his second South American expedition from Cartagena to Lima, Alexander von Humboldt spent the first half of 1802 in the Ecuadorian area. He reported climbing Chimborazo (June 23, 1802), but is believed to have turned back 400-800 meters below the summit. At Cotopaxi, he attempted an ascent that ended at 4,500 meters. Twice he climbed the Pichincha, Quito's 4794 meter high local mountain.
Climate & weather in the mountains of Ecuador
In the middle mountains (3000m-5000m) you can have a sunny morning and suddenly clouds with rain come in. Tips:
Temperatures vary between 5°C-15°C in the low mountain ranges during daylight hours.
Always dress in layers and have rain gear handy to make your hike comfortable.
In the high mountains (above 5000m) temperatures can drop below 0°C at night and during the ascent. Hikes in the snow-capped mountains of Ecuador start at midnight. Tips:
Temperatures below 0°C
Feels with wind (wind chill factor) quickly down to -15°C or -20°C and the body is more sensitive at higher altitudes
Dressing in layers and warm mountain gear is highly recommended.
If the weather is not in good condition, our mountain guide will always evaluate and advise the choices made during the ascent: safety is our main philosophy.
Included meals: B=breakfast; L=lunch; D=dinner
Services included in the prices:
Organization and management of the trip
Preparatory briefing, material service, team briefing
Expedition leader for 8 to max. 12 participants
Tour management by Ecuadorian / South American IVBV mountain guide
– Guaranteed to be carried out with at least 4 participants
– Additional mountain guide on Cotopaxi and Chimborazo for 2 guests each
Airport transfers in Quito (for outward and return flights)
3 nights in Quito in a *** hotel with breakfast (double room)
Transfers according to the itinerary
National Park Fees
3 x overnight stays / full board in Hacienda near Corazon (acclimatization)
1 x overnight stay / full board in the Mortiños Hacienda near Cotopaxi
2 x overnight stays / full board *** hotel in Banos
2-3 x overnight stays in camp on the mountain (Rose Ribas and Carrel Hütte)
Three meals on the mountain (breakfast, packed lunch and dinner)
1-2 x overnight stays / full board in the Estrellas / Chimborazo Lodge near Riobamba
Group material (ropes, etc.) for the mountain tours
Medical emergency equipment
Travel insurance
International flight to Quito from various European airports
– Economy tariff (non-flexible)
– Baggage allowance (checked baggage) 23kg + hand baggage (additional baggage can be booked for a surcharge)
– Flight with AE, KLM or IBERIA depending on the place of departure
Dinner and lunch in Quito
Personal equipment (Material service in Quito at extra cost)
Snacks, alcoholic beverages
Personal equipment (such as boots, ice ax, crampons, harness, sleeping bag, mat, Goretex, etc.)
Gratuities (approx. USD 100 is appropriate)
FROM/TO
PRICE (USD)
TRAVEL STATUS
–
FROM/TO
PRICE (USD)
TRAVEL STATUS
–
FROM/TO
PRICE (USD)
TRAVEL STATUS
–
FROM/TO
PRICE (USD)
TRAVEL STATUS
–
» Additional dates available upon request
» Rates may vary from July 26th to 31th for the national holidays
| 1 PAX | 2 PAX | 4 PAX | 6 PAX | 8 PAX | 10 PAX | 12 PAX | 14 PAX |
| --- | --- | --- | --- | --- | --- | --- | --- |
| — USD | — USD | — USD | — USD | — USD | — USD | — USD | — USD |
Deposit for reservations: — USD (– EUR) ✓ Full payment 40 days before. No refund if you cancel less than 30 days!
Places:
*Available
Trip-code: Number ►ECU-
Duration: 15 days
Participants: Minimal: 4 Maximal: 12
Members: We don't have an open group to join – We can open a new group – Contact us!
Country / Location: Ecuador
Mountain Guide: Eric Albino Lliuya
Other dates / additional info: Contact us!
3% early bird discount when booking 6 months prior to departure 2023
Legend Booking-information:
EZZ Single room supplement
🟢 On this trip, places are still available.
🟡 On this trip, only a few places left.
🔴 This trip is sold out / closed.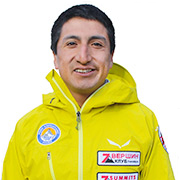 Eric Raul Albino Lliuya
Expert guide certified by AGOMP
General Sales Manager of Peru Expeditions