Chile: Multiple Volcanoes and Ojos de Salado volcano
The Ojos Del Salado volcano is the highest summit across Chile, the second summit in America, and it is also the tallest active volcano in the world. That's why this is one of the most desired challenges among mountaineers around the world. Ojos Del Salado is almost as tall as Mt. Aconcagua which surpasses it by 60mts. The volcano is located in the borderline between Chile and Argentina, in the Chilean Atacama region, one of the most active mining regions in the country. Inside the Nevado de Tres Cruces National Park we can spot the Negro Francisco Lake and the Maricunga salt-flat which serves as refuge to three flamingo species. The closest city is Copiapó, where we can find everything we need to start our climbing upwards Ojos Del Salado.
Weather
Ojos del Salado is a high desert area and its temperatures oscillate abruptly from daytime to night-time, reaching temperatures as low as -20ºC (-4ºF). So, if you want to try this one, you've better got some good technical clothing and equipment up to the requirements.
Valle Chico: An oasis in mid Atacama desert. It is located at 3,040masl and is the perfect place to start the expedition and the acclimatization process.
Laguna Santa Rosa: This one is located at 3,170masl, and 154Km from Copiapó. Near the lake the terrain is quite hard in some places and very muddy in others. This is an important place in the park in which you can spot fox, flamingos, guanacos and vicuñas.
Laguna del Negro Francisco: This one is also within Parque Nevado de Tres Cruces. It is a bit far from the other camp sites, but it's worthy. It is also good for trekking acclimatization. There is a refuge there provided with some basic amenities.
Laguna Verde: At 4,340masl this is quite the proper place to set up the base camp, because there are wide open places to camp and stone-refuges (pircas) which are very helpful to endure wind-storms. Plus, the hot-springs in the area are amazing.
Refugio Atacama: At 5,260masl. We usually send the 4WD with our equipment and heavy cargo to the shelter and we walk a remaining two hours road.
Refugio Tejos: This shelter is located at 5,837masl provided with bunk-beds to spend the night comfortably.
Summit: To access the small crown of Ojos del Salado we have to go across some interesting places. One of them is a 100 meters snowfield with a 35º slope. Another important one is the last one, a 30 meters rock climbing (fixed rope (5.6)) at 6,860masl.
Included meals: B=breakfast; L=lunch; D=dinner
Services included in the prices:
Mountain guide (Spanish / English )
Private transportation to climbing areas (4WD)
Transfer airport – hotel and hotel – airport
2 hotel nights in (Copiapó)
Mountain tents (each one is for 2 persons)
Dinner tent (with table and chairs)
Cooking kit
All meals within the expedition (Breakfast, box lunch, diner)
Professional first aids kit
Mat
Heart rate monitor and oximeter
VHF Radio
Satellite radio
All group equipment; rope, high altitude tent, stove, GPS, etc.
Personal mountain equipment
Traveling and rescue insurances. We strongly recommend you to get them.
Camping, refuge or hotel in Santa Rosa lagoon, conciderate at list 30usd per day.
Any other service which wasn't mentioned above. (restaurant meals in Copiapo, beverages , tips, etc.)
International and national flights and boarding fees.
Climbing permit "from the last 4 years this payment are not required"
Payment in Santa Rosa lagoon, for refuge (us30) , camping (us20) or Hotel (us100)
FROM/TO
PRICE (USD)
TRAVEL STATUS
–
FROM/TO
PRICE (USD)
TRAVEL STATUS
–
FROM/TO
PRICE (USD)
TRAVEL STATUS
–
FROM/TO
PRICE (USD)
TRAVEL STATUS
–
» Additional dates available upon request
» Rates may vary from July 26th to 31th for the national holidays
| 1 PAX | 2 PAX | 4 PAX | 6 PAX | 8 PAX | 10 PAX | 12 PAX | 14 PAX |
| --- | --- | --- | --- | --- | --- | --- | --- |
| — USD | — USD | — USD | — USD | — USD | — USD | — USD | — USD |
Deposit for reservations: * — USD (– EUR) ✓ Full payment 40 days before. No refund if you cancel less than 30 days!
Places:
*Available
Trip-code: Number ►PE-404
Duration: 14 days
Participants: Minimal: 2 Maximal: 15
Members: We don't have an open group to join – We can open a new group – Contact us!
Country / Location: Chile
Mountain Guide: Eric Raul Albino Lliuya
Balance: Must be made 30 days before expedition departure time via transfer to our account.
Cancellation Policies
Cancellations made between 29 to 16 days prior the expedition will be refunded up to a 60% of the deposited money, or, if you prefer, you can keep the reservation up to one year for a new scheduled expedition of the same value.
Cancellations made 15 days (or less) before the expedition WILL NOT be refunded.
This cancellation policy covers any and all reasons for canceling participation in the expedition, including personal issues, accidents, illness, acts of nature, bad weather, etc.
Note: please ask your normal travel company about "Trip Cancellation Insurance".
Other dates / additional info: Contact us!
3% early bird discount when booking 6 months prior to departure 2023
Legend Booking-information:
EZZ Single room supplement
🟢 On this trip, places are still available.
🟡 On this trip, only a few places left.
🔴 This trip is sold out / closed.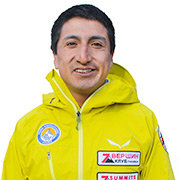 Eric Raul Albino Lliuya
Expert guide certified by AGOMP
General Sales Manager of Peru Expeditions