Africa: Expedition to Mount Kilimanjaro (5895m), a trip with a Russian Mountain Guide 7 Summits Club Collection
Trip overview:
Moshi – Marangu Gate – Mandara – Horombo – Kibo Hut – Uhuru Peak – Horombo – Moshi – Manyara Lake – Ngoro-Ngoro – Moshi
Why go there?
Kilimanjaro is 5895 meters high an extinct volcano, with 3 peaks: Kibo, Shira and Mawenzi ! The highest summit of
Africa is one of the most beautiful places on earth. The mountain is situated completely in Tanzania. Kilimanjaro is
a non technical mountain that can be climbed by anyone with a fair good condition and patience. There are many
different routes, each passing rainforest, moorland and glaciers. Most people seize the opportunity of being in
wildlife paradise and couple a safari to their trip as well.
Location: 3°04′ South Latitude, 37°21′ East longitude.
Kili is the easiest of all the 7 Summis, so the most popular. Our route goes up moderate slopes and is provided
with rather comfortable huts (with dormitories and dining rooms).
Choosing Machame route for your Kilimanjaro hike means smooth acclimatization and amazing views. This option
is the second in popularity among the climbers, and the number of other climbers may be high.
Included meals: B=breakfast; L=lunch; D=dinner
Contact: More information about the expedition.
Anastasia Kuznetsova
Manager-guide of 7 Summits Club for east Africa
www.klub7vershin.ru
www.7summits-club.com

7 Summits Club Ltd.
B. Sampsonievskiy Av.#45,
St. Petersburg, RUSSIA
+7 921 185 25 28 Luba
+7 916 634 40 43 Anastasia
+7 916 390 88 96 Alex
+7 916 390 88 51 Luda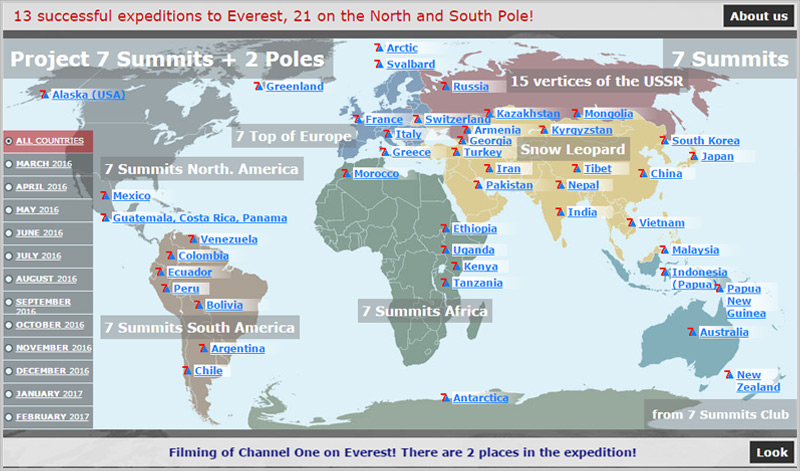 Services included in the prices:
Two nights accomodation in hotel 3* (moshi, ½ dbl, bed and breakfast),
Transfer from kili airport to hotel & hotel to kili airport
Transportation from moshi to the starting point, the mountain and return to moshi
National park gate fees
Campinghut fees
Rescue fees
Guides service
Porters salaries
All meals on the mountain
Airline ticket
Visa fee
Lunch and dinner at the hotel (before and after the climbing)
Personal gear rentals
Tips for the mountain crew (200-250 USD per person)
Mountaineering insurance
Extra payment for Sngl accommodation in hotel
What to Bring or take fo Day Hiking and Technical Equipment for Climbing Expedition
This equipment list is compiled to provide you with adequate help when choosing your equipment for a climb. Most items are required. Please consider each of them and make sure you understand the function and exclusive use for mountaineering, before substituting or removing items from this list. Please note that this list has been carefully annotated by the organizer. Remember that mountaineering, mountaineering or mountaineering is an extreme, risky sport, therefore everything related to it is of great attention.
These items should be on your hiking checklist:

Hiking backpack for hiking 30 to 40 liters

Light gloves for hiking or (Optional Mittens waterproof)

Medium weight socks

Sleeping bag (-10º to 15ºC)

Small daypack for one day hiking 20 liters

Weather-appropriate clothing (think moisture-wicking and layers)

Hiking boots or shoes

Medium weight parka with fibber fill or down

Rain poncho (or rain gear)

Long-sleeved shirts

Fleece or Wool sweater and/or trousers

Lightweight pants

Cotton short-sleeved shirts or t-shirts

Water bottle for hiking or trekking

Strong waterproof duffel bag

Flashlight with spare batteries and bulb

Towel for personal hygiene each participantFirst-aid kit

Regular and long underwear

Knife or multi-tool

Light cap and wool hat

Sunglasses with UV certification, Sun block, lips

The rest of the list Essentials as appropriate for your hike

Grooming and personal hygiene kit

One Hiking Buff per person
Technical Equipment for High Altitude Expedition Mountains

3 Locking carabiners, we recommended per person

We recommend 2 ice screws for each client

1 Daisy Chain (Life Line) per each person

2 Ice axes (per person) technical, we recommended GRIVEL company

1 ATC descender (Rappel), this is very necessary for technical mountains

2 Cords for prusik, very important (Size Cord 6 mm x 10 m. long)

Gloves(Good gloves) for expeditions over 6000meters

Harness, we recommended GRIVEL company

Sleeping pad / Mattress, we recommend with air or inflatable mattress

Crampons, we recommended GRIVEL company

Walking sticks (optional), a pair per person, we recommended GRIVEL company

Down Jacket for expedition

Very important to have personal clothing such as pants and jacket with GOROTEX certification

First aid kit, for high mountains, because we as guides cannot medicate clients

Backpack Capacity 60 liters, it is better to have a bigger backpack to go comfortably to the high camps, because here you have to carry all your personal things

Gaiters or Leggings, now modern boots already have built-in (Incorporated), but better to have an extra pair
Dressing appropriately for the mountains can make the difference between a pleasant trip and a really uncomfortable one. Clothing must provide the right degree of temperature, perspiration and be well ventilated. Preferably cotton clothing should be avoided, as in humid conditions they absorb body heat.
In general, the weather conditions in in the Andes of South America can vary from day to day and even throughout the day. Therefore, clothing must be versatile.
Please do not hesitate to contact us with any questions you may have regarding the necessary equipment.
FROM/TO
PRICE (USD)
TRAVEL STATUS
–
04 ENE 2023 / 11 ENE 2023
$ —
🟢
FROM/TO
PRICE (USD)
TRAVEL STATUS
–
14 ENE 2023 / 22 ENE 2023
$ —
🟢
FROM/TO
PRICE (USD)
TRAVEL STATUS
–
05 FEB 2023 / 13 FEB 2023
$ —
🟢
FROM/TO
PRICE (USD)
TRAVEL STATUS
–
17 FEB 2023 / 25 FEB 2023
$ —
🟢
FROM/TO
PRICE (USD)
TRAVEL STATUS
–
30 APR 2023 / 08 MAY 2023
$ —
🟢
FROM/TO
PRICE (USD)
TRAVEL STATUS
–
11 JUN 2023 / 19 JUN 2023
$ —
🟢
FROM/TO
PRICE (USD)
TRAVEL STATUS
–
23 JUL 2023 / 31 JUL 2023
$ —
🟢
FROM/TO
PRICE (USD)
TRAVEL STATUS
–
13 AUG 2023 / 21 AUG 2023
$ —
🟢
FROM/TO
PRICE (USD)
TRAVEL STATUS
–
10 SET 2023 / 18 SET 2023
$ —
🟢
» Additional dates available upon request
» Rates may vary from July 26th to 31th for the national holidays
| 1 PAX | 2 PAX | 4 PAX | 6 PAX | 8 PAX | 10 PAX | 12 PAX | 14 PAX |
| --- | --- | --- | --- | --- | --- | --- | --- |
| — USD | — USD | — USD | — USD | — USD | — USD | — USD | — USD |
Deposit for reservations: * 500,00 USD (38.019,00 Rubles) ✓ Full payment 30 days before. No refund if you cancel less than 30 days!
Places:
*Available
Trip-code: Number
Duration: 9 days
Participants: Minimal: 6 Maximal: 12
Country / Location: Tanzania – Africa
Mountain Guide: Anastasia Kuznetsova, Vladimir Kotlyar, 7 Summits Club managers
Other dates / additional info: Contact us!
3% early bird discount when booking 6 months prior to departure 2023
Legend Booking-information:
EZZ Single room supplement
🟢 On this trip, places are still available.
🟡 On this trip, only a few places left.
🔴 This trip is sold out / closed.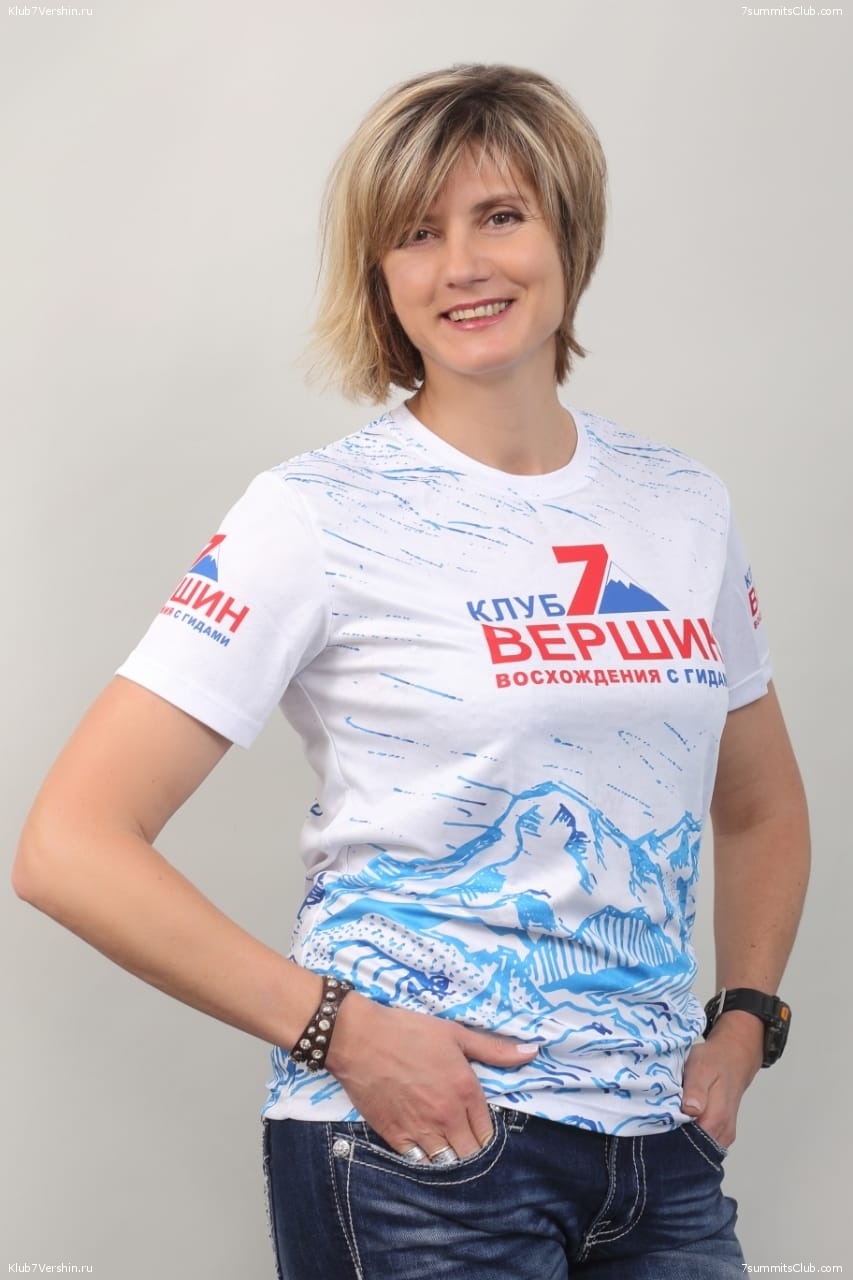 Executive Director.
The first Russian woman to complete the 7 Summits Project.
Visited the North and South Poles.
The third Russian woman to climb Everest
World record in the speed of climbing 7 Peaks among women
Mountain guide. Director of the 7 Summits Club.
He has been climbing and organizing expeditions for 20 years.
The last 15 years – professionally.
He has about 100 ascents of varying degrees of difficulty in various countries of the world.
In 2016, she climbed the summit of Everest three times. Leader of successful expeditions to Cho Oyu (8201) and Manaslu (8163)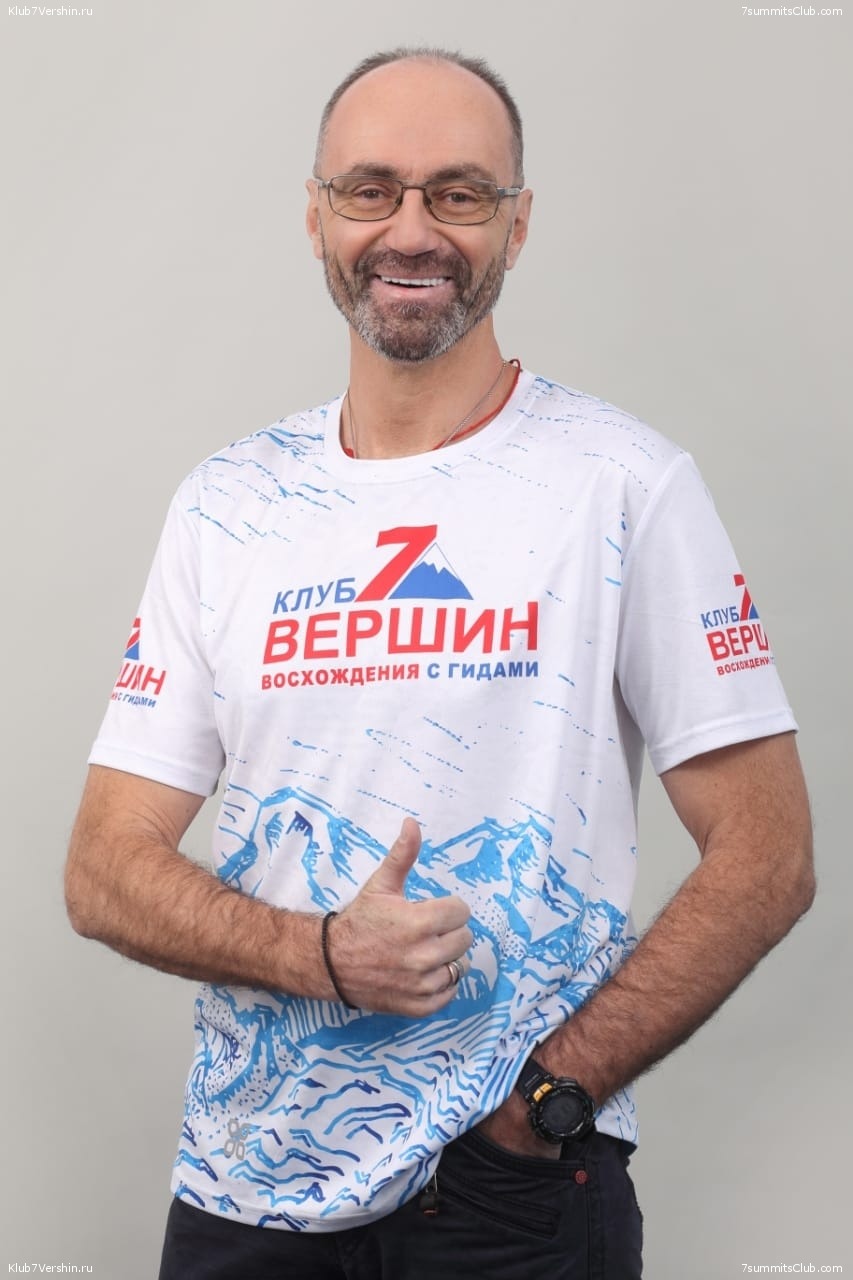 President of the 7 Summits Club.

Master of Sports of the USSR in mountaineering, 54 years old, professional mountaineer. Mountaineering instructor, mountain guide, high-altitude cameraman. Active member of the Russian Geographical Society.

Initiator and leader of several well-known projects, such as: "7 Peaks", "Land Rover on Elbrus".

He has been climbing and organizing expeditions and competitions for 28 years.

The last 25 years – professionally.

Has made more than 150 ascents of varying difficulty in dozens of countries.

Organizer and participant of 11 Himalayan expeditions.
Personal gear
• Small backpack (35-40 °C liters) for your personal belongings
• Daypack that the porters carry (limited to 15 kg)
• Sleeping bag (-15 °C comfort)
• Waterproof poncho (it must cover you and your backpack)
• High-altitude trekking boots with waterproof protector
• Light trekking boots
• Trekking snickers
• Light trekking trousers for the first days
• Trekking poles
• Warm fleece jacket (-15 °C) for summiting
• Waterproof jacket (Gore-Tex or similar)
• Waterproof trousers (Gore-Tex or similar)
• Thermal underwear
• Gloves (-15°C)
• Fleece hat
• High altitude trekking gaiters
• Balaclava
• Baseball hat/cap/cowboy hat
• T-shirt with long sleeves
• Shorts
• Trekking socks (3-4)
• Headlamp
• High trekking glasses (a good one!)
• Thermos (1 liter)
• Flask (1 liter)
• Sunblock
• Hygienic lipstick
• Towel, soap, toothpaste, toothbrush,
• Personal medical kit
• Camera with a supply of batteries
• Book, cards, walkman, reading stuff etc