Asia: Expedition to Mount Everest from Tibet (8848m), a trip with a Russian Mountain Guide 7 Summits Club Collection
Trip overview: Kathmandu – Lhasa – Xigatse- Xegar – Base Camp (BC) – Advanced Base Camp (ABC) – North Col (NC) – Summit – Dzangmu – Kathmandu.
Why go there?
We offer full service expedition, i.e.we provide members with:
High-altitude sherpa – 1 for 1 member
Guides (Everest summiters)
1 for 5 members
Oxygen-cylinders "POISK" – 6 for one climber
Doctor in BC-ABC-NC
Stationary radios in all camps and a walkie-talkie for each member
4 fully equipped Camps 5100m, 5800m, 6400m and 7000m
We provide sleeping bags and sleeping pads in Camps 5800м, 7000м, 7800м and 8300м
2 fully equipped Camps 7800m and 8300m: with tents, sleeping bags&pads, gas-stoves, pans, gas-cartridges, freeze-dried food, oxygen-cylinders. Everything is delivered to Camps by expedition Sherpas
Free access to e-mail, TV set, DVD, sauna in BC 5100m
All our high-altitude Sherpas have Everest experience:
They bring all the team equipment and oxygen-cylinders to high camps and go with team all the way from ABC to the summit.
Our expedition starts in Katmandu: we are all meeting in the Yak&Yeti 5***** hotel. Members arriving by different flights are met at the airport and
brought to the hotel. The team will number 18-20 in all.
Three days later on April 4 we start for Tibet. From Katmandu we fly to Lhasa (3600m), drive to Xigatse (3900m) and Xegar(4200m). We have one day of rest in Xegar for acclimatization and the next day we drive to Everest BC (5200m). After 2-3 days in BC we start with yaks to IBC (5800m). The next day we proceed to ABC (6400m) where we pitch a camp similar to our BC.
A day later, after our Sherpas have pitched Camp 1 on the North Col (7000m), we move there and spend one night for acclimatization. Then we descend to BC and have 3-4 days' rest there. After that we start again for ABC – by this time our Sherpas will have established Camp 2 (7700m). So, we reach Camp 1 (North Col) and make an attempt to reach Camp 2. In case we cannot do this due to bad weather or the lack of acclimatization, we descend to ABC, have a short rest there, and try to reach 7700m again. After one night at 7700m we go down to BC and have a long rest there. So by that time we will make three acclimatization outings.
Meanwhile our Sherpas establish Camp 3 (8300m), after May 15-17 the whole team move to ABC and we wait there for a spell of good weather.
As a rule after a night at 8300m and a summit attempt you run out of strength and oxygen necessary for a second bid…
So the most important thing here is to assess as objectively as possible your stamina, both mental and physical… And here your personal high altitude Sherpa – if you have chosen to hire one – comes in very handy, for he will carry your oxygen to the top (and help you down if need be). The only drawback is he will cost quite a sum. But certainly you will get a very good value for your money – at the bad concourse of circumstance it might be your life's value.
The advantage of our expedition is that in terms of weather it uses the best time: late May – early June.
So we should return to Kathmandu on June 7 or 8. We stay at the Yak&Yeti again and leave it for home bringing a piece of Everest in our hearts.
We plan to run this program every year, so, if you are interested, contact us for details.
Prices for friends, familiy and sponsors:
North Col program (30 days) – 14 900 USD
If you want to bring your family, they can join all the way to North Col! or ABC/BC, the following prices are all inclusive from Kathmandu.
ABC program (1 month and less) – 7500 USD
ABC program (1 month – 2 month) – 8500 USD
BC program (15 days and less) – 5000 USD
The 2 months' programs means your relatives (or our sponsors) join the team for the whole program, so we all arrive and leave together. Joining the 1 month programs, your people will have to leave earlier.
Included meals: B=breakfast; L=lunch; D=dinner
Contact: More information about the expedition.
Glory Ivonin, Alexande Abramov and Mingma Gelu Sherpa 7 Summits Club managers
Manager-guide of 7 Summints Club for Tibet – Everest – Asia
www.klub7vershin.ru
www.7summits-club.com

7 Summits Club Ltd.
B. Sampsonievskiy Av.#45,
St. Petersburg, RUSSIA
+7 921 185 25 28 Luba

+7 916 390 88 96 Alex
+7 916 390 88 51 Luda
+977 98 412 387 42 Mingma
+7 (495) 642-88-66 Glory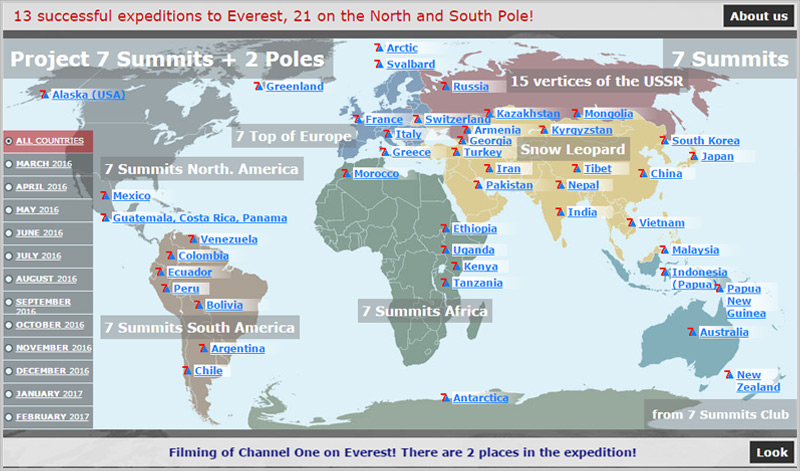 Services included in the prices:
Experienced expedition leader (Everest summiter) from "7 Summits Club"
High-altitude porters (Sherpas) – 1 for 1 member
Guides (Everest summiters) – 1 for 4-5 members
Doctor in BC
Oxygen set: mask + regulator – 1 item per climber (for ascent only)
Oxygen bottles "POISK" – 6 items per climber (for ascent only)
4 fully equipped camps: BC, IBC, ABC and NC camp
2 fully equipped high camps
Free Internet service in BC
TV and DVD in BC
Visa for visiting Tibet
Climbing permit
Meeting and seeing off at all necessary points of the route
Transfers in Katmandu according to the program
Airfare Kathmandu-Lhasa
Bus and truck for the loads to Zangmu and back
Jeeps and lorry for the participants of the team from Lhasa to BC and from BC to the Zangmu
1 yak per expedition member from BC to ABC and back
Hotel in Katmandu Yak&Yeti 5***** for 2 nights before and 2 nights after expedition in single rooms
All hotels in Tibet
Breakfasts in Katmandu
Food in Tibet
Food in BC, IBC, ABC and the NCC– 3 meals a day
Tents for members and supporting staff in BC, IBC, ABC and the NCC
Mess-tent in BC, IBC, ABC and the NCC, tables, chairs and tableware
Fuel for stoves in BC, IBC, ABC and the NCC
Cooking equipment in BC, IBC, ABC and the NCC
2 electric generators: 1 for BC and 1 for ABC
First-aid kit
Chinese liaison officer
Nepalese cooks
Tibetan kitchen-boys
Gas-bottles (250gr.) for high camps only
Tents for high camps
Sleeping bags for high camps and IBC
Ropes
Ice screws
Walkie-talkies
Team jacket
Team T-shirts – 2
Extra nights in hotel in Katmandu
Flight to Kathmandu
Personal equipment for the ascent
Lunches and dinners in Kathmandu
Personal travel, medical and rescue insurance.
Extra personal (high-altitude) Sherpa
Nepalese multiple-entry tourist visa
Airport taxes in Kathmandu
From / To
18.04. – 27.05.2023
» Additional dates available upon request
» Rates may vary from July 26th to 31th for the national holidays
Prices (per person): 79.900,00 USD (4.862,298 RUBLES) ✓
Deposit for reservations: * 15.000,00 USD (912 822 RUBLES) ✓ Full payment 90 days before. No refund if you cancel less than 90 days!
Places:
*Available
Trip-code: Number
Duration: 40 days
Participants: Minimal: 10 Maximal: 15
Country / Location: Tibet – ASIA
Mountain Guide:Alexande Abramov and Mingma Gelu Sherpa 7 Summits Club managers
Other dates / additional info: Contact us!
3% early bird discount when booking 6 months prior to departure 2023
Legend Booking-information:
EZZ Single room supplement
🟢 On this trip, places are still available.
🟡 On this trip, only a few places left.
🔴 This trip is sold out / closed.
Juventino Albino Caldua
Expert guide certified by IVBV - UIAGM - IFMGA
Co-Founder, Peru Expeditions
Telephone: (+51) 943780600
E-Mail: [email protected]
Good advice
Important: Climbing Everest is a dangerous pastime. No one can guarantee your safety at 7000m and much less at 8000m and over. So in our price we include personal high altitude Sherpa-guides for the summit attempt. According to our long Everest experience it is a must, especially if you have no previous experience in climbing above 8000m. A Sherpa-guide will enormously enhance your safety and chances of successful summiting. He will carry the supply of your oxygen to the top (and help you down if need be). The only drawback is he will cost quite a sum. But certainly you will get a very good value for your money – at the bad concourse of circumstance it might be your life's value.
Necessary travel papers (documents)
Permit for visiting Tibet (a group one)
Climbing permit for Everest
Four passport photos – for visas
By air and by land
Transfer from Kathmandu to BC
Meeting and seeing-off
City transfers in Kathmandu
Airfare Kathmandu – Lhasa
Bus and truck for the loads to Zangmu and back to Katmandu
One jeep (or minibus) for 4 members and a truck for luggage and staff from Zangmu to the Base Camp and back
Carrying loads above BC: yaks carry loads from BC to ABC and back. One yak (40 kg) per member from BC to ABC. Yaks carry your personal equipment.
High altitude Sherpas carry all expedition equipment above ABC.
They pitch and strike high camps and bring up and down all the camping (including sleeping bags with foam pads), climbing gear, food and oxygen. The latter is brought to three camps: at 7000m (one 4-liters "Poisk" bottle per member), 7700m (one 4-liters "Poisk" bottle per member) and 8300m (fore 4-liters "Poisk" bottles per member).
Accommodation
Hotel Yak&Yeti 5***** in Katmandu for 5 nights in single rooms (2 nights before and 2 nights after expedition)
All hotels in Tibet: in Lhasa, Xigatse, Zangmu, Nialam, Old Tingri, Xegar (rooms for 2-6)
In BC and ABC – 1 tent for 1 member
High camps – 1 tent for 2-3 members
Meals
Breakfasts only in Katmandu (lunches and dinners are not included)
Meals in Tibet on the way to BC – 3 times a day in restaurants
Meals in the BC, IBC, ABC and the NCC– 3 times a day, prepared by Nepalese cooks with the help of Tibetan kitchen-boys on gas stoves in kitchen tents. In these camps you can get any amount of hot water for washing and boiled water for drinking. We eat in spacious mess tents equipped with tables and chairs.
Food for the ascent – we provide special light-weight dehydrated food-stuffs made by western companies and in the camp higher the NC you make your meals yourselves on gas stoves. The cooking is simple, just add boiled water and wait a bit. Water is melted snow.
Staff
Expedition leader from "7 Summits Club" – experienced Everest summiter
Chinese liaison officer
4 Nepalese cooks: 1-3 for BC and 1-3 for ABC
Tibetan kitchen boys: 4 for BC and 4 for ABC
High-altitude porters (Sherpas), all with Everest experience: one for a member. They go with the team all the way form ABC to the summit
Guides – one for 5 members
Doctor in BC
Health and medical insurance
There will be a doctor in BC. We provide a big expedition first aid kit with all the necessary first aid (only!) medicines, and we strogly recommend that you bring your own specific ones you think you might need. Medical insurance is a must!
Weather
Weather on Everest is very changeable. Every day we will look for forecasts in Internet and adjust to them our planning of acclimatization and ascent.
Extra expenses
Extra nights in the "Yak&Yeti"5***** hotel in Kathmandu in double rooms
Individual jeep transfer from BC to Jangmu – 800USD
Individual jeep transfer from Jangmu to Katmandu – 300USD
Outing from BC to Shigar (4000m) for rest – paid in cash on the spot
Extra mask and regulator (1 set) – 700USD
Extra oxygen 4 liters cylinder – 600USD
Extra yak for personal equipment (40 kg maximum) from BC
to ABC or from ABC to BC – 200 USD
Price of your personal Sherpa, who carries your personal stuff from BC to high-altitude camps and goes with you from BC to high camps all the way from BC to the summit, is 11 000 USD (includes oxygen, food, personal gear and permits)
Internet, phone – Electricity:
In BC and in ABC we organize 220V with the help of generator and 12V with Solar batteries.
Each member will have a possibility to charge any electronic device
In Camps 5800m and 7000m – 12 V with Solar batteries
Walkie-Talkie:
On the route we use radios with 144.00 frequency. All guides and Sherpas will have Walkie-Talkie.
Telephone:
There is GSM in Everest BC (mobile coverage at 1800 frequency)
In Lhasa you will have a chance of buying local sim card of China Mobile
"Thuraya" satellite phone works fine evrywhere on the route.
Internet:
We will arrange Wi-Fi with GPRS for commom use in BC
So please bring you own IPhone or IPad
Possibility of renting personal equipment
By request
Personal gear
On Everest climbers use 2 Base Camps – BC (5100m) and ABC (6500m).Hence it is advisable to have 2 sets of Base Camp equipment for Everest (e.g. – 2 sleeping bags so that you don't have to carry your sleeping bag up and down).
Oxygen Set – 1mask + 1 reducer + 6 oxygen cylinders "Poisk" 4L
1 Team jacket (windblock)
2 Team T-shirts.
Equipment for BC and ABC:
Duffle bag
Sleeping bag -2 items
Personal items for washing
Your Notebook
Technical Equipment for the ascent:
Crampons (e.g. Grivel G12)
Rucksack 45-50 liters
Harness
Prussiks
Karabiners with screwgate lockers – 5 items
Jumar (ascender)
Telescope ski poles
Thermos
Rappel device
Ice Axe
Head lamp
Photo camera
Equipment for body and feet:
Trekking shoes
Boots of "Everest" Millet type
Down jacket + down trousers (or down overalls)
Gore-tex jacket with wide hood
Gore-tex trousers (better semi-overalls)
Windblock jacket
Windblock trousers
Jacket "Polartec – 100" – 2 items
Warm underwear – 2 sets
Personal underwear
Polartec gloves – 2 pairs
Thinsulate gloves
Thinsulate mittens – 2 pairs
Warm woolen socks – 4-5 pairs
Balaclava
Warm hat
Windblock face mask
UV glasses
Ski goggles
The price includes some personal equipment:
Oxygen equipment for rent only (1mask + 1 reducer + 6 Oxygen cylinders "Poisk" 4L)
1 Team jacket (windblock)
1 Team T-shirts