Here is our training advice for Your Huayhuash Circuit Trek in Peru. Are you are signed up to an Ian Taylor Trekking trip to this amazing region of Peru? This trek has a lot of up and down over high passes at high altitude. This requires very specific training so you can enjoy this magical place. Ian has climbed Mount Everest to the top, Kilimanjaro 40+ times and trekked and climbed in the Huayhuash region many times.
Physical Conditioning
Trekking in the Huayhuash region of Peru should not be underestimated. There are a lot of steep passes up and down and all done at high altitude. We also have the option to a couple of summits on this trek. Theses are serious trekking challenges which requires significant preparation and specific physical conditioning. Leg strength and endurance training are key to success. With forward planning, the right acclimatization schedule and the right attitude to training, you stand the best possible chance of successfully and safely completing the Huayhuash circuit safely and successfully. We really want you to enjoying one of the most rewarding and spectacular experiences in the world. So come prepared.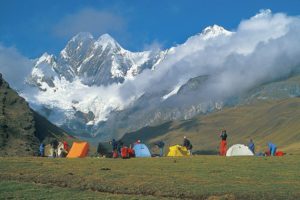 Contact the Experts
This information is designed to help you in your preparation for the Huayhuash Circuit trek. If you need to discuss how to fully prepare you need to CONTACT US as we can give your more specific training advice. We have the inside knowledge and it is always easier to talk specifically to your personal needs. We also want to make sure you have the right gear along with the best training advice. Coming fully prepared for this trip should be your primary concern.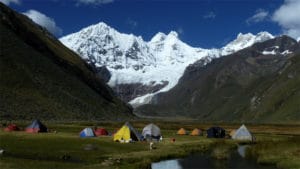 Training and Fitness
Trekking the Huayhuash Circuit is a physical challenge. This trek should be well within the reach of most people who enjoy a reasonable standard of fitness. However, training specifically for the climb is essential to prepare you for the particular pitfalls posed by mountain walking. We strongly advise you to seek medical advice before deciding to join one of our treks. Medical advice is also advised before starting a training program, particularly if you have any concerns about your health. There are many long days, trekking sometimes 9+ hours. You will have thousand of feet of ascent and decent into very high altitudes. This requires serious consideration and preparation.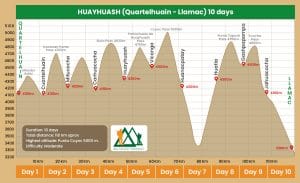 Don't Wait
It is important to start training as early as possible before your scheduled climb. Building strength, fitness and stamina. The best physical preparation is activity which simulates similar activity to the Trek. This trek will put specific demands on our body. There are many ascents and descents all the way along this trip. Building endurance walking up and down hills, building up weight in your back pack is key to success. If you do not have access to hills, you need to be using a stair master. You can use an incline on the treadmill to gain the required strength and endurance. The stair master is best. I recommend training 6 to 10 hours per week. READ SOME REVIEWS.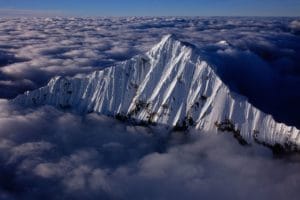 Hill Training is Best
You should therefore aim to make walking up and down hills as the main part of your training. Taking regular and increasingly long walks will help develop the muscles which will be needed when you arrive in Peru. Try to find some local hills to walk up and down if possible. Gradually increasing the duration of your walks will help to develop your stamina. Increasing the during will also assist in preparing you for being on your feet over long distances. You should also we walking and training during the week.
When out on training walks, ensure that you always wear the trekking boots you intend to take on the Huayhuash trek. Getting used to your footwear will help make you as comfortable as possible when it comes to your trek. It is also a good idea to wear the same day pack that you will be taking with you on the trip. You need to feel at ease with the back pack, gradually adding weight to the pack to build strength.
Test Yourself in the Wilderness
Being mentally prepared will also be crucial to your chance of a successful Huayhuash trek. Get out an sleep in the tent. Do some wilderness camping in the cold if possible. Progressively pushing the limits of your physical training will help develop your capacity to endure the strain. A positive attitude is also crucial. Do be prepared for setbacks and particularly difficult stages during the trek. Remember that your guide will be there to encourage and inspire you! Hopefully the mountains will also be a source of inspiration.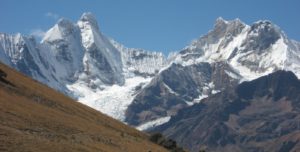 Give Yourself Enough Time to Build Specific Conditioning
It is no good trying to cram everything to the months before you depart. Put training plan together and build on your fitness, conditioning and endurance over time 4 – 6 months (minimum). This will also help you avoid injury and pick the right itinerary. We can help you build a training plan that works for you.
Understand This Trek and Apply to Your Training
You will need to be training 4 – 5 times a week. Building up to carrying weight in your back pack and also doing interval training. Remember you will be walking up and down hills. Crossing high passes on steep and challenging terrain up to 6 hours most days and 9 to 11 hours on the bigger days. You will need to manage the distances and miles you are walking and getting the specific conditioning for the climb. Make sure you have followed the base, build and peak format for your Huayhuash Circuit training. Once your training is complete, you will need to reduce your training in the week leading up to your departure. Get some rest and start your trip feeling fresh and well hydrated.
Don't Ignore Nutrition
You need a well-balanced diet to maintain a good level of health. As your routine picks up and you train harder, more strain will be placed on your carbohydrate stores. Before, during and after exercise you will need to supply your body with the fuel it needs!
You need to arrive for the trip knowing that you are fit and strong. Being ready gives you one less thing to worry about, it boosts your confidence allowing you to get the most out of the experience.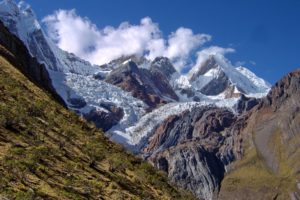 Mix up Your Training
It's hard work, I have to drag myself out of bed now and go for a 10km jog. This training has to be done, not every day and not the same training is required everyday. You are training to climb up and down and across a mountain range so your training should be specific to the mountain hiking with weight.
If you have access to hills or mountains and you have the time to get out walking up and down them that is great. Hill walking for 3 – 6+ hours once a week, and additional gym training will get you mountain fit in no time. This is not always achievable and we can help you prepare based off a gym schedule. Training for Huayhuash Circuit trek is a must and we require you to come prepared for this long and challenging trek.
Training Advice for Your Huayhuash Circuit Trek in Peru
The real key to success is the strength in the muscle for hiking. If you thing about hiking, forcing the legs to deal with the extra load will build that strength in the muscle. Your goal is not to get to the top fast. Your goal should be having the strength and endurance to last for a long period of time. If you are carrying a backpack with 6kg – 10kg (for your Huayhuash training) and walking uphill and around the hills for 3 plus hours, you will be putting the muscle under similar pressure as experienced at high altitude. Continued higher heart rates 130 – 150 (depending on the person) with a heavier lead will result in better strength and conditioning. Check out the Heart Rate Zone Chart. At the very least do a fitness test and understand your specific training zones.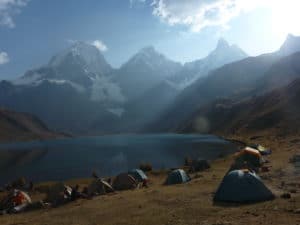 Build up to Carrying Double the Weight
You have coached your body and muscles to handle more pressure walking up and down hills with extra weight in your backpack. So once you take most of that weight off when you get to Huayhuash region, your body will know how to perform better under pressure. You will have to carry a backpack with 5kg – 7kg on a daily basis going up and down hills and passes and covering long distances. You need to be training with twice this weight in all your training sessions. This is really important.
There is no One Size Fits All
Everyone is individual and there is no one size fits all in your preparation. Be very specific in your training, as you may need to work on more hiking, stability, core work or strength.
For more information get in contact.
We hope this page on training advice for Your Huayhuash Circuit Trek in Peru was useful.