Salkantay Trek Information
Most people have their hearts set on hiking to Machu Picchu. However, many travelers visiting Peru are unaware that there are many other ways to get to this renowned Inca city located high in the Andes than just the Inca Trail.
The Salkantay Trek in Peru has long been recognized as a viable alternative to the renowned Classic Inca Trail, which is the most iconic trail and takes tourists from all over the world to the enigmatic lost city of the Incas, Machu Picchu. This tour offers breathtaking vistas along the route and combines a great variety of landscapes from the highlands, snow-capped Andean mountains, stunning lakes, picturesque Andean villages, high tropical jungle, history, culture, and Machu Picchu at the end of your journey.
Overview
The 5-day Salkantay trek to Machu Picchu is one of the most rewarding experiences that you can do once in your life, but it's no easy feat. You reach altitudes of 4630m and hike long days with some strenuous downhill sections. The Salkantay Trek was named the Top Alternative Trek to Machu Picchu by National Geographic and is less crowded than the Inca Trail.
The views along the way are stunning, and the landscape changes as you go, so you always have something to look at. We saw snowcapped mountains, lakes, waterfalls, glaciers, wildlife, a cloud forest, and Inca sites!
In our comprehensive Salkantay trek five-day guide, we include the best time to visit, hiking distances, hiking difficulty, tour company info, and a Salkantay trek packing list.
What to expect on the Salkantay trek?
This Salkantay Trek to Machu Picchu is a high-altitude trek that offers unique views that you can find in the alpine mountains, combining different highlights. Nowadays, most of the companies build their own lodges or refuges along the route, which makes it easy to find places where you could spend the nights. Nowadays, most of the companies build their own lodges or refuges along the route, which makes it easy to find places where you could spend the night.
The pathway is totally clear and combines up and down through incredible scenery, including rocky sections, maze sections, and some narrow sections with a cliff at the side. It can offer fantastic vistas of towering mountains, turquoise lakes such as the famous Humantay Lake, and the flora and fauna of the area, including condors, pumas, chinchillas, birds, snakes, and more.
After a few days in the highlands, the route descends to the high tropical area, where the landscape changes and shows more green and dense vegetation. Even the weather turns warmer, which is perfect for hiking under the vegetation with fantastic vistas.
On the last day, you will walk through some Inca sites where you can observe Machu Picchu and have a history lesson. Some companies offer some extra activities, such as a zip line or a hot spring, which the hikers could easily coordinate with their tour guide.
On the Salkantay Trek, you will be able to learn about many different local activities, how the locals live on the mountain, how they farm some corn, avocados, bananas, coca, coffee, and more. This is what distinguishes the Salkantay Trek from the classic Inca Trail.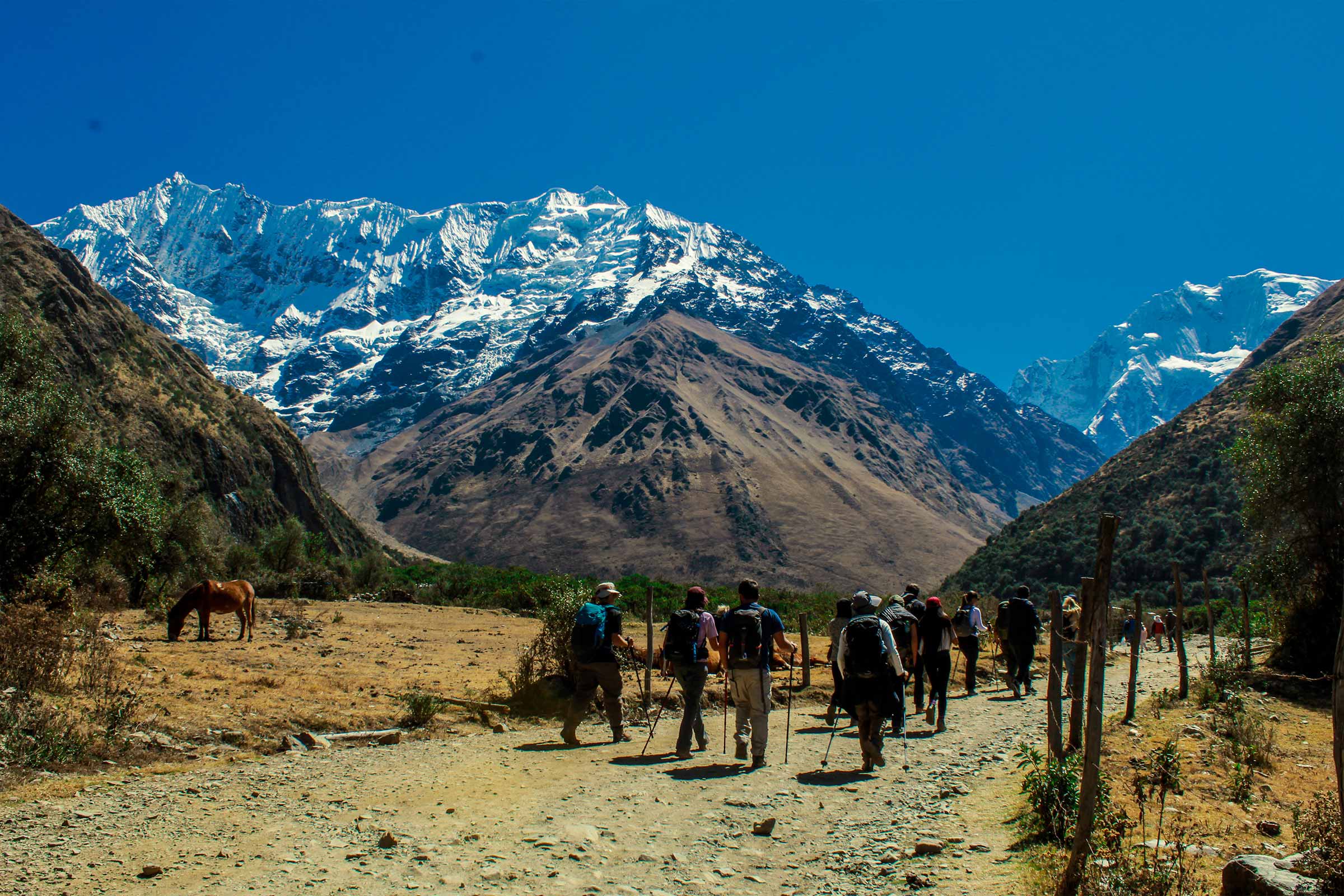 Who can do the Salkantay trek?
The Salkantay journey is regarded as a difficult but not impossibly difficult hike for the typical traveler or tourist. Everyone who wants to hike Salkantay needs to be at least somewhat fit because of the strenuous physical requirements. Also, to acclimatize for the trek, all hikers should stay at least two days in Cuzco before starting. Even the fittest person cannot guarantee exemption from altitude sickness. It takes four days and three nights, or five days and four nights, to complete the entire trip, which is roughly 72 kilometers (45 miles) long. The final day of the hike is spent at Machu Picchu.
How long is the Salkantay Trek?
If you start your trek from the small community of Soraypampa and make your way to Aguas Calientes, the Salkantay Trek will take you 62 kilometers. More travel companies begin their trek at Challacancha; the distance is 74 kilometers long.
Every day, you will hike a different distance according to the itinerary of your company. More tour operators have the following distance to hike per day:
Day 1. Challacancha – Soraypampa:
12 kilometers (7.4 miles) with extra 7km (4.5 miles) to Humantay lake in case you decide to hike. The total hike on this day will be about 8 hours.
Day 2. Soray Pampa – Chaullay:
22kilometers (13 miles) Total hours of hike between 9-10 hours.
Day 3. Chaullay – La Playa – Lucmabamba:
18 kilometers (11.2 miles) Total hike of the day 8 hours
Day 4. Lucmabamba – Llactapata – Aguas Calientes:
17 kilometers (10.5 miles) 8-9 hours of hike in total
Day 5 Machu Picchu
How high is the Salkantay Trek?
On the Salkantay Trek, the hike begins at 3,450 meters (11,318 feet). The highest altitude that you will reach on the trail will be 4,630 meters (15,190 feet), which is at the Salkantay pass on the second day. From there, you will descend to the high rainforest between 2,000 meters and 2,900 meters. These are the elevations of each campsite.
Soraypampa (first campsite) 3,900 meters (12,795 ft)
Chaullay (second campsite) 2,920 meters (9,514 ft)
Lucmabamba (third campsite) 2,000 meters (6,562 ft)
Aguas Calientes (fourth night hotel) 2,040 meters (6,693)
However, you will be able to modify the itinerary in case you can't complete the entire hike. On this trek, you'll find horses that can take you up to the pass on the second day, and you could also take a taxi on the third day due to the fact that there is a bus road that the porters and the cook will use to transport their items.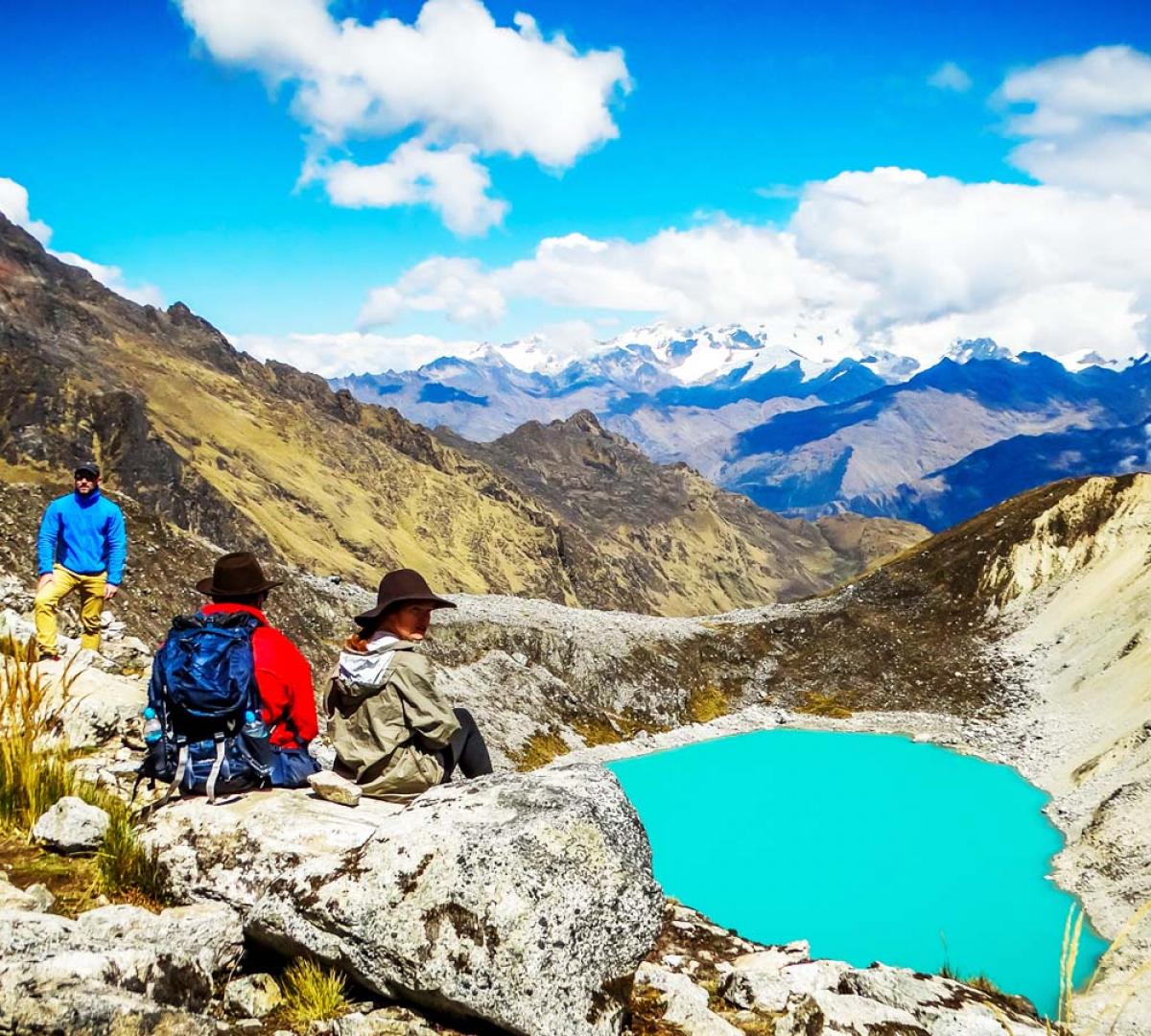 How difficult is the Salkantay Trek?
We think you shouldn't have any trouble accomplishing this trek if you're at least moderately fit. On the first day, the most challenging section begins since you have to climb 300 meters to Humantay Lake and descend back down to the campsite. On the second day, the path starts ascending again to reach the pass, which is about 700 meters high from Soraypampa campsite, before descending another 1700 meters to the campsite.
However, once you have done with climbing the highest pass, you have more chance to complete the whole trek, because from there the pathway comes easier mostly down to the high Peruvian semi-tropical jungle.
Drink enough water; hydration is very important in this kind of terrain.
On the first and second days of the trek, you gain altitude quite quickly. Don't push yourself too hard if you feel tired; stop, rest, breathe deeply, and drink water.
The walk includes a few steep descents, so hiking poles will come in handy because they will relieve some of the strain on your knees.
So be prepared for different weather conditions and temperatures because during the day it could be cold at the beginning of the trek, but while you are climbing it turns hot, and once you arrive at the pass it will be quite cold due to the wind. While you are descending into the high jungle, the temperature changes to warm-hot.
What is the best time to hike on the Salkantay Trek?
As you know, Salkantay Trek is located in the Peruvian Andes, surrounded by huge mountains that exceed 6,000 meters (19,685 feet), and the weather is unpredictable because it could change quickly. So, you could hike on this trek all year around with a little bit of preparation; the only month that can be very risky due to the rainy season is February, because it could be raining most of the days and not have the beautiful, clear views of the area. However, the well-marked season to hike the Salkantay Trek is from April to November because this season is considered the dry season and you have more chance to see a clear sky and enjoy the stunning views during the days.
In case you decide to hike in July and August, expect to meet a lot of hikers on the trail due to the fact that these are the months that Americans and Europeans have holidays.
The rainy season starts in December and ends in April; this does not mean you can't hike; as we mentioned before, the weather in the mountains is unpredictable, and you could be lucky to have great weather during these months.
At Vidal Expeditions, we would like to create an unforgettable experience for our customers, which is why we don't take people on the Salkantay Trek during January and February due to the rain. Sometimes it could be heavy rain, which could produce some landslides and muddy areas.
What to pack for Salkantay Trek?
What to pack for your Salkantay trek will depend on your travel company; some offer the basic package, while others include everything. Also, it will depend on what version of the Salkantay Trek you are doing. 5-day trek or the 4-day.
What tour companies typically bring for you: Vidal Expeditions provided all food, snacks, sleeping bags (to rent), and tents and accommodations. Entrance fees, duffel bags for your personal items (which should be filled to a maximum of 7kg per person), horses to carry the camping gear, and your duffle bags We rented hiking poles from them and would say that they were necessary, especially for all of the downhill sections. Confirm with your tour company what's included.
Here is our list of what to pack for the Salkantay Trek
Clothing
4 Pairs Socks (two medium cushioning and one light cushioning)
Long hiking pants
4 t-shirts
Light weight waterproof rain pants (for if it rains)
Hiking shorts
Waterproof outershell jacket
Light down puff jacket
Hiking Boots
Wool Gloves
Warm hat that covers ears
Sunglasses
Set of Underwear for 4 days
Merino wool long base layer (long sleeved shirt and leggings)
$2 rain poncho to cover you and your bag if it pours (can buy in Cusco)
Sandals
Other essentials
Roll of toilet paper (if not supplied one)
Sleeping bag (if you aren't supplied one)
Waterproof dry bags for clothes/camera
Powerbank
Hiking poles (you can usually rent them from your tour company)
Sunscreen and bug spray or mosquitos repellent
Hair elastics
Toiletries (shampoo, soap, conditioner, lotion, chapstick)
Bandaids for blisters
Numbing cream for knees/sore parts of body
Camera
2-liter water bottle or water bladder
Headlamp
Kindle or Books
Deck of cards
Notepad and pen
Note: Extra cash (soles) will be important to buy water on the route, toilets, or just some supplies in emergency situations. Sometimes breaking bills of 100 soles is complicated, so we recommend bringing some small bills.
Why Choice Vidal Expeditions for Salkantay Trek?
Because the Salkantay Trek is nowadays quite popular and there are many travel companies that offer this trek, you should not have a problem finding relevant information, and it should be easy to choose a reputable tour operator who will be able to provide you with the best service and meet your budget.
Why you choose to trek with Vidal Expeditions? Here some reason what makes us different tour operator from others.
At Vidal Expeditions, we have a moderate tour price (not the cheapest one on the market, but still far from the expensive companies) that ensures customers will get a top service level.
In the first place, visiting Machu Picchu through the Salkantay Trek or other trails must be the dream of our customers, and what better way to show you this magical place while offering you the best service that can be an experience of a lifetime We don't want to disappoint you about our Peruvian culture and their people.
In the second place, when we work responsibly, we believe that it is important to support local families that are involved in the tourist industry along our different excursions and who are treated very well with good salaries and good quality equipment as our chefs, porters, horse guides, and tour guides. We are one of the companies that pay the best salaries in the entire Cusco region.
We work as a responsible tour company in Cusco that decides to respect our nature. That is why we don't build any campsites or lodges on the route because it is better to involve local families, whom we help work with us in adapting camping areas without damaging the ecosystem.
Vidal Expeditions goes a bit further and runs several social projects to help porters, their families, and local communities live better lives.
Also, at Vidal Expeditions, we offer the best camping equipment for this kind of excursion, which makes us different from others.
All our tour guides are well trained in different factors: altitude sickness, first aid, oxygen supply, languages, rescue, knowledge of the area, history, and more.
We only take 8 people per group as a maximum during our Salkantay trek; this is because we know hikers do not have the same level of fitness (speed, physical conditions, age, etc.).
Travel ensurance
Like any outdoor activity, trekking involves risks of getting injured, losing or breaking gear, and cancellation of the trip due to unpredictable weather conditions (e.g., landslides after the rainy season, etc.). Salkantay is a high-altitude trek through remote areas of the Peruvian Andes. It's highly recommended to have travel insurance that will cover you for the duration of the hike.
The Adventure to Machu Picchu through the Salkantay Trek awaits for you!!