MOUNTAINEERING IN PERU, CORDILLERA BLANCA
Without a doubt, mountaineering in the mountain range in the Peruvian Andes, after the Himalayas, is the highest on the planet. The Huascarán with 6768 masl. It is located in the Cordillera Blanca, the highest tropical mountain in the world, along with dozens of snow-capped peaks over 5,000 meters above sea level. Mountaineering is often understood as the sport practiced in the high mountains, that is, high mountaineering. Thus, who ascends the mountains is called a mountaineer or mountaineer.
Mountaineering in this area is a sport that can be practiced by the most expert professional mountaineers, who will be able to choose extremely difficult ascent routes, and it is also practiced by less expert athletes on the classic easy-ascent routes and conquer the summit of beautiful peaks. And they are classified as follows.
However there are many easily accessible mountains and volcanoes that are over 6000 thousand meters, these are located in Arequipa and Cusco.
Here is a small list of some mountains and volcanoes.
AREQUIPA MOUNTAIN CLIMBING TOURS
Full Day Climb Tour To Misti Volcano
One Day Of Climb To Chachani Mountain
1 Day Challenge Trek To Volcan Ubinas
ONE DAY TREK TO NEVADO MISMI FROM CHIVAY
Misti Volcano By The Classic Route – 2 Days
Misti Aguada Blanca By The North East Face – Easy Way – 2 Days
3 Days Tour To Colca Canyon And Nevado Chachani
El Misti Volcano And Chachani Mountain – 3 Days
Chachani Volcano By Pampas Cañahuas – 2 Days
2Days Trek To Laguna De Salinas And Volca Misti
Sabancaya Active Volcano – 3 Days
PichuPichu Mountain By Salinas Lagoon – 2 Days
Visit The Deepest Canyon And Awesome Origin Of The River In The World
Nevado Mismi And The Colca Canyon (Off the Beaten Tourist Path) – 5 Days
Mismi Mountain: The Source Of The Amazon River – 5 Days
Ampato Mountain – Sacred Mountain Of The Incas – 3 Days
Ampato Climb And Trekking In The Colca Canyon – 6 Days
Hualca Hualca Mountain – 4 Days
Ubinas Active Volcano – 2 Days
Coropuna Mountain – The Third Highest Snow-peak Of Peru – 4 Days
Puno Misti Volcano & Colca Trek – 4 Days
4 Days Tour Colca Canyon And Climb To Mount Chachani
From Puno Climb To Misti Volcano And Colca Canyon Trek – 5 Days
Colca Trek And Climbing To Misti Volcano – 5 Days
Colca trek And Climbing To Chachani Mountain – 5 Days
From Puno Chachani Snow-peak – 2 Days
From Puno To Summit Of Misti Volcano – 2 Days
6 DAYS COLCA ADVENTURE TOURS; Rock Climbing – Biking – Horse Riding – Hiking
ICA & NAZCA CLIMBING TOURS
Cerro Blanco Sand Dune – Highest Dune In The World
For many mountain enthusiasts the chance to ascend the snow peaks of the Andes is irresistible challenge. The most demanding and popular place for mountaineering in Peru is the spectacular Cordillera Blanca in Huaraz region. There are many peaks over 5000m including an incredible 33 peaks over 6000M and Huacaran at 6768M, Peru's highest peak. To do a guided climb up any one of these huge mountains takes a minimum of 3 days or more depend on the difficulty and altitude.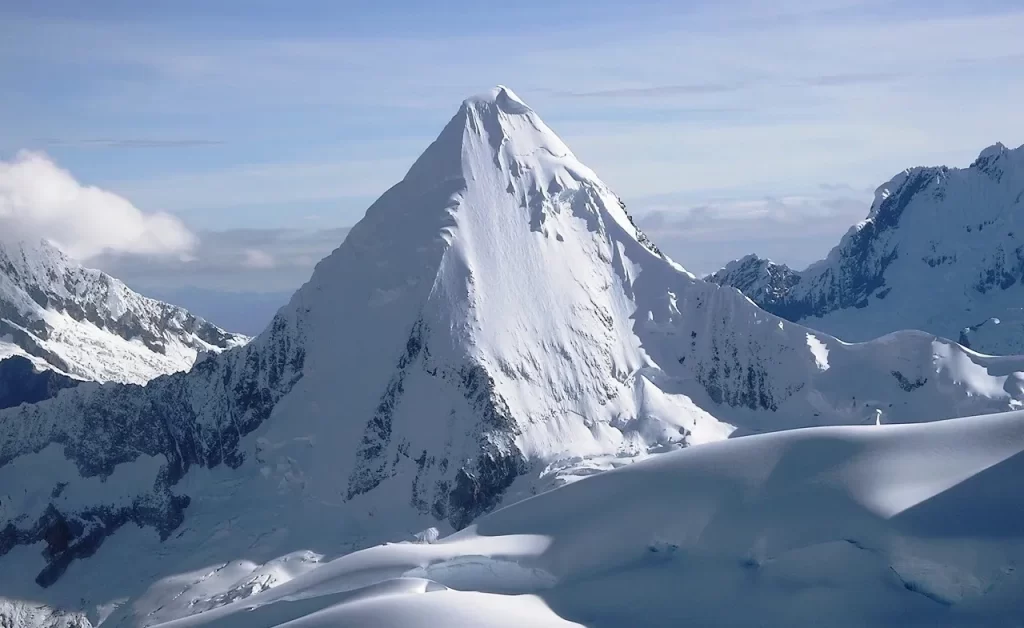 Another popular region is Arequipa with several active volcanoes in the region. The most popular climb is the beautiful El Misti takes 2 days and does not require any previous mountaineering experience. Other volcanoes such as Misti and Chachani volcano, Ampato Mountain, Coropuna Mountain, Mismi Mountain, Pichu Pichu Snow-capped and Ubinas volcano can be climbed accompanied with an experienced mountain guide and all take a minimum of 2 days between the moths of May and November. Our entire recognized guides are trained and good knowledge of each mountain, the best goal for mountain climbing tours are our camping and climbing gear, four season tents, new ice axe and crampons are available for all clients. PERU EXPEDITIONS TOURS organise cusotmized climbs and combining alternative treks on high place to get better acclimatise to altitude before you try on high peak of mountain or active volcanoes in the south of Peru.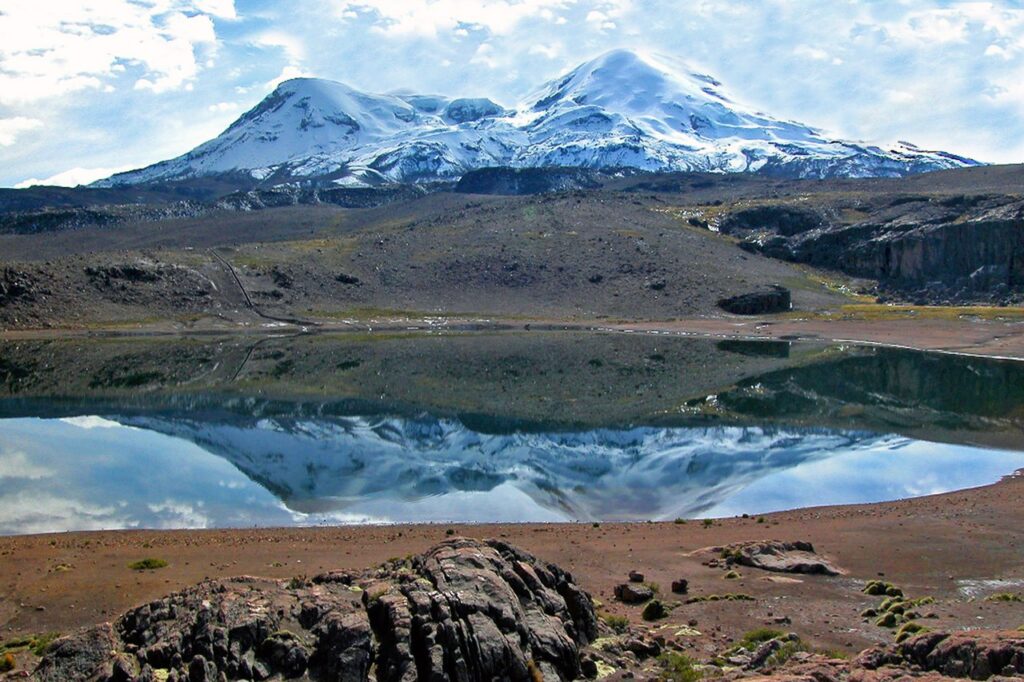 SNOW MOUNTAINS AND VOLCANOES AROUND AREQUIPA
Below are mentioned all the snow-peaks and volcanoes around Arequipa region where PERU EXPEDITIONS TOURS organize customized trek and climbings including all safety and profesionalism of our mountain guides and camp staff – Our company also hire camping/climbing gear, 4×4 jeep and certified mountain guide for expeditions through these mountains/volcanoes – For more information contact us directly by email.
– Volcan Misti 5825M.
– Nevado Picchu Picchu 5664M.
– Nevado Chachani 6070M.
– Nevado Ampato 6288M.
– Nevado Coropuna 6425M.
– Nevado Solimana 6093M.
– Nevado Firura 5475M.
– Nevado Hualca Hualca 6025M.
– Volcan Sabancaya 5967M.
– Nevado Chucura 5425M.
– Volcan Ubinas 5672M.
– Nevado Mismi 5597M.
– Volcan Huaynaputina 4850M.
– Nevado Bomboya 5240M.
– Nevado Sepregina 5340M.
Peaks above 6,000 metres
This is a list of the thirty-seven 6000 metre peaks in Peru as defined by a regain height, or prominence, above a col of 300m or more. This list is taken from the full set of Peruvian IGM maps alongside various climbing and mountaineering records. Heights are taken from the Peruvian IGM 1:100,000 series maps with the OEAV survey maps of the Cordillera Blanca (north and south) used where the IGM maps do not give spot heights. SRTM data has been used in a few places to confirm these heights, but due to the steep terrain is often unusable.
Mountain
Elevation
(metres)
Region
Mountain range
Huascarán S
6,768
Ancash
Cordillera Blanca
Huascarán N
6,655
Ancash
Cordillera Blanca
Yerupajá
6,617
Ancash
Cordillera Huayhuash
Coropuna
6,425
Arequipa
Cordillera Occidental
Huandoy
6,395
Ancash
Cordillera Blanca
Coropuna Casulla
6,377
Arequipa
Cordillera Occidental
Ausangate
6,372
Cusco
Cordillera Vilcanota
Huantsan (Tunshu)
6,369
Ancash
Cordillera Blanca
Chopicalqui
6,345
Ancash
Cordillera Blanca
Siula Grande
6,344
Lima–Huánuco
Cordillera Huayhuash
Chinchey (Rurichinchay)
6,309
Ancash
Cordillera Blanca
Coropuna E
6,305
Arequipa
Cordillera Occidental
Ampato
6,288
Arequipa
Cordillera Occidental
Palcaraju
6,274
Ancash
Cordillera Blanca
Salcantay
6,271
Cusco
Cordillera Vilcabamba
Santa Cruz
6,241
Ancash
Cordillera Blanca
Copa
6,188
Ancash
Cordillera Blanca
Ranrapalca
6,162
Ancash
Cordillera Blanca
Huandoy S
6,160
Ancash
Cordillera Blanca
Pucaranra
6,156
Ancash
Cordillera Blanca
Hualcán (Rahupakinan)
6,122
Ancash
Cordillera Blanca
Yerupaja Chico
6,121
Ancash
Cordillera Huayhuash
Callangate (a.k.a. Qullpa Ananta, Cayangate or Chimboya)
6,110
Cusco
Cordillera Vilcanota
Chacraraju
6,108
Ancash
Cordillera Blanca
Chumpe (a.k.a. Hatunrit'i, Ñañaluma, Wisk'achani, Yanaluma)
6,106
Cusco
Cordillera Vilcanota
Alcamarinayoc (a.k.a. Qullqi Cruz)
6,102
Cusco
Cordillera Vilcanota
Jirishanca
6,094
Ancash–Huánuco
Cordillera Huayhuash
Hatunuma (Pico Tres)
6,093
Cusco
Cordillera Vilcanota
Solimana
6,093
Arequipa
Cordillera Occidental
Chachani
6,057
Arequipa
Cordillera Occidental
Yayamari (Montura)
6,049
Cusco
Cordillera Vilcanota
Pucajirca
6,046
Ancash
Cordillera Blanca
Chaupi Orco
6,044
Puno– Bolivia
Cordillera Apolobamba
Quitaraju
6,036
Ancash
Cordillera Blanca
Tocllaraju
6,034
Ancash
Cordillera Blanca
Hualca Hualca
6,025
Arequipa
Cordillera Occidental
Caraz
6,025
Ancash
Cordillera Blanca
Peaks less than 6000m
Many peaks in Peru frequently quoted as being over 6000m are under this height according to the most recent surveys published by the Peruvian IGM. These peaks include:- Pumasillo 5,991m, Lasunayoc 5,936m, Yanarahu 5,954m, Artesonraju 5,999m, Sabancaya 5,976m,
Palumani 5,723m, Sara Sara 5,505m, Helancoma 5,367m.
Sub-peaks with less than 300m re-ascent
Other 6,000 m peaks which are often defined as individual peaks but which have less than 300 m of re-ascent or prominence, include:- Huandoy W 6,342 m (prominence between 200-250m), Sarapu 6,127 (prominence between 180-230m), Callangate North 6,000 m (less than 295m prominence).
Qaras E (6025m) and Rasac (6,017 m) may or may not have 300m prominence. There is insufficient data on the relevant Peruvian IGM maps.
Mountain ranges
Peru is home to a number of mountain ranges, including the following:
See also
References
Sources consulted
Endnotes
Peruvian Instituto Geografico Militar 1:100, 000 map series published in Lima, various dates from 1950's to present, Sheets 18-h, 19-h, 19-i, 20-i, 21-j, 27-q, 28-t, 28-u, 30-y, 31-q, 32-q, 32-s and 33-s cover the 6000m peaks of Peru.
Neate (1994). Mountaineering in the Andes, p187. RGS 1994, ISBN0-907649-64-5
Biggar(2005). The Andes – A Guide for Climbers, p279. pub. Andes, ISBN0-9536087-2-7
Alpenverienskarte sheets 0/3a and 0/3b published 1999 and 2005. ISBN3-928777-57-2 and ISBN 3-937530-05-3
Ferranti 2005, "Peru ultra-Prominences", op. cit.
We as PERU EXPEDITIONS TOURS a high mountain company can organize your trip according to your needs and experience, we are ready to organize your trip and help you to make your trip unforgettable.
If you have any other questions let me know.
CONTACT US
For more information about the tour or you request a new date to departure for this tour, please contact us….