Alpamayo (Spanish: Nevado Alpamayo) is one of the highest peaks of the Cordillera Blanca in the Peruvian Andes.
It is an ice-covered pyramid with very steep slopes (about 60 degrees). It is part of the northernmost mountain range of the Cordillera Blanca – the Santa Cruz massif. Although this peak is slightly lower than the neighboring ones, it is distinguished by its unusual shape and austere beauty. The southern and northern peaks of Alpamayo are separated by a narrow cornice.
The name of the mountain was given by the village of the same name, the name of which is translated from the Quechua language as "muddy river", and the mountain itself is called Shuyturahu in Quechua (shuytu = narrow, long; rahu = snowy mountain, glacier). In July 1966, a photo of the summit taken by American photographer Ley Ortenburger was published in the German magazine Alpinismus. The readers of the magazine called Alpamayo "The most beautiful mountain peak in the world".x

Weather forecast "

Trips with Guides of the Club 7 Summits
VIP Program! Climbing the most beautiful peak in the world Alpamayo (5957 m), Peru. Acclimatization on Nevado Pisco.
Climbing to the top of Alpamayo (5947 m) – the most beautiful mountain in South America. And you will trek along the famous Cordillera Blanca along the route called Santa Cruz. This is a beautiful route – one of the most famous trekking routes in the world – very good for acclimatization before climbing. Then you will climb the classic peak of the White Mountains – Mount Pisco (5752 m). And in conclusion – as a serious test.
Dates / Prices
Prepayment for booking 1 000 $ ( 73 178 ₽ ) Full payment in 40 days
If you cancel less than 40 days in advance , all payment will not be refunded!
Date: July 24 – August 07 , 2023
Price: $6,840
Program:
Day 1:
Arrival in Lima. Meeting at the airport. Transfer to the hotel. Overnight at the hotel.
Day 2:
Early transfer to the airport. Transfer to Huaraz (individual transfer or bus). Transfer to the hotel (from the bus station, if transfer by bus). Day of rest and acclimatization in Huaraz. Easy trekking to the observation deck of Ratakenua (3800 m) overlooking the Cordillera Blanca (White Mountains). Overnight at the hotel. Elevation difference: 3100 m – 3800 m – 3100 m
Day 3:
Transfer to Sebollyapampa camp. The climb up to Lake Laguna 69 is one of the most beautiful places in the region. Acclimatization. Return to the Sebollyapampa camp (3900 m). Overnight in tents.
Day 4:
Beginning of the ascent to Nevado Pisco. Ascent to the Base Camp, Pisco mountain shelter at an altitude of 4650 m (2.5-3 h). Overnight at the Pisco lodge.
Day 5:
Early departure from the Shelter. Climbing the summit Climbing Nevado Pisco (5752 m). From here you have a stunning view of Nevado Huascaran, the highest peak in Peru. Return to base camp. Night at an altitude of 4,650 m.
Day 6:
Descent to the intermediate camp of Sebollyapampa (2 hours). Transfer to Huaraz. Evening of rest. Overnight at the hotel (3100 m).
Day 7:
Transfer to the village of Caxapampa (2900 m), the starting point of the trek to the Alpamayo, where the local team and equipped mules will be waiting for us. Next, a transition through the typical Andean vegetation through the Santa Cruz valley to the Lamacoral camp (3750 m).
Day 8:
Trek to Alpamayo base camp (4300 m). Night in tents.
Day 9:
Ascent to the Upper (assault) camp of Alpmayo at an altitude of 5600 m. Overnight in tents.
Day 10:
Climbing to the top of Mount Alpamayo (5947 m). Descent down to the base camp up to 4300 m. Overnight in tents.
Day 11:
Reserve day.
Day 12:
Reserve day.
Day 13:
Descent to Cashapampa (2900), where we will be transferred to Huaraz. Overnight at the hotel.
Day 14:
Transfer/bus to Lima. Overnight at the hotel.
Day 15:
Transfer to Lima airport. Flight home.
The tour price includes
Climbing leader from the 7 Summits Club
transfers in Lima according to the program
transfer to Huaraz (bus or transfer)
hotels in Lima (2 nights) and Huaraz (3 nights), 2-bed accommodation
all transfers in the mountains
tents for high-altitude camps
meals on the entire route on the mountain
public equipment and kitchen in high-altitude camps
services of a local English-speaking mountain guide with a UIAA certificate
mules for carrying cargo (public and personal) to the base camp. Mules cannot climb up to the assault camp.
services of a cook, porters, muleteers (up to BC)
entrance to the National Park
tent-dining room and tent-toilet in the Base Camps
Not included
A / flight Moscow – Lima – Moscow
Personal equipment (purchase and rental)
Climbing honey. insurance
Lunches and dinners in the cities
Reserve day on the mountain or extra. Overnight at a hotel in Huaraz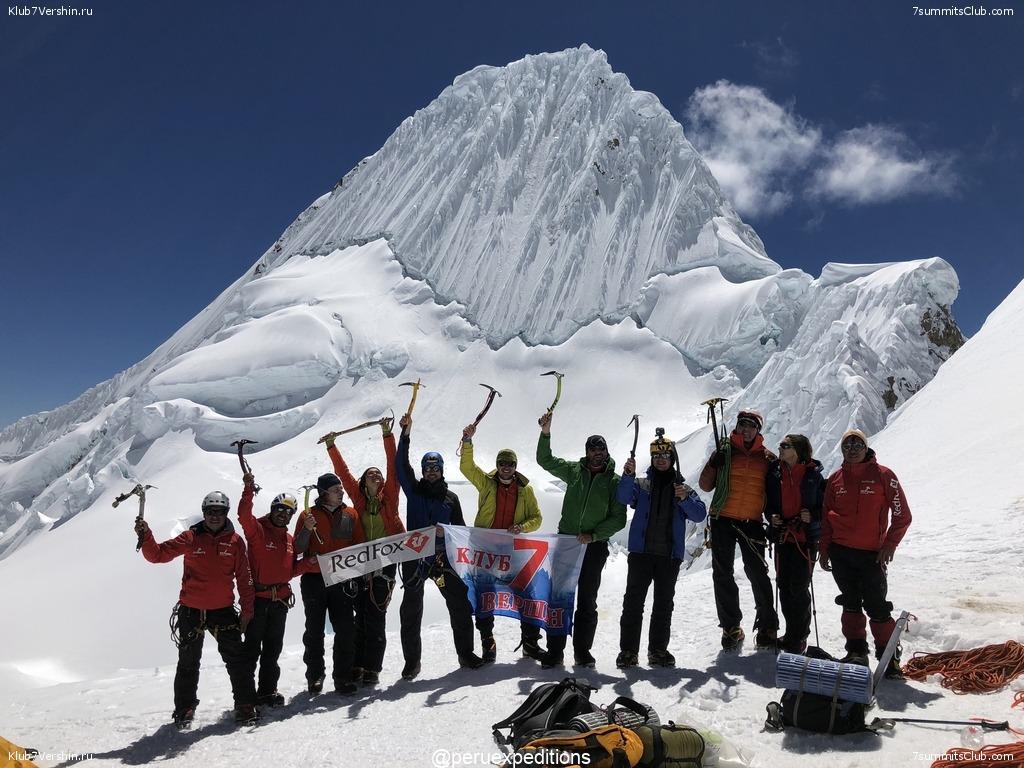 Annotation
Climbing to the top of Alpamayo (5947 m) – the most beautiful mountain in South America. And you will trek along the famous Cordillera Blanca along the route called Santa Cruz. This is a beautiful route – one of the most famous trekking routes in the world – very good for acclimatization before climbing. Then you will climb the classic peak of the White Mountains – Mount Pisco (5752 m). And in conclusion – as a serious test – climbing to the top of Alpamayo (5947 m). This is a technically serious mountain, and although the height is not difficult, technically you will be able to practice serious skills in high-altitude technical mountaineering.
Required extras
When purchasing the program, the participant receives a discount on the purchase of equipment up to 21% Read more here
Tips for guides and attendants (important information!)
You trust guides with your life and health, and most importantly, your time and money. And they take care of all these concerns and responsibility for you and for the success of the event 24 hours a day for the entire trip. Guides and attendants on the trip expect you to tip in the amount of 10-20 dollars per client for each day of work. If you liked everything, you remained alive and well, you can pay them more! All tips can be given to the Chief Guide and he will distribute them among all employees. Do not forget to thank the guides and workers before leaving. And you will see their happy and grateful eyes!
Required documents
Foreign passport with a validity period of at least 6 months from the date of the start of the expedition
In Peru, Russian citizens do not need a visa
Be sure to check with our manager the need for a visa to enter the country ends in more than 6 months
Accommodations
Double tents on the track
Dining tent with tables and chairs on the track
Nutrition
During trekking and simple climbing, cooking is carried out by local chefs. At high-altitude camps and on difficult ascents, food is prepared by a local guide.
Service staff
Accompanying a local English-speaking guide and cook throughout the route
Medicine and Insurance
Each tourist is required to have medical insurance appropriate for this type of trip. Insurance can be obtained at the office
No mandatory vaccinations are required to visit Peru. Although there are many dangers. Especially in Huaraz. In no case do not drink raw water, do not buy dubious drinks and products, wash your hands thoroughly. It will not be superfluous to consult a doctor and collect an individual first-aid kit.
Guides carry a public first aid kit
Possibility to rent personal equipment
In Huaraz, it is possible to rent almost all equipment. But we advise you to bring your own personal equipment, especially boots.
List of personal equipment (must bring with you) / Cloth
Down jacket for -30C and below
Jacket insulated to -20C
Jacket insulated to -10C
Storm jacket with membrane
Fleece jacket
Pants insulated at -30C and below
Trousers storm with a membrane
Trekking trousers
Fleece trousers
Thermal underwear warm
Thermal underwear thin
Warm climbing socks 3-5 pairs
Trekking socks 2-3 pairs
Gloves up to -20С
Gloves up to -10С
Mittens up to – 30C
Mittens up to – 20C
Fleece hat
Balaclava and face mask
Cap
T-shirt, long sleeve shirt
Shorts
rain cape
Shoes
Two-layer climbing boots, up to 7000m
Boots for mountain trekking
Trekking sandals
Mountaineering
Safety system (belt harness)
Lanyard with 2 carabiners
Zhumar
descender
Carabiners with clutch 5 pieces
Carabiners without clutch 3 pieces
Helmet
cats
Ice ax
Telescopic poles
Batteries
Headlight
Ski goggle mask
Mountaineering glasses
Tourism and bivouac
Backpack 45-55 liters
Bag 120l
Sleeping bag for -40С extreme
Sleeping bag for -30С extreme
Carpet flat
Self-inflating rug
Personal utensils (mug, bowl, spoon, knife)
Thermos 1 l
Flask for water 1l
Sun cream
Hygienic lipstick
Towel, soap, toothpaste, brush
Personal First Aid Kit
Mosquito spray
Wet wipes
Solar battery
Powerbank
Why with us?
The highest percentage of successful ascents.
We have the most experienced and qualified guides, including famous climbers.
Good own tents for living and special large tents for dining.
Reliable, trusted local partners.
We have the most experienced manager-specialists in the districts, who themselves have repeatedly visited the programs they are engaged in.
Our guides are always in touch and daily transmit information from the routes.
Insurance
Any trip to the mountains is associated with additional risks. Therefore, each member of the expedition must be insured and have a Special Medical Mountaineering insurance.
Few companies in Russia are engaged in insurance of climbers and climbers. We offer to issue a policy at the Ingosstrakh insurance company, this company is a partner of the 7 Summits Club and the Gornyashka company.
Special insurance for trips to the mountains and mountaineering can be issued and paid for here on your own.
Type of recreation – Extreme sports.
Choose a country (or several countries).
Specify the age, dates of the trip.
After calculating the cost of the policy, fill in:

additional options – optional.
passport and contact details.

Payment by bank card.
Insurance will be sent by email.