Machu Picchu is an ancient Incan citadel located in the Andes Mountains of Peru. It was built in the 15th century and abandoned about 100 years later during the Spanish Conquest. The site was rediscovered in 1911 and has since become one of the most popular tourist destinations in South America. Visitors can explore the impressive ruins, which include temples, terraces, and other structures, as well as enjoy stunning views of the surrounding mountains and valleys. Machu Picchu is also known for its unique location, perched on a narrow ridge between two peaks and surrounded by lush jungle. It is a UNESCO World Heritage Site.
If you want to visit the lost city of the Incas, we recommend purchasing Machu Picchu tickets, which are the official permits required to enter the archaeological site in Peru. These tickets can be purchased online or through authorized ticket vendors and are available in several categories, including adult, student, and child. It's important to book tickets in advance to secure your preferred date and time of visit, as they can sell out quickly, especially during peak travel seasons.
Are you having some problems buying your Machu Picchu Tickets for 2023? Machu Picchu is a mysterious and fascinating citadel considered one of the New Seven Wonders of the World and the most popular destination of Peru. Every day more than two thousand travellers that arrive from Lima, the capital of Peru, take a flight to Cusco and visit the Incan citadel. For that reason, you should book your Machu Picchu ticket in advance.
Machu Picchu tickets 2023 can be booked online on the Ministry of Culture website or we can help you to book it. these tickets for next year are already available. According the Ministry of Culture, there are only 3400 tickets availibility for Machu Picchu. These tickets are distribuited in the following routes such as Only Machu Picchu ticket, Inca Trail Tours, Short Inca Trail, Huayna Picchu, Huchuy Picchu and Machu Picchu mountain tickets. It is very important to book in advance.
Table of Contents
Capacity of Machu Picchu
Factors That Affect the Purchase of Machu Picchu Tickets
Machu Picchu Discount Tickets
Latest Updates on Machu Picchu for 2023
Only Machu Picchu Ticket
Huayna Picchu Mountain + Circuit 4
Machu Picchu Mountain + Circuit 3
Huchuypicchu Mountain + Circuit 4
Museum Tickets
Machu Picchu Circuits Map
Machu Picchu Tickets Rates 2023
How to Book and Buy the Machu Picchu Tickets?
Machu Picchu Hike
Capacity of Machu Picchu
The Peruvian government has implemented a limit on the number of visitors to Machu Picchu to help preserve the site's delicate ecosystem and prevent overcrowding. This capacity can vary depending on the time of year and other factors.
| | |
| --- | --- |
| Destinations | Availability 2023 |
| Machu Picchu Citadel | 3244 |
| Huayna Picchu Mountain Tickets | 200 |
| Machu Picchu Mountain Tickets | 400 |
| Huchuy Picchu Mountain Tickets | 200 |
| Inca Trail 4 Days | 950 |
| Short Inca Trail | 450 |
| Total : | 4794 |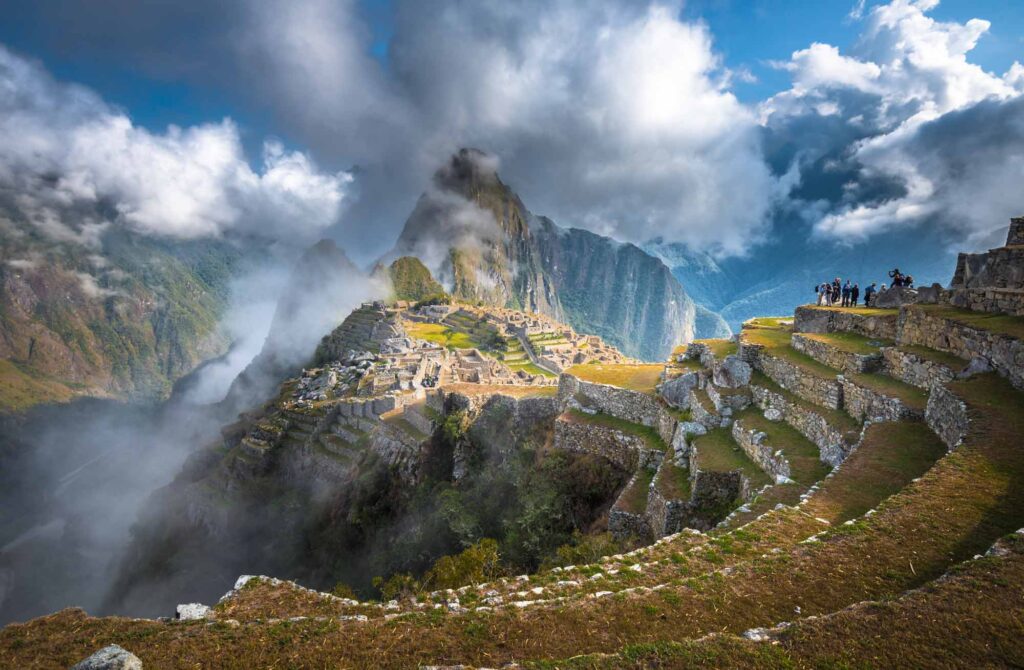 Huayna Picchu Mountain+ Circuit 4
This Huayna Picchu ticket changed the route to the explore Machu Picchu. Today you can´t get the Huayna Picchu and Machu Picchu tickets both. if you want to climb up to the mountain and visit the tradition route of Machu Picchu, we recommend to get two tickets.
The Huayna Picchu + Circuit 4 involves entering Machu Picchu and walking the long – low route of the lost city of the Incas. you will visit water fountains,
Huayna Picchu is the top seller inside the Machu Picchu complex since this mountain is famous for its lookout that offers to visitors. For this reason, Huayna Picchu tickets are selling fast. So, it is recommended to book them in advance. Only 200 spaces daily are available to climb the mountain.
The Huayna Picchu Mountain is of a peculiar shape having almost vertical paths making it definetely an adventure. Hiking it is considered one of the best short walks in the world. From the lookout, you can view the citadel of Machu Picchu, its enclosures and platforms. There are fourth time slots to hike the Huayna Picchu Mountain.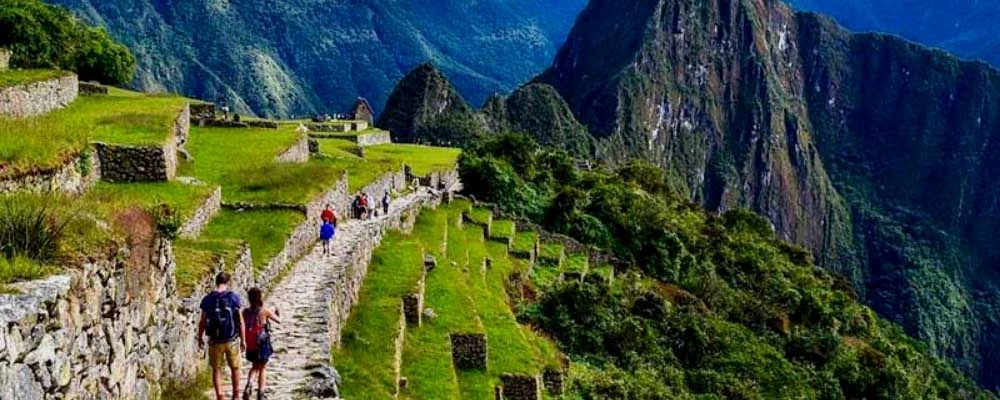 Huayna Picchu Tickets – Timetables
Huayna Picchu from 6:00 am – 7:00 am.
Huayna Picchu from 7:00 am – 8:00 am.
Huayna Picchu from 10:00 am – 11:00 am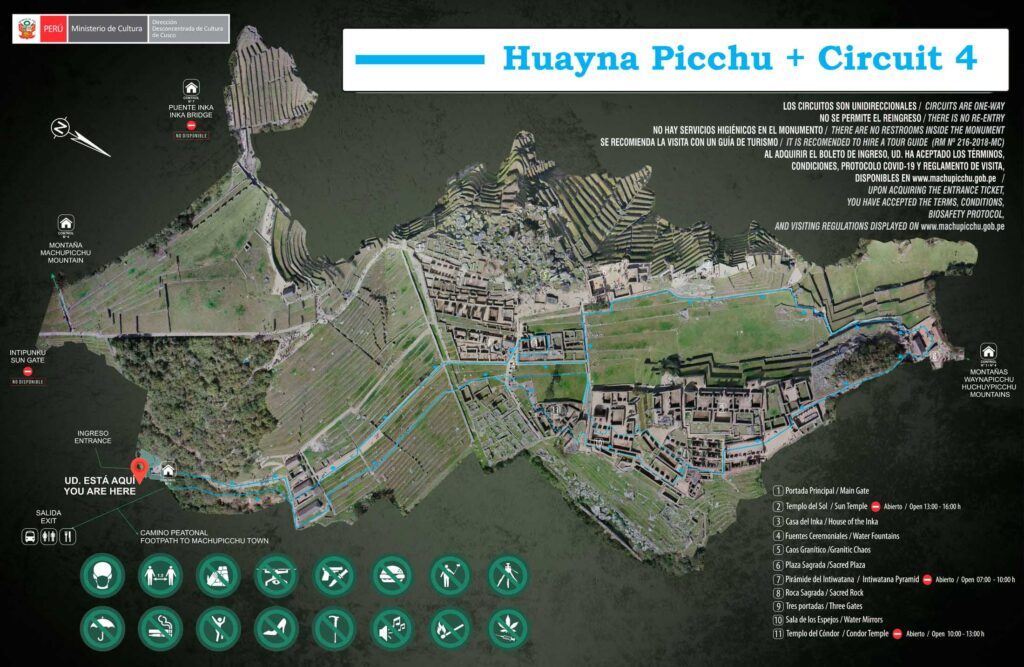 Machu Picchu Mountain + Circuit 3
The Machu Picchu Mountain is a new popular hike inside the citadel and the best alternative hike to Huayna Picchu Mountain. The altitude of the mountain is 3,200 m.a.s.l. (10,500 f.a.s.l.) From the mountain's lookout, one might view the enclosures, temples, squares and platforms of the Inca citadel. Also, it is possible to see the Huayna Picchu Mountain, the Vilcanota River – a snake-shaped river below the citadel, and the stunning landscapes around the mountain. If you take binoculares with you, you can have a complete view of the Salkantay Mountain, the Inca ruins of Llactapata and the Hydroelectric Plant of Santa Teresa. The hike is one of the most rewarding experiences you can have when visiting Machu Picchu. The Machu Picchu Mountain + Circuit 3 ticket offers two time slots to hike the mountain.
There are 400 spaces availability everyday. This Machu Picchu mountain ticket permits to re-enter to Machu Picchu citadel by circuit 3.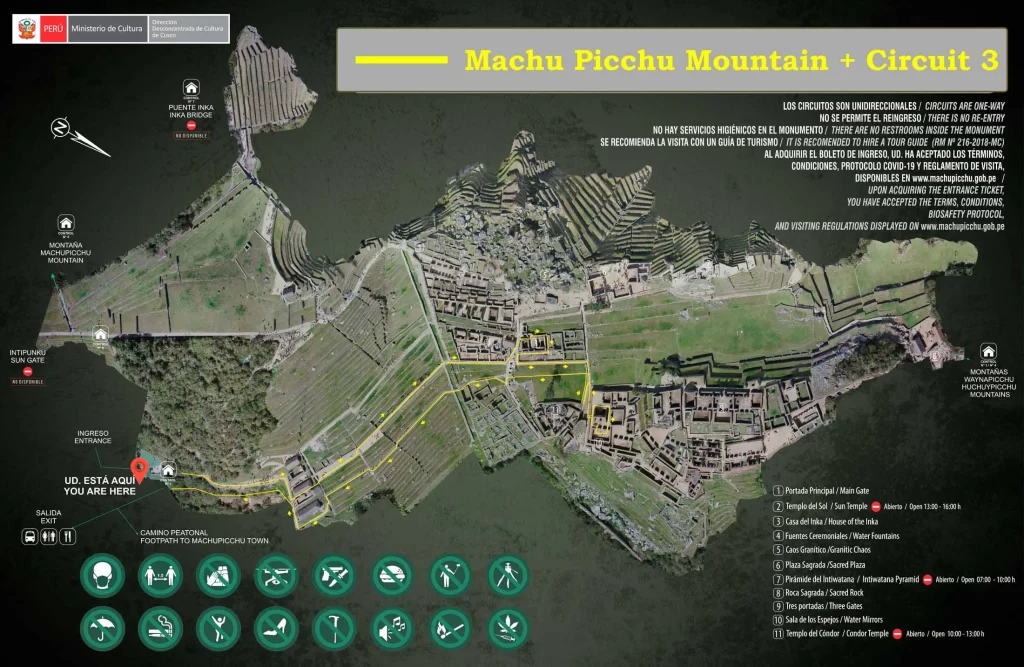 Huchuypicchu Mountain + Circuit 4
This mountain is not popular, but it is near Huayna Picchu mountain, the Huchuy Picchu mountain ticket only permits you to visit Machu Picchu by circuit 4 and you can stay in the citadel for 2 hours. and there are only 200 spaces available everyday and distributed in 9 schedules. This Huachuy Picchu ticket is a cheaper entry to Machu Picchu citadel.
Huchuy Picchu Mountain Tickets – Circuit 4 Timetables:
Entrance from 06:00 to 07:00 hrs.
Entrance from 07:00 to 08:00 hrs.
Entrance from 08:00 to 09:00 hrs.
Entrance from 09:00 to 10:00 hrs.
Entrance from 11:00 to 12:00 hrs.
Entrance from 12:00 to 13:00 hrs.
Entrance from 13:00 to 14:00 hrs.
Entrance from 14:00 to 15:00 hrs.
Visitors who access this alternate route must complete circuit 4 (long bass – light blue) and will not be able to re-enter the monument.
Museum Tickets
The museum of Machu Picchu called Museo de Sitio Manuel Chávez Ballón is located in Aguas Calientes. It houses a collection of pieces found at Machu Picchu. This allows you to learn more about the history of the citadel as well as the Inca Empire. All details are explained carefully. It also offers an interesting multimedia exhibition. The Machu Picchu + Museum Tickets provide with a unique and complete cultural experience since one is enable to travel back in time to the era when the Incas inhabited Machu Picchu.
Opening hours of the museum:
Monday – Sunday: 9 am to 4:30 pm
The schedule of your visit depends on the shift you chose to enter Machu Picchu.
Machu Picchu Circuits Map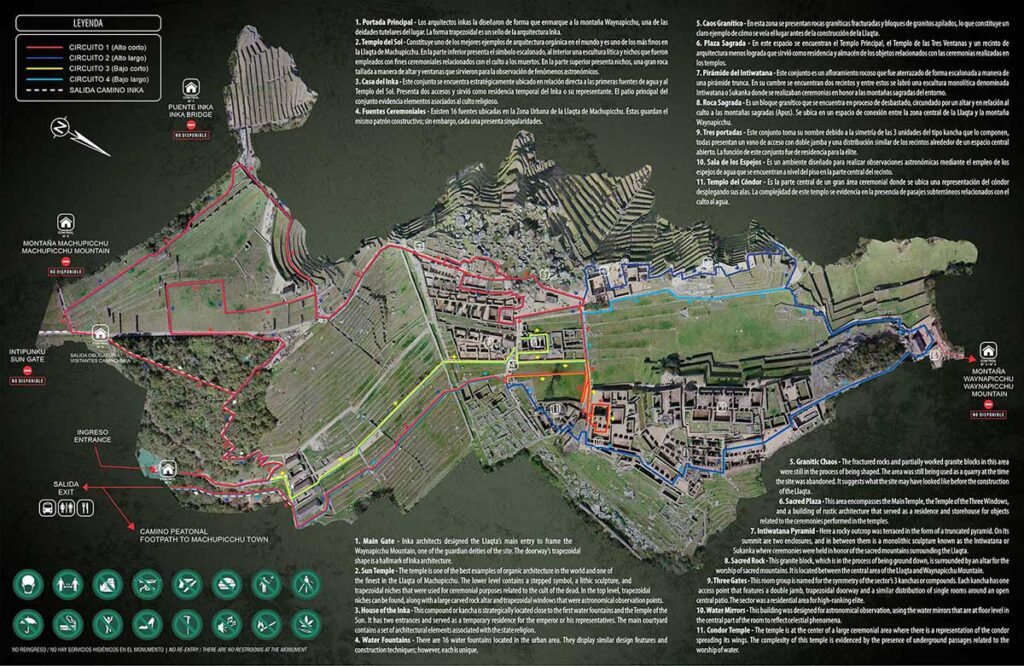 IMPORTANT NOTE:
Tickets can only be used at the selected time.
The admission capacity to the llaqta will be enabled 100% from October 18 to December 31, 2021, except for modifications that may be given by virtue of the Supreme Decrees of alert levels in the Cusco Region.
Tickets must be purchased in advance exclusively at the offices on Calle Garcilaso s / n Cusco, office on Calle Maruri No. 340 or on the website machupicchu.gob.pe.
If you like to book Machu Picchu + Mountain Tickets online, you can select an hour of your entrance to Machu Picchu at first only. In the next step, it allows you to choose a time slot of your preference to climb up the mountain too.
It is very important to pay 100% of your tickets.
Once paid, our reservation department will email you a copy of your Machu Picchu ticket.
After that, it is not possible to change the date or cancel the ticket!
Machu Picchu Tickets Rates 2023
How much is a ticket to visit Machu Picchu? The new prices of Machu Picchu Tickets 2023 can be found below. Ticket prices vary according to the type of a ticket and nationality of a tourist. In addition, students can get a discount.
Foreigner

National Tourist

Adult

Student

Adult

Student

Only Machu Picchu Tickets

US $62

US $41

US $37

US $27

Huayna Picchu + Circuit 4 Tickets

US $86

US $57

US $54

US $40

Machu Picchu Mountain + Circuit 3 Tickets

US $86

US $57

US $54

US $40

Huchuypicchu Mountain + Circuit 4 Tickets

US $62

US $ 22

US $19

US $9

Machu Picchu Museum Tickets

US $10

US $5

US $10

US $5
How to Book and Buy the Machu Picchu Tickets?
Go to the Ministry of Culture website.Be patient as the website can take a little while to load. You will need to have installed Adobe Flash (free download) to be able to view the website. You can change a language to English by clicking the UK's flag at the top right.
Select a site you wish to visit. Above the calendar before picking a date, you must first select a place of visit. Here you need to decide if you prefer to see Machu Picchu only or if you like to combine it with a visit the site museum too. The Museo Manuel Chávez Ballon is a small museum, but it is worth seeing it before getting to Machu Picchu itself. It houses some neat artefacts, all described in English. The museum is situated near Aguas Calientes (a town just below Machu Picchu). As a next step, you need to select a route. It means you must decide whether you visit in addition to Machu Picchu (or Machu Picchu and the museum) also Huayna Picchu and/or the Machu Picchu Mountain.
Choose your date.Once you have selected your route, you can choose a day by clicking on the calendar.
Choose the number of tickets needed.Click the arrows under Quantity to pick the number of tickets needed.
Please Note:If you need to buy a CHILD ticket, click the button to the right above it (Tickes for students). Children aged 8+ years pay the student rate. Children 7 years and younger are FREE of charge!
Fill in your personal details.Now, you must complete your personal details exactly as they appear in your passport.
Finash your order.You are now on the final page. You may get a pop up window saying "Read the terms and conditions". Enter your e-mail address, double check if all details provided are correct. Remember, it must match the ID provided. When you are ready, click "Generate reservation". Then, you get a couple of pop-up windows including your Reservation Form. This is important! So, do not close it since you have not paid for your ticket yet! Copy the Reservation number displayed on the page. Then, select the Payment tab on the main panel above. This takes you to a new page.
Pay for your tickets.You need to paste your reservation code into the payment page now.
Save & print the tickets.Once your payment is complete, print your receipt and tickets and save them into your computer as a PDF.
How to Book Huayna Picchu or Machu Picchu Mountain Tickets for The Next Year?
Each year, the Ministry of Culture starts selling Machu Picchu tickets for the next year only at the end of December. We recommend you to be patient and watch the moment when the tickets go on sale.
Another recommendation is to buy a Machu Picchu ticket for a date close to June 24th when the Inca festival of the sun "Inti Raymi" is celebrated. So, you can enjoy the Inti Raymi Tour 2023 and visit the magnificent citadel of Machu Picchu in a single trip to Peru. Also, you might add one day to your Machu Picchu Vacation Package and book a Palcoyo Mountain Tour for a more complete view of Peru.
Machu Picchu Hike
Also, you might get to Machu Picchu hiking one of the following options such as Inca Trail Tours, Salkantay Trek, Inca Quarry Trail or an Alternative Trek.
Amazing Tours to Machu Picchu
Inca Trail Hike
Lares Trek 4 Days
3 Day Machu Picchu Trek
Inca Jungle Trek 4 Days
Machu Picchu 2 Days Tour
Short Inca Trail Tour
Choquequirao Trek 4 Days
Inca Trail and Rainbow Mountain
Inca Trail and Amazon Tour
Machu Picchu and Amazon Tours