Machu Picchu Information
Machu Picchu is an iconic place in all of South America, and it is on the bucket list of every traveler. To visit this place, you need a very well-organized plan for all your travels from Cusco and to enjoy the fantastic views that this area offers. There are different ways to reach Machu Picchu: through the travel companies (there are many in Cusco) that offer different types of service, or you can explore it on your own. If you are looking for a way to enjoy this magical place without being stressed about travel in general, here are some tips to explore one of the seven wonders.
Entrance Ticket to Machu Picchu
Buy your tickets in advance. Don't even consider trying to purchase tickets at the gate on the same day. We recommend you plan your trip at least six months in advance, and in some cases, the Inca Trail hike that culminates at Machu Picchu fills up almost a year in advance, especially during high season. If you're lucky, it may be possible to get your ticket weeks or even days ahead of time during low season, but in order to avoid disappointment and make sure you enter the site on your desired day, it's best to plan as far ahead as possible. If you plan to do any of the treks to places with limited entrances, such as nearby Huayna Picchu or Machu Picchu Mountain, booking early is essential.
If you're hoping to hike the mountains surrounding the ruins, you can pay extra when purchasing your ticket — you'll also be assigned a specific time range when you can begin your hike. Those hoping to hike Huayna Picchu should plan to buy their entrance tickets at least three months ahead of time, and for Machu Picchu Mountain, three to four weeks before you go. If you want to do a small trek that's included in the price of your ticket, consider the hikes to the Sun Gate or the Inca Bridge, which are family friendly.
Machu Picchu Altitude
Machu Picchu is 2,430 meters (7,972 feet) above sea level, which is much lower than the city of Cusco at 3,360 meters (11,023 feet), so it's likely you won't suffer from altitude sickness if you've already spent time acclimatizing in Cusco first. But if you plan to hike Machu Picchu Mountain, know that the altitude at the top is more than 3,000 meters (9,842 feet), and Huayna Picchu is about 2,700 meters (8,858 feet) tall, so you may feel it, especially if you're being active. If you're concerned about altitude, take it slow and drink plenty of water. Sipping coca tea, chewing coca leaves, or taking a soroche pill — available at local Peruvian pharmacies — can also help you deal with the symptoms, which include shortness of breath and lethargy. Consult your doctor ahead of time with any concerns regarding altitude.
Visit Machu Picchu in the Morning
Thanks to the new regulations, you can now only enter Machu Picchu from 6:00 a.m. to 12:00 p.m. or from 12:00 p.m. to 5:30 p.m., depending on the time slot you choose when you buy your ticket. If you've purchased the morning entrance, it is highly unlikely they will kick you out at noon — Machu Picchu ended up staying from 6:30 a.m. to almost 12 p.m. with the morning entrance ticket. Of course, this could change in the future, though the site will need to implement a feasible system to herd thousands of people out at their end time, so it may be a while before this rule is enforced.
The advantages to go early to Machu Picchu is that you will be at the view point with not many people, because the crowds arrives there between 8am to 2pm and thousands of people arrive to the classic spot. if you wan to join Machu Pichcu without crowds we recommend go early about 6 am and enjoy the sunrise.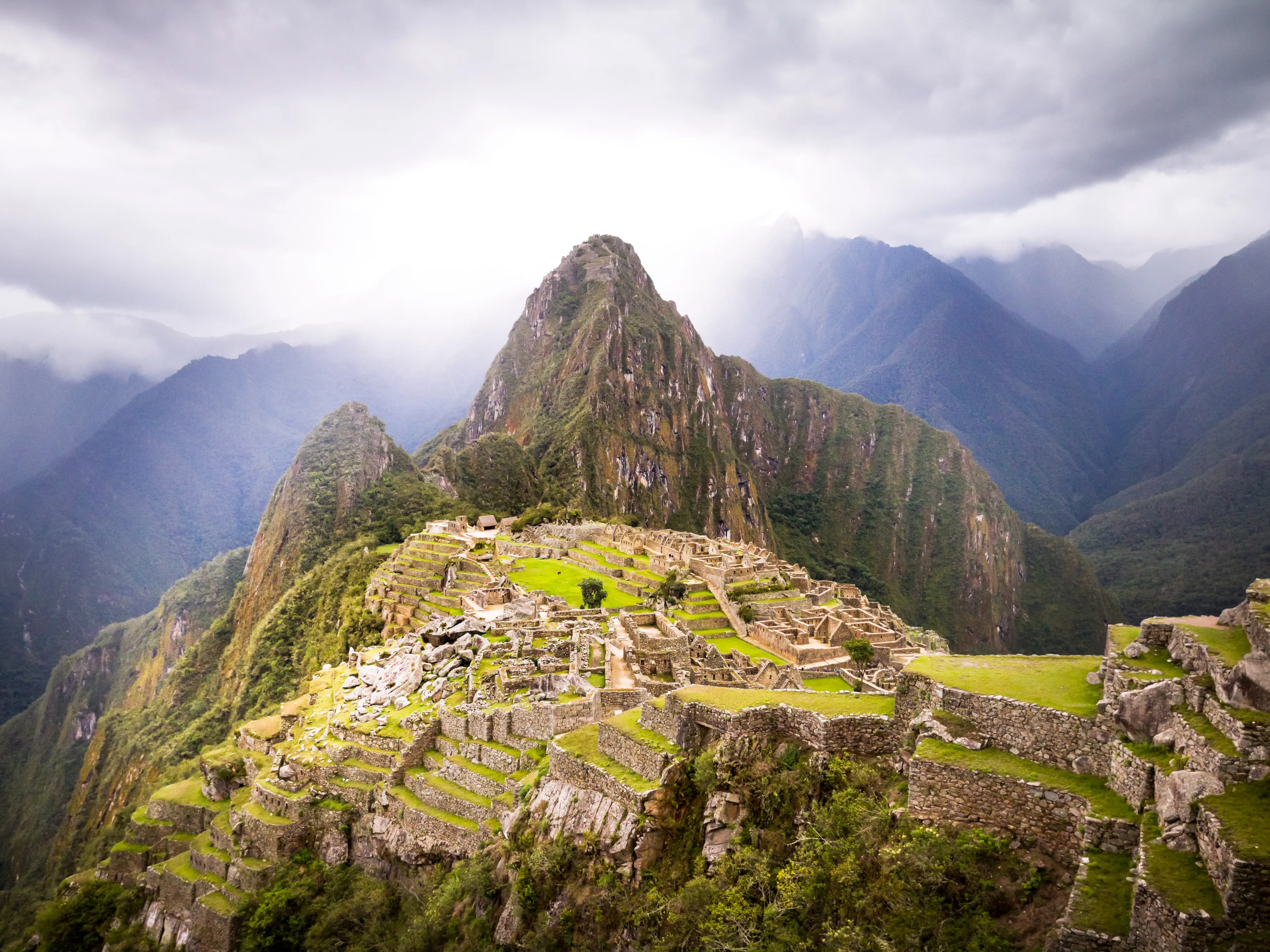 There Are No Bathrooms Beyond the Main Entrance
You'll find a small snack bar, restaurant, and bathroom just outside the gate at Machu Picchu before you enter the site, which costs two soles, or about 60 cents, to use, but that's all, folks. You are not allowed re-entry during your visit to Machu Picchu. According to the last regulations, your Machu Picchu ticket is valid only once, so if you used it in the morning and left, you are not allowed to go in again.
Bring your passport with you
This one is simple: Don't forget your passport since you'll need to present it with your ticket to enter. To commemorate your visit, you can also get a special Machu Picchu stamp in your passport. Look for a small desk just past the entrance, or ask a staff member where to find it once you get in.
Bring These Five Things
Be sure to bring sunblock and bug spray — or shampoo if you want to give the local anti-mosquito method a try. It's also a good idea to wear comfortable walking shoes, a raincoat, and several layers of clothing, as it can be very chilly in the morning, very hot at midday, and very rainy at any time. Having a small or regular-size backpack is allowed, but one rule they were enforcing involved large backpacks. If your bag is larger than 40 cm x 35 cm x 20 cm (15.7 inches x 13.7 inches x 7.9 inches), it won't be allowed in, and you'll have to pay to store it in the lockers before you can enter the site.
Bus or walk from Aguas Calientes
You can walk up to Machu Picchu, but it will take one hour and be extremely steep. The bus ride to the top takes about 20 minutes, and you can purchase your tickets in Aguas Calientes at the bus stand the night before. Tickets are $12 per direction, and you'll need to show your passport to purchase them, no exceptions.
If you decide to take the bus, plan to line up about one hour before your assigned entrance time. It may seem crazy, but hundreds of people are lining up to take these beginning at 5:30am, so if you line up at 5:30am, you won't make it up to the ruins until 6:30am or 7:00am. To get there for sunrise around 6:00 a.m., you should arrive by 4:30 a.m. to wait in line. If you get carsick, consider taking motion-sickness pills, as the ride is short but somewhat harrowing, with several switchbacks and curves.
When is the best time to visit Machu Picchu?
The best time to visit Machu Picchu depends on several factors, including weather, crowds, and personal preferences. Here are some things to consider when choosing the best time to visit:
Weather: The weather in Machu Picchu can vary greatly depending on the time of year. The dry season runs from May to October and is generally considered the best time to visit Machu Picchu, with warm and sunny days and cool nights. The wet season runs from November to April, with frequent rain showers and high humidity. The dry season is the best time to visit if you prefer dry weather.
Crowds: Machu Picchu is a popular tourist destination and can get crowded, particularly during peak season. The busiest months are June, July, and August, as well as around Christmas and New Year's. If you prefer to avoid crowds, consider visiting during the shoulder season (April to May, September to October, and November).
Availability of tickets and permits: Access to Machu Picchu is limited and requires a ticket and a permit for the Inca Trail. These can sell out quickly during peak season, so it's best to book well in advance if you plan to visit during this time.
Special events and festivals: Peru has many festivals and events throughout the year, which can add to the cultural experience of your visit. However, these events can also affect crowds and the availability of accommodations and transportation.
Many tourists will choose to visit during the dry season, assuming there will be no rainfall. Nevertheless, the climate in the Andes is very unpredictable and unstable. Sometimes it will rain even in the driest months of June and July. Each season has its benefits and disadvantages; you must choose the best time to visit Machu Picchu according to your preferences.
The extra hikes in Machu Picchu
Once you have explored the iconic Machu Picchu, almost all visitors want to climb Huayna Picchu Mountain, but few people know about the other mountain called Machu Picchu Mountain or Montaña. Huayna Picchu will sell out very fast, but you can still climb Machu Picchu Mountain, which offers even more incredible views. Machu Picchu Mountain is the highest mountain at 3082 meters (10111 ft.). It's important to know that Machu Picchu citadel differs from Machu Picchu Mountain. However whatever you want to climb you need to book in advance these extra tickets that allows you to hike these mountains.
"The New Seven Wonders of the World: Machu Picchu awaits for you"