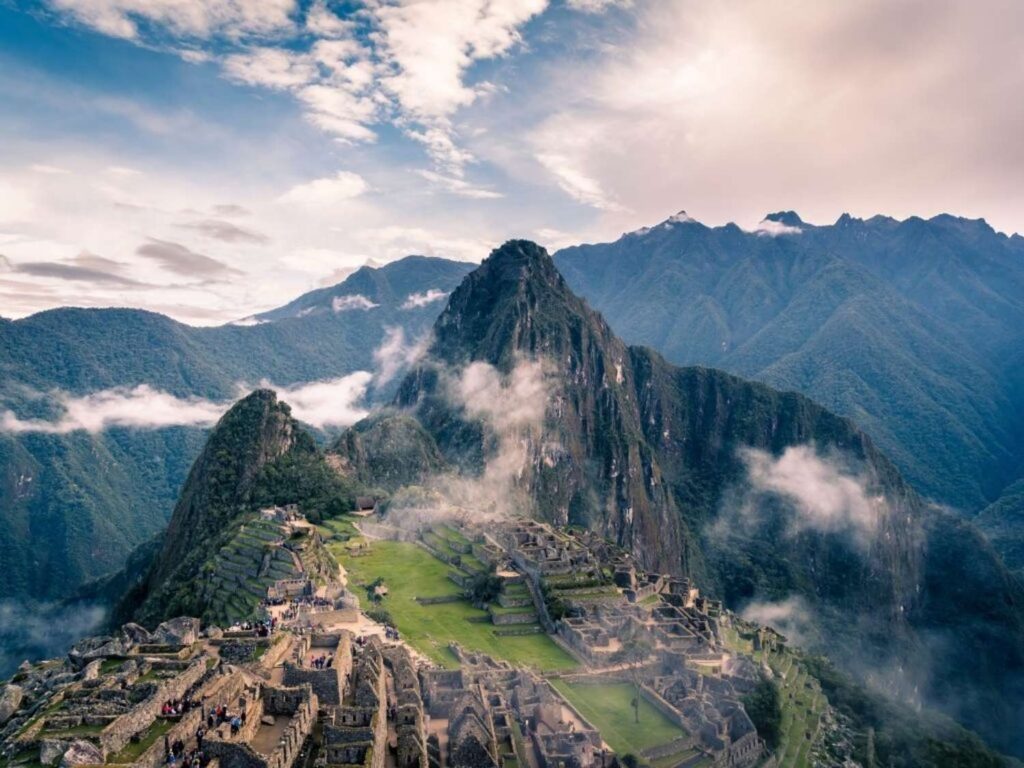 The Incas hid Machu Picchu so high in the clouds that it escaped destruction by the empire-raiding Spaniards, who never found it. It is no longer lost, of course, and you can zip there by high-speed train and helicopter as well as trek along a 2- or 4-day trail-but Machu Picchu retains its perhaps unequaled aura of mystery and magic. No longer overgrown with brush, as it was when it was discovered in 1911 by the Yale archaeologist and historian Hiram Bingham with the aid of a local farmer who knew of its existence, from below it is still totally hidden from view. The majestic setting the Incas chose for it remains unchanged: The ruins are nestled in towering Andes mountains and are frequently obscured by mist. When the early morning sun rises over the peaks and methodically illuminates the ruins row by row. Machu Picchu leaves visitors as awestruck as ever.
The great majority of visitors to Machu Picchu still do it as a day trip from Cusco, but many people feel a few hurried hours in the presence of the ruins at peak hours, shared with throngs of people tagging along in guided tours, simply do not suffice. By staying at least 1 night, either at the one hotel just outside the grounds of Machu Picchu or down below in the town of Aguas Calientes (also called Machu Picchu Pueblo), you can remain at the ruins later in the afternoon after most of the tour groups have gone home, or get there for a sunrise -a dramatic sight.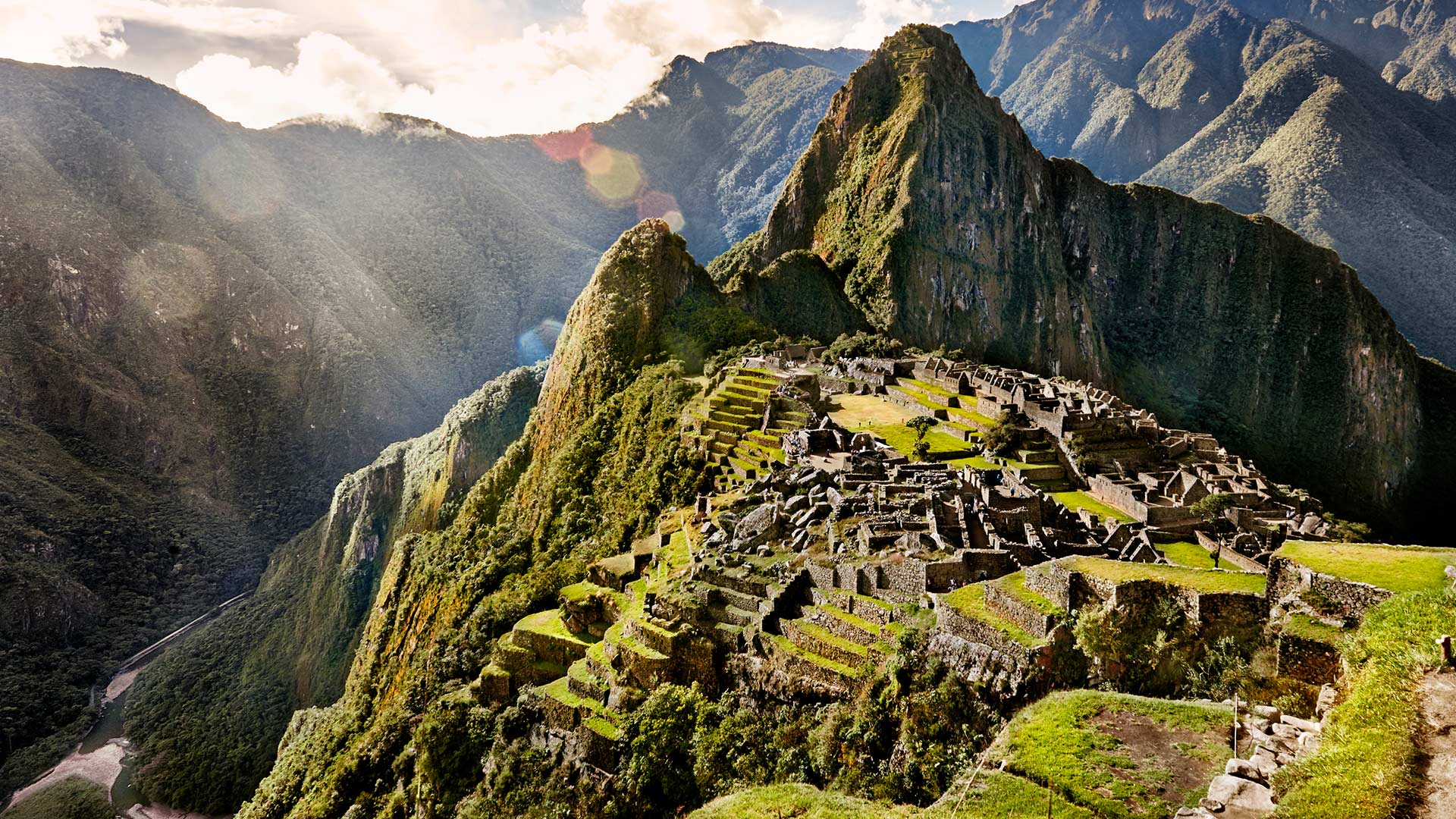 The base for most visitors, Aguas Calientes is a tiny, classic tourist trade town, where weary backpackers rest up and celebrate their treks along the Inca Trail to Machu Picchu over cheap ears and cheaper beers. Some additional good hikes in the area draw outdoor enthusiasts, but most people head immediately back to Cusco after a couple of days in the area.
The Inca Trail was a path through the Andes that led to Machu Picchu. Ruins are lined up along the rail like a connect-the-dots puzzle, It is the highlight of the 127-square-mile national park, the Machu Picchu Historical Sanctuary. The zone is filled with great views of mountains, cloud forests, wildlife, and ruins. The park is home to the very rare Andean spectacled bear (which you are unlikely to see), more than 400 species of birds, and a plethora of orchids and other plants. The trail itself is 43 km/27 miles of almost continuous stone stairs.
More than 70,000 people each year take the trip, making it the most popular trail on the continent and one of the most popular in the world.
At its most basic, the Inca trail was a footpath through the Andes leading directly to the gates of Machu Picchu. Contrary to its image as an alone, lost, remove a city, Machu Picchu was not isolated by the clouds. It was the crown of an entire Inca province, as ruins all along the Inca Trail attest. Machu Picchu was an administrative center in addition to its other putative purposes. That larger purpose is only comprehensible to those who hike the ancient royal route and visit the other ruins scattered along the way to the sacred city.
More than that, though, the Incas conceived of Machu Picchu and the great trail leading to it in grand artistic and spiritual terms. Hiking Machu Picchu through the Inca Trail-the ancient royal highway- is hands-down the most authentic way to visit cept and supreme regard for nature. As impressive as Machu Picchu itself, the trail traverses a 125-sq.-mile national park designated as the Machu Picchu Historical Sanctuary. The entire sone is repleted with extraordinary natural and man-made sights: Inca ruins, exotic vegetation and animals, and dazzling mountain and cloud-forest vistas.
Today, the Machu Picchu hike has been designated a World Heritage natural and cultural site, is the most important and most popular hiking trail in South America, followed by many thousands of ecotourists and modern-day pilgrims in the past 3 decades. Its popularity in recent years led to concern among environmentalists and historians that the trail was suffering potentially irreparable degradation. The National Institute of Culture (INC) and the Ministry of Industry. Tourism, Integration, and International Trade (MITINCI) reacting to pressure from groups such as UNESCO (which threatened to rescind Machu Picchu's World Heritage Site status), instituted far-reaching changes in practices in 2001 designed to limit the number of visitors and damage to Machu Picchu and the Inca Trail. There are two ways to hike Machu Picchu: either along a fairly arduous, 4-day/3-night Machu Picchu hike with three serious mountain passes, or as part of more recently opened and more accessible 2-day/1-night trail. You can hire porters to haul your packs or suck it up and do it the hard way, but, in contrast to past years, when independent hikers could embark on the trail on their own, you must now go as part of an organized group arranged by an officially sanctioned.
When is the best time to hike to Machu Picchu?
The best season is during the dry season, which covers the months from April to the end of September. In October the rains begin and you can find Machu Picchu covered by clouds. If you travel in June, we recommend you to book the Inti Raymi 2020 Tour that takes place in June 24th, and also hike the Palcoyo Mountain Tour, which is an incredible Rainbow Mountain located in the Andes.
Hiking tours to Machu Picchu
Many are the routes that take you to Machu Picchu, but none is like the Inca Trail Tours, the most famous pedestrian path in the Americas. After flying from the capital of Perú, Lima, you will arrive in Cusco to walk for four days along a path through forests and dense fog, millenary stone steps and discovering the ruins of ancient fortifications and Inca cities, and all the time enjoying majestic views.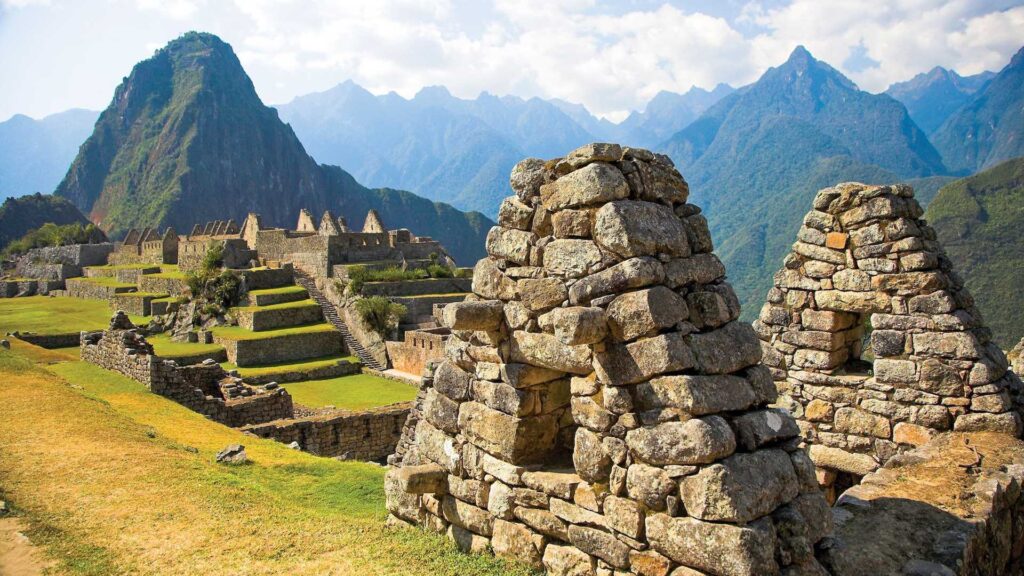 Alternative Trails
If the Inca Trail is sold out, do not despair. There are many other hiking options in the area that will lead to Machu Picchu. Many are considered more challenging and more breathtakingly beautiful. The trail fees are lower too (about us$25 per day total), so you will likely save money and are unlikely to be slowed down by a tour group of 50, 100, or 200 people.
One popular route is simply a shortened version of the trail. It is often called the Royal Trail of the Incas or the Sacred Inca Trail. It leaves from km 104 and gives you the experience of walking the real trail without the blisters. From km 104 there is a four-hour walk uphill to Wiñ ay Wayna. Machu Picchu is just a few hours more. Many stay in Wiñ ay Wayna, while some head down to Aguas Calientes and return to Machu Picchu the following day. This Machu Picchu trail follows the same rules and regulations as the normal trail, so it must be done with a guide.
The most popular alternative Inca Trail passes. Salkantay is the tallest mountain in the Cordillera Vilcabamba at 6,271 m/20,569 feet and the second-highest in the Cuzco area. There are several ways of doing Salkantay trek. I´ll explain the most popular. It is more of a nature trek than a way to see ancient ruins. You pass high mountains and sweltering jungle, all in very desolate areas. You can make this trek on your own, without an agency or even a guide. Considering that the price is fairly reasonable regardless of which agency you use, most take a guide or hire horses and porters in Mollepata.
The Salkantay trek generally starts in the town of Mollepata in the Apurimac Valley to the northwest of Cuzco. It is reachable by an early morning bus. The first night on this trek is cold, as cold a night as I have ever experienced. The camp is beside the snow-covered peak of Salkantay. On a clear night, you can see more starts here than almost anywhere. Having a good sleeping bag is essential if you want to sleep. I personally brought a sleeping bag I bought from a Colombian supermarket for about US$9. It was frighteningly cold so I ended up putting on every piece of clothing, including gloves and scarves, that I had in my pack. it didn´t matter. I could not sleep and was dead-tired the next day, which is the most intense day of trekking Machu Picchu.
Day two is straight up for about half a day. There is usually a great variance in times to complete this part of the Salkantay trek. Those with greater physical strength and determination may finish hours ahead of the rest of the group. This day alone makes it more difficult than the regular trail, but do not let that stop you. I watched a group of four out-of-shape Germans in their 60s make it. They trudged along slowly and by no means embarrassed themselves.
From this point on, there are several variations for the Machu Picchu hike. Some take four nights overall, some just three. Others take seven. Some will end in the town of Santa Teresa, a short walk from the train station at the Aobamba hydroelectric plant. It´s a one-hour ride from there to Aguas Calientes. Another trek leads to Paucarcancha, Huayllabamba, and then connects with the traditional Inca Trail.
Salkantay Trekto Machu Picchu 5 days
Hiking the Inca Trail to Machu Picchu 5 days
Inca Quarry Trail4 Days
2 Day Inca Trail Tour
2 Day Inca Trail with Camping
3 Day Inca Trail
Vilcabamba Hike to Machu Picchu 6 days
Choquequirao trek to Machu Picchu 9 days
Ausangate trek 7 days
If you want to visit Machu Picchu, we recommend you to book your Machu Picchu Ticket in advance, so you will enjoy your Vacation in Machu Picchu without any problem.