Many are the routes that are included in Machu Picchu vacation packages, but none is like the Inca Trail, the most famous pedestrian path in the Americas. After flying from the capital of Perú, Lima, you will arrive in Cusco to walk for four days along a path through forests and dense fog, millenary stone steps and discovering the ruins of ancient fortifications and Inca cities, and all the time enjoying majestic views.
Few travel excursions will top as many bucket lists as the Inca Trail tours to Machu Picchu and for good reason. Combining sub-tropical jungle, lush cloud forests and staggering alpine scenery, the 44-kilometre trek is ranked among the finest in the world.
But there are certain drawbacks. With an increasing number of travellers looking for their piece of the action – 2012 saw 62,789 pass the main gate of the trail. This is one adventure thats fast becoming the most popular trek in the world.
In a bid to minimise environmental impact, the Peruvian Government now issues just 500 permits a day (with up to 300 of those going to cooks, porters and guides), meaning those looking to travel in peak season, May to September will often need to apply for permits months in advance.But to avoid crowds and red tape, a great option is to look at some of the lesser-known alternative treks. The exhilarating, high altitude Salkantay Trek is steadily growing a reputation.
Encompassing five different ecosystems over the same number of days, the ancient path offers a mind-blowing mix of snow-capped glacial mountains, lush tropical rainforests and vast Lord of the Rings-style plains across Mt Salkantay rising 6,271 metres above sea level.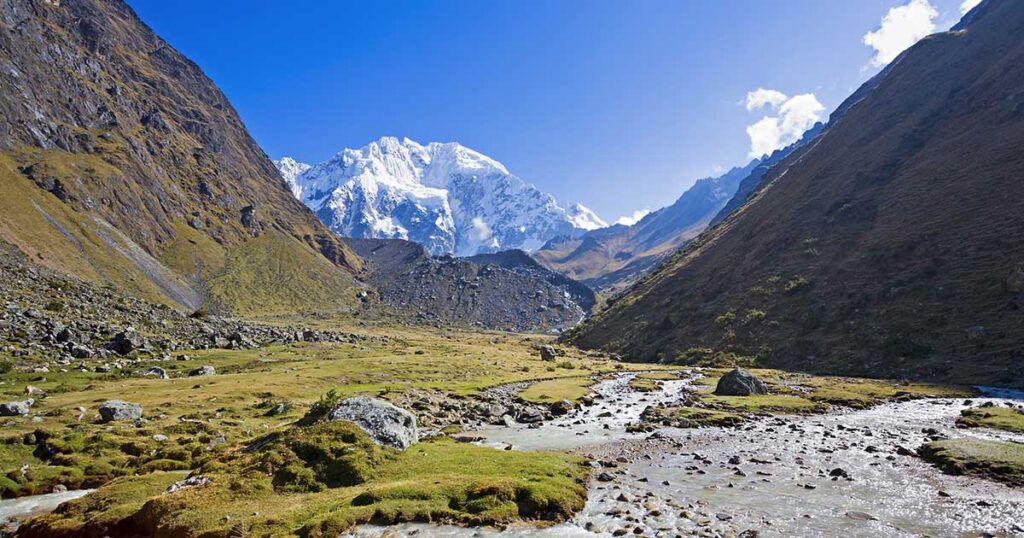 And while the Salkantay may not possess the international brag factor of the Inca Trail, its advantages are many.The Salkantay Trek offers a different experience to the Inca Trail and delivers the best vistas of the Salkantay mountain as well as superb hiking.
Also, you don't need porters. Most travellers on the Salkantay Trek using animals, such as mules or horses. You get really close to the majestic Mt Salkantay, and its possible to stay either in lodges or camp. It's important to note the Salkantay Trek will require a permit from 2015. It doesn't lead directly to Machu Picchu though it does still culminate at the site following a brief transfer from nearby Aguas Calientes on the final morning.
The Salkantay Trek is also a more strenuous alternative to the Inca Trail, the altitude is higher in several places and there is some steep, rugged terrain to tackle. That said, a little bit of prior fitness training goes a long way and people of all ages, in good physical condition, with some hiking experience will do fine on this trek.
If you have the time and energy many people trek both trails as they a really both unique unto themselves.
Inca Trail vs Salkantay Altitude
Max. elevation: Dead Woman's Pass 4,250 meters / 13943.57 feet
Max. elevation: Salkantay Mountain's Pass 4,620 meters / 15157.48 feet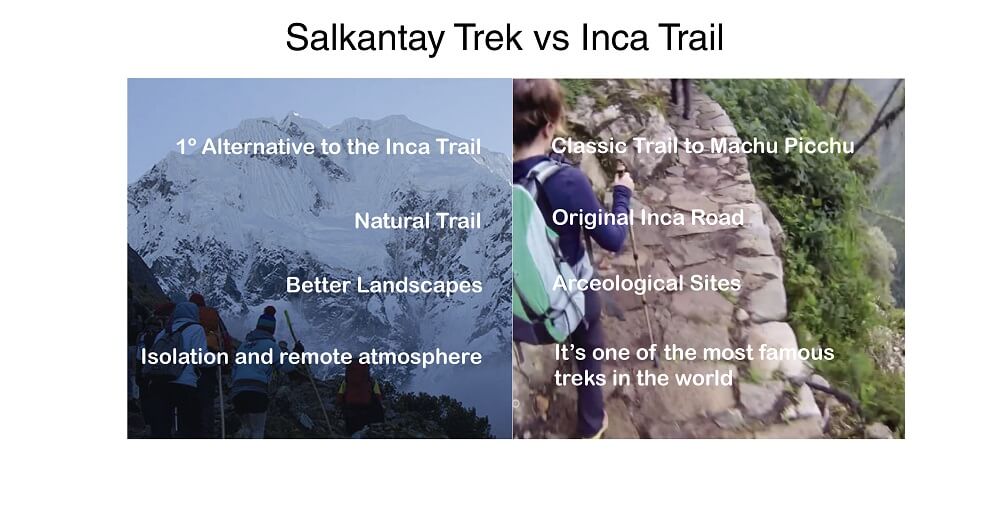 Inca Trail and Salkantak Trek cost
Inca Trail: U$ 680 per person included the porters for your personal belonging
Salkantay Trek: U$ 550 per person included the horses for your personal belonging
In the both hike, it is included all camping equipment such sleeping bag, pillow, blanket, hiking poles.
Inca Trail and Salkantay Permits
Inca Trail: it is included the Inca Trail permits and Official Machu Picchu tickets, it is very important to book in advance, because there are only 500 spaces available everyday included trekkers, guides and porters.
Salkantay Trek: It is included the Salkantay and Machu Picchu tickets. Book in advance, there are limited for the Machu Picchu tickets. Usually the all tour operator require the entrance fee between to 6:00 am or 7:00 am for your guided tour.
What do you views during the hike to the Inca Trail and Salkantay Trek?
What do you view on the Inca Trail?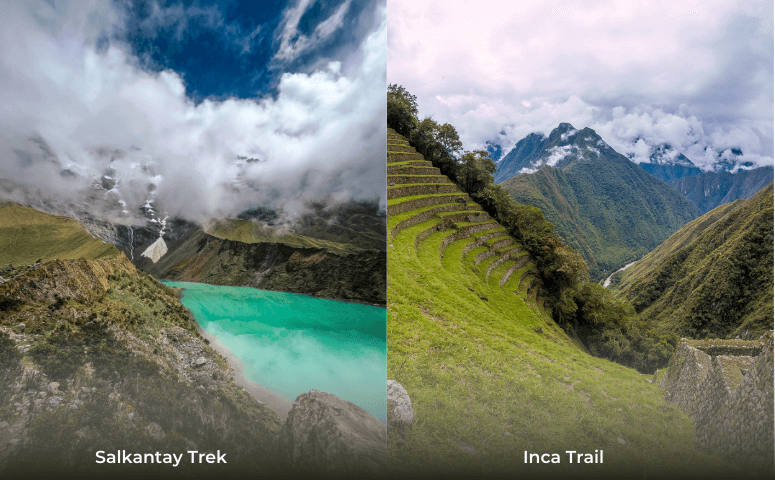 What do you view during the hike to Salkantay?

Inca Trail vs Salkantay Tours
2 Day Inca Trail Tour
2 Day Inca Trail with camping
3 Day Inca Trail
Inca Quarry Trail
Short Salkantay trek
Tours in Cusco to complement your Machu Picchu hike
Palcoyo Mountain Tour
Inti Raymi 2023