Inca Trail information
The Inca Trail 4 Days is one of the most famous trails in South America. If you're looking for a once-in-a-lifetime experience full of adventure, incredible landscapes, rich history, and personal triumph, then hiking the Inca Trail to Machu Picchu in Peru may be just what the doctor ordered! Let's take a quick look at these awesome Inca Trail facts and learn why it is an unforgettable experience!
Why is the Inca Trail famous?
The Inca Trail Trek is without a doubt one of the most famous places in Peru. You will often hear the Inca Trail described as the "world's greatest hike" because it combines the best of both worlds: the four-day hike to the spectacular lost city of Machu Picchu that winds through the zone where the snow-capped Andes Mountains crash into the lush high jungle of the Amazon basin. Combine the incredible natural scenery with the historical power of hiking along an ancient trail and visiting a number of incomparable Incan ruins along the way. All up, this is without a doubt what makes the Inca Trail one of the world's best hikes!
Inca Trail Permit
To hike on the Inca Trail, everyone needs a permit (tourists, guides, and porters) that can be purchased in advance due to the limited capacity. Travel companies that are authorized to operate this tour are the only ones allowed to book the tickets. According to the Peruvian government, only 500 tickets are sold every day, and 200 of these are for tourists.
Visas and entry procedures
Peru is an easy country to enter. People from most countries in the Americas and Western Europe do not need a tourist visa to enter Peru. The maximum length of stay that the authorities grant to tourists is 183 days, which cannot be extended. If you wish to stay longer for other reasons, such as business, study, or work, you need to request the relevant visa at a Peruvian consulate in your own country.
It is essential when entering Peru to present a valid passport with a minimum validity of six months from the date of entry into the country. Citizens of Argentina, Brazil, Paraguay, Uruguay, Ecuador, Colombia, Bolivia, and Chile can enter with their national ID document.
How long is the Inca Trail?
The Classic Inca Trail route to Machu Picchu is 39 km (24 miles) long and typically takes 4 days to complete. Most people find that doing these 39 kilometres over 3 days (with the fourth day just a short hike to Machu Picchu) is sufficiently difficult, even if they have done some training prior to their trek! Most people can only cover this small amount of distance on the Inca Trail each day.
due to the steepness and the high mountain air. In fact, you can also do the Inca Trail in 5 days, which allows for more time to enjoy the truly sublime scenery.
But if you are in a hurry to do the Inca Trail, you could do the Trail Marathon, considered one of the most difficult marathons in the world. With climbs and descents of great extremes, the Inca Trail Marathon is estimated to be as difficult as running nearly two tough marathons in a row! (Seriously!)
It's hard to find accurate Inca Trail facts, but I believe that the record time for an Inca Trail marathon was set by a local porter at 3 hours and 23 minutes. Foreigners have done it in over 5 hours!
How high does the Inca Trail reach?
Trekkers reach the highest point at Dead Woman's Pass at 13,828 feet (4,215 meters). By comparison, Whistler's peak is a mere 2184 meters, and even the majestic El Capitan in Yosemite National Park is just 2307m. For those that do the Inca Trail, they can be very proud of summiting such a high-altitude pass!
Why is it called Dead Woman's Pass?
The Quechua name for the highest point on the Inca Trail is Abra Warmiwanusca, literally "Dead Woman's Pass." It is called the Dead Woman's Pass because, when viewed from the valley below, it looks like a woman's supine body.
You can rest assure that many trekkers have thought that the name applies to them, as quite literally they feel like dead woman (or man!) as they reach the top of the pass!!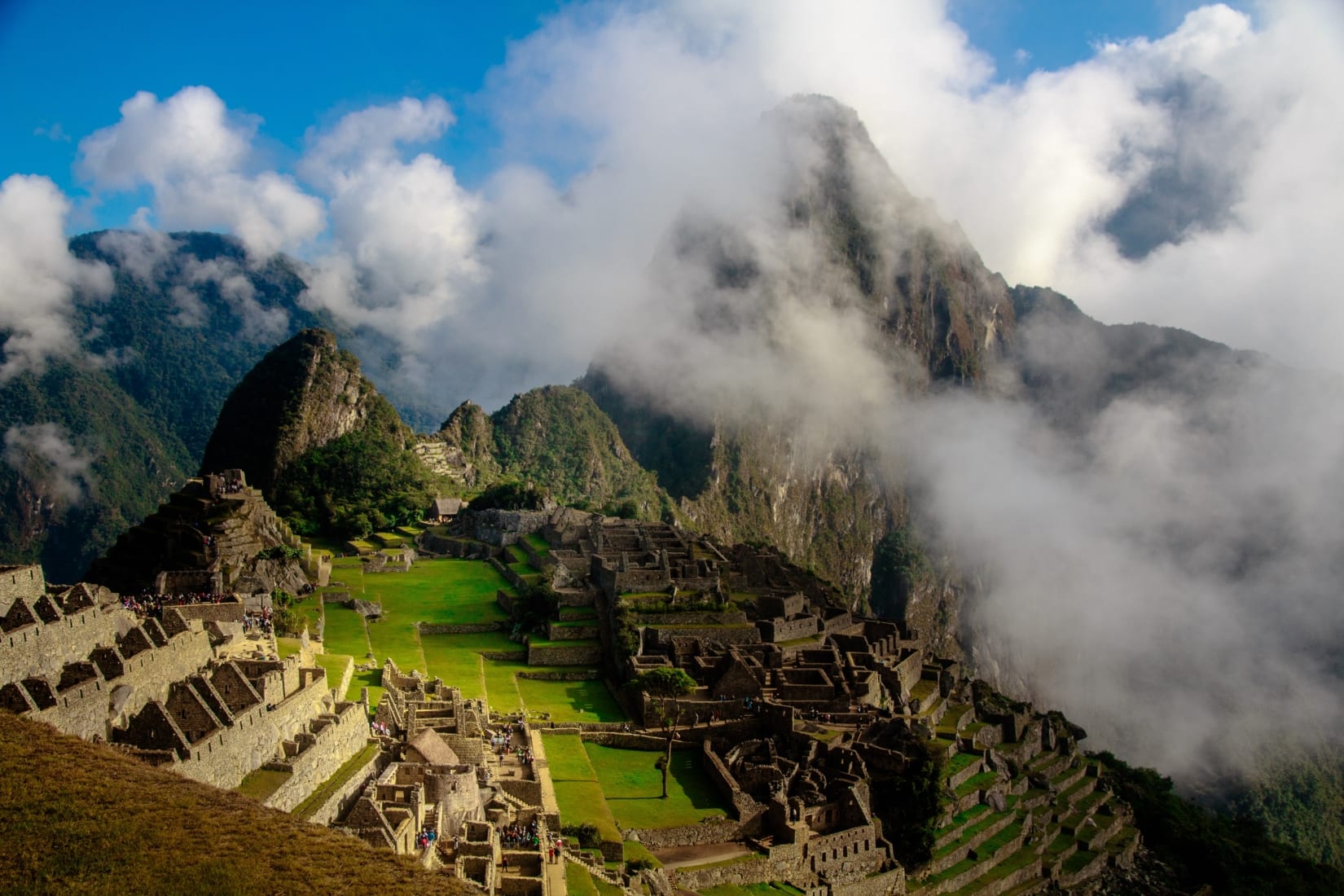 How cold can it get on the Inca Trail?
As high-altitude temperatures can change quickly and radically. It can get pretty cold during the nights during the Inca Trail trek. In winter (May-September), temperatures may drop below 0 °C (32 °F), while it's slightly warmer (and wetter) during the rest of the year.
What is the history of the Inca Trail?
If you are looking for Inca Trail facts, then the history of the Inca Trail is fascinating. The story of the Inca Trail to Machu Picchu begins more than 500 years ago, during the height of the Incan Empire. During that time, the Incas built an enormous network of trails that connected their entire empire, from Ecuador and Colombia through Peru and down into Chile, even crossing parts of Argentina, Bolivia, and Brazil. We're talking an incredible feat of engineering: the roads covered an estimated distance of between 23,000 km and 45,000 km! The entire Qhapaq Ñan is referred to Royal Road – and that includes the famous 43km referred to today as "The Inca Trail."
Why do porters work on the Inca Trail?
Remember, the Inca people didn't have horses, and even when the Spanish arrived with these impressive beasts the Llama was much better suited to the high altitude terrain of the Incan trails. The llama, with its large, softly padded feet, also caused less damage to the stones that make up these trails.
Even in the early days of hiking the Inca Trail, it was recognized that horses could do damage to the precious Incan masonry, while large groups of llamas might create other issues. (Plus, since the conquest, the llama has largely fallen out of use amongst the Quechua people of the Andes.)
Tourism on the Inca trail became very popular after the defeat of the guerrilla group the Shining Path in the early 1990s, and in 2001, new Inca Trail regulations required permits for trekkers as well as porters; today, 300 porters and guides support 200 tourists daily.
The Inca Trail is the only way to walk through the Sun Gate.
Another interesting Inca Trail fact is that the pilgrimage route—the classic Inca Trail—to Machu Picchu is the only way that you can pass through the Sun Gate, which is known as Inti Punku in Quechua. It is located a significant distance from the Machu Picchu site itself, leading researchers to think it was a strategic entry point. Its name comes from the fact that the sun's rays pass there during the summer solstices.
On the last day of the 4-day trek, your weary body is rewarded with the incredible sight of Machu Picchu as you walk through Inti Punku, the Sun Gate, at sunrise. This is the only trek that allows you to do this. On other routes, like the Short Inca Trail and the 4-day Inca Trail, you can pass through the Sun Gate at other times of the day—still special, but not a dawn crossing.
How difficult is the Inca Trail?
For most people of average fitness, the Inca Trail is a moderately difficult hike. As we have covered above in our facts about the Inca Trail, the Classic Inca Trail is a moderate 43-kilometer (26-mile) hike. The hike typically takes 4 days to complete while reaching a maximum elevation of 13,828 feet (4,215 meters). The trek is challenging, but with a good fitness routine prior to the hike, most hikers complete the trek. In our opinion, the most difficult thing about the Inca Trail is the stairs.
Locally, there are much tougher trails than the Inca Trail—for example, the Choquequirao Trek descends and ascends roughly 1000 meters each day. The Ausangate Trek, while it doesn't have ascents and descents, has three passes over 5000 meters!
Can children hike the Inca Trail?
Yes, children can hike the Inca trail to Machu Picchu! There is no official minimum age for trekking the Inca Trail, but at Vidal Expeditions we recommend an age of 10-12 years, and more importantly that the children have certain attributes. This would include resilience; experience not only doing long distance multi day hiking, but camping out at night. Like with adults, the Inca Trail is not something that should be taken lightly, and our general advice for kids is – the older and more experienced you are, the easier it should be!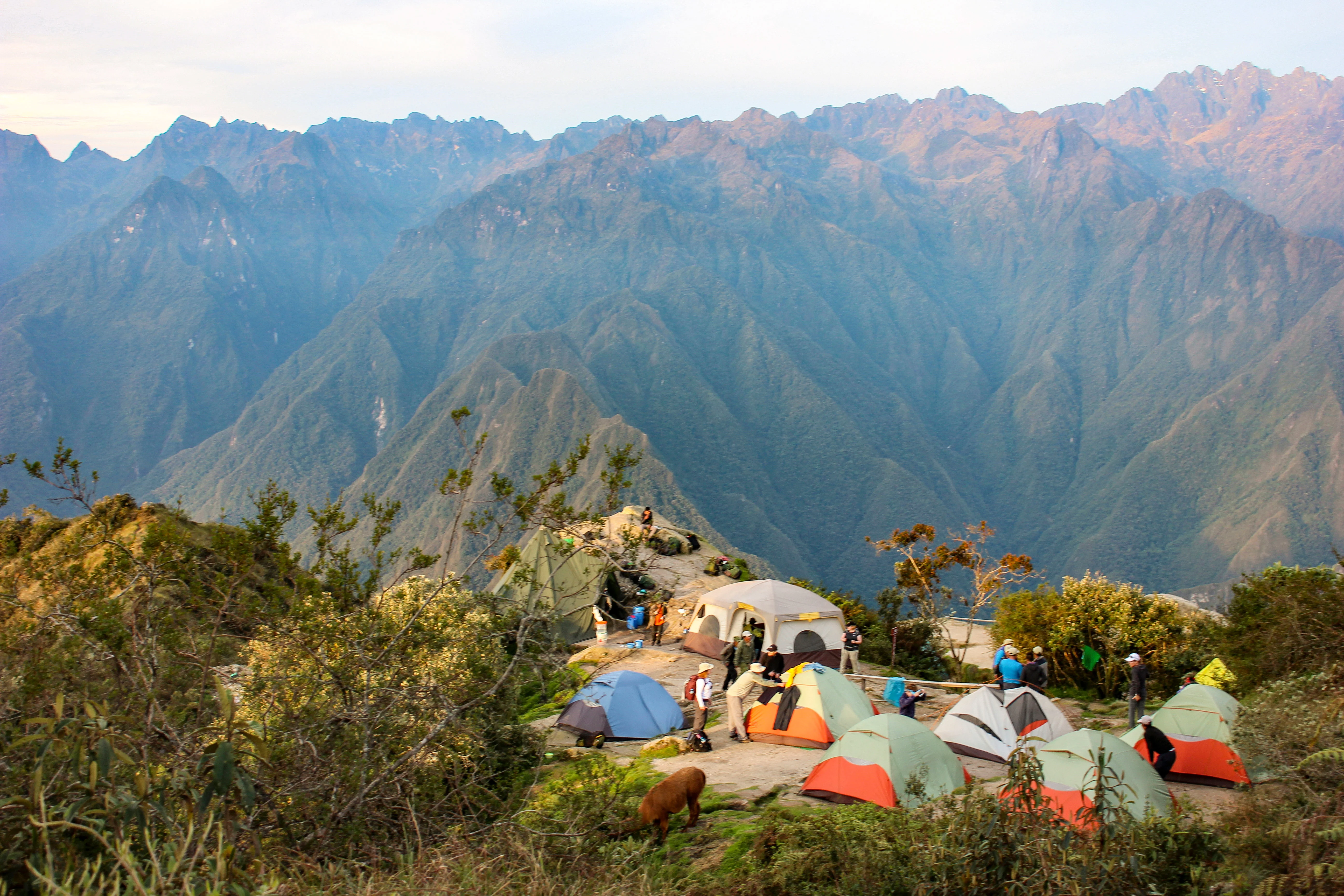 Essential Inca Trail Packing List
1. Your passport
You'll of course need your passport to get into Peru, but you'll also need your passport when you start on the Inca Trail. There's an official government checkpoint at the start of the trail that works to enforce the strict limits on how many visitors can walk the trail per day, and for every foreigner beginning a trek it's required that a passport be shown.
An optional passport stamp is also offered, and it's a very cool way to remember your trip. Because you can't even begin the trek without it, your passport is an absolute necessity on your Inca Trail packing list!
2. Proper hiking attire
First of all, keep in mind that you will either be showering just once or not at all during your four-day trek. This means that you're certainly going to want an ample supply of underwear and socks – the articles of clothing that tend to get dirty the fastest and are the most miserable to put on unclean for a second time!
As far as other attire goes, the most important thing to keep in mind is that you want clothes that you can layer. The temperature is going to differ quite intensely from daytime to nighttime, and your own body heat is going to spike during intense treks and drop whilst you relax. You need clothes that can handle all of these situations.
Ideally, you'll have hiking/athletic pants that can zip off into shorts if necessary. You should bring both short and long-sleeved shirts, and also a light jacket. You should also have some cold weather gear for the nights, including hats, gloves, and scarves – especially if you're designing your Inca Trail packing list for the colder parts of the year.
3. Proper footwear
Whether you choose to bring hiking boots or a hiking shoe/boot hybrid, absolutely make sure they're waterproof! There's a good chance you'll experience some rain or mud at some point during your trek, even if you're visiting during the dry season.
When it comes to choosing between boots and shoes for your Inca Trail packing list, consider this: boots provide more ankle support while shoes are significantly more lightweight.
And one last footwear recommendation – make sure whatever you're wearing fits well and is somewhat worn in, as blisters on a four-day trek are no fun at all.
4. Other waterproof goods
Once again, even if you're trekking during the dry season, don't forget the rain gear! A poncho or rain jacket as well as some plastic bags to separate your wet clothes from your dry ones are absolute musts for your Inca Trail packing list.
5. Sleeping bag
Considering that this will be the source of your rest and relaxation every night of your trek, you shouldn't neglect to choose an appropriate sleeping bag for your journey. We recommend a four-season bag regardless of what time of year you'll be visiting Peru.
6. Toiletries
If you're walking the Inca Trail, you have to face the facts – you're going to be roughing it for a few days. That being said, there are some essential toiletries you can bring to make things at least a bit more pleasant. These include:
Toilet paper
Moist wipes
Deodorant
Soap
Toothbrush/toothpaste
Sunblock
Chap-stick
7. Flip-flops (thongs/sandals)
Especially if you plan on taking a shower on the third night, these are essentials for your Inca Trail packing list. Even if you don't end up showering, they can be useful for relaxing and allowing your feet to breathe for a bit in the evenings.
8. Water bottles/snacks
Though food and water will be supplied by your tour company, you're more than likely to find yourself thirsty or with some hunger pangs as you trek throughout the day. These will help to keep you going until it's time to stop for a meal.
9. First-aid kit/personal medications
Once again, your guides should carry a first-aid kit with them at all times. That being said, it can't hurt to carry a basic first-aid kit on your person during your Inca Trail trek!
Basic medications for stomach problems and the like as well as any medications that you specifically need to take should also of course not be forgotten.
10. Flashlight (torch)
This item is easy to forget but is a necessity for navigating around your campsite after dark. Simply put, it's a must for any Inca Trail packing list.
11. Batteries, memory cards, or whatever else you'll need for your electronic goods
It should go without saying that there won't be any opportunities to plug in and charge your electronic devices during your Inca Trail trek. If you can bring extra batteries, it's certainly recommended. And if you can't, make sure to use your devices sparingly! There's plenty to see after day 1 and you won't want your camera dead by then.
12. Cash
Though you're certainly not going to need a lot of money on the trail, it's still a good idea to have some cash on you. You'll pass a few small, locally-run stores over the course of the trail and you'll obviously need to pay for any goods you want. It also comes in handy if you decide to tip your guides/porters!
"The most incredible experience of your life comes when you decide to try new routes"