Lares Trek Information
Overview
The four-day Lares Trek will take you through stunning mountain scenery, over high passes, and through traditional Peruvian villages before exploring the treasures of Machu Picchu on the fourth day! This off-the-beaten-track trek is perfect for avid hikers interested in exploring authentic Peruvian culture and traditions while avoiding crowds!
Altitude and Weather on Lares Trek
Altitude can affect anyone at moderate to high altitude (generally anything over 3,000 meters). Altitude sickness is caused by a lack of oxygen, which can be up to a third less than at sea level. No one understands why some people are affected and others are not, and age, level of fitness, and strength are no indication of how well you will fare. Be aware that altitude sickness can be serious, so if your guide advises you to rest or descend, please do as instructed. As the trek is a mixture of ascents and descents, altitude sickness is often short-term, and suffering from it does not necessarily mean you will be unable to complete the trek. Drugs are available to combat the effects of altitude sickness; for more information, please ask your doctor before you travel.
The weather in the Andes can be very unpredictable, and you should be prepared for bad weather. Peru is located in the southern hemisphere, meaning the winter extends from June to August. In the summer months, daytime temperatures can be extremely hot and humid, but the nights can be very cold. During winter, it can be cold during the day and particularly cold at night. It is usual to encounter some rain all year round so a poncho is ideal along with thermal underwear if you really feel the cold. (Cheap ponchos that fit over everything, including your day pack, can be bought in Cuzco for approximately US$1).
Hiking Distance on Lares Trek
A typical Lares trek to Machu Picchu can be done in 4 or 5 days. If you go with a travel agency, the number of days depends on the price of the trek and always includes accommodation, transfers, food, and entrance to Machu Picchu.
The Lares Trek 4-Days is the most popular and many travelers choice due to the itinerary that allows you to visit the highlights of this tour. The total distance to hike is 33 kilometers from the trailhead to the end of the trail before reaching the train to Aguas Calientes town.
Why choose the trek from Lares to Machu Picchu?
The Lares Trek, also considered the ultimate cultural tour, takes you to experience the challenge of walking through the Andean mountains watching the local people work on their farms, and taking care of their animals (alpacas and llamas). The addition to your excursion is to be able to reach Machu Picchu.
The Lares trek is easier than most other treks to Machu Picchu. Compared to the, for example, there are fewer steps. In addition, this trek is simply much quieter, as the number of visitors on the trails is few.
Hot Springs in Lares Trek
The thermal baths of Lares have six pools, all of which are heated, and their medicinal waters spring from the subsoil. The local inhabitants believe that Mother Earth gives them these mineral pools for curative purposes, according to the Andean cosmovision.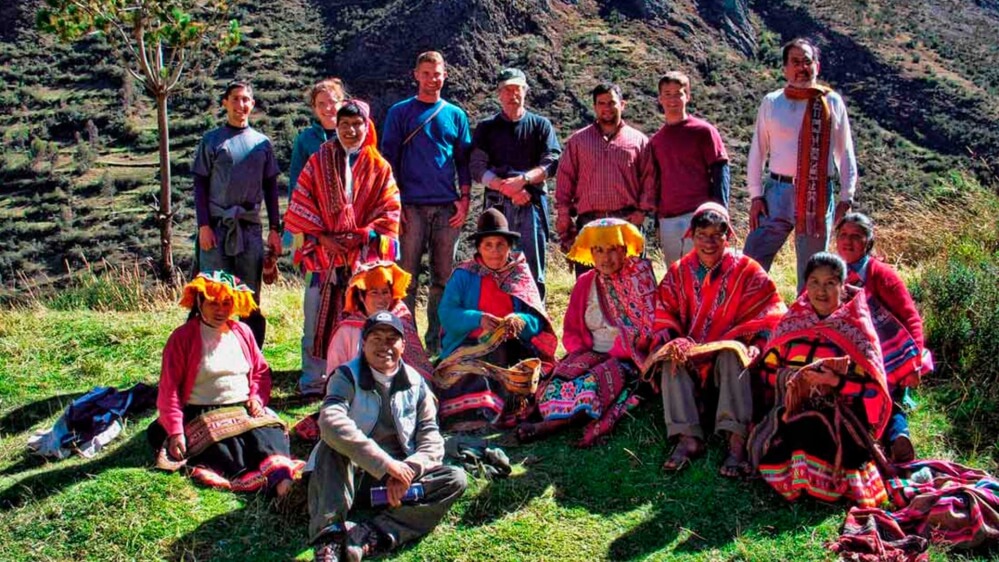 Luggage
Unlike with the more strenuous hikes, there are no porters to carry your stuff, so only bring exactly what you need. You can leave all your other luggage in storage at your accommodation in Cusco; all the hotels and hostels offer free storage service until the day you return.
Bear in mind that everything you bring will be on your backpack and the duffle bag which will be carried by the horses the forst 3 days, also on the last day it will be transport by the train, so for this trek you should pack the neccesary hikking items.
extra clothes for 4 days, and your personal belonging tha you wont use during the day can be on your duffle bag, and your items that you will use during the day such as cameras, head lamp, gloves, rain coat, sunglasses, sunblock, water bottle, toiletries, etc. These can be in your daypack.
Packing list
When packing for your Lares Trek to Machu Picchu, you should keep in mind that it is best to dress in layers due to the weather variation.
The variety of clothes that you must pack to dress in layers is key to your walk, from the morning when it is quite cold until mid-afternoon when the temperatures rise and reach their peak and then freeze again at night.
Stratification is also useful as you ascend high passages that are exposed to winds or descend into shady valleys.
Effective stratification only works if each layer allows moisture to pass and escape into the external environment. In fact, the best layered clothing, such as wool, promotes moisture transfer through its absorbent properties. Cotton and denim absorb moisture and, therefore, should be avoided.
Below, we detail the types of clothing you should carry with you and offer specific recommendations on the characteristics you should look for in each one.
To Wear
Underwear: You should bring 2-3 pairs of sports underwear, such as those made by Icebreaker, or even any sports brand
For women bring two pairs of sports bras.
Walking shoes/boots: these should be waterproof. The hike isn't too demanding, so walking shoes rather than hiking boots are fine and are more lightweight, anyway. We recommend the Pebble IsoGrip Walking Shoes for women, or the Field Extreme Walking Shoes for men, both from Mountain Warehouse.
Comfy hiking socks: to wear with your walking shoes if needed.
One change of footwear: for evenings (as lightweight as possible – preferably flipflops)
Raincoat or poncho
Either: one pair of comfy shorts and one pair of walking trousers.
One pair of walking trousers: That zip off into shorts (the best option). The recommendation is the Travel Extreme Zip Off Walking Trousers from Mountain Warehouse, as they are also anti-mosquito – perfect for the jungle hike.
Optional – One pair of leggings or light comfy trousers – to wear during evenings or while you're walking trousers dry out. Double these up as sleepwear to save space.
No more than four t-shirts or vest tops – comfy stuff that you don't mind getting dirty.
Sun hat: You should wear a light and easy-to-store sun hat to protect your head and face from sunburn and reduce the likelihood of sunstroke. We prefer sun hats that have an adjustable neck cover, like the one shown. Do not bring a large and bulky hat, like a straw hat, as these are difficult to store.
Fleece and windbreaker jacket: For the coldest sections on the road, you should bring a medium-weight wool jacket or jacket. The fleeces that use Polartec materials are great. Usually, Polartec fleeces come in 100, 200 or 300. The 100 are a bit light and the 300 are too heavy.
Neck / Headband / Bandanas: If your hat does not have a neck cover, you may want to wear a neck or head band that can help protect against sunburn while bending like a scarf or head and ear warmer during cold nights.
Wool hat or headband: As we have already mentioned, the nights cool down on the Lares Trail. We suggest you bring a winter wool hat.
When you leave on the first day, it'll be cold, so wear one or two of your t-shirts under a jumper and raincoat, plus walking trousers. Girls should wear their sports bras too.
On the second day, just wear your walking trousers again if they are zip-off, or go for shorts straight away if not. It'll be hot and humid most of the day while you are hiking to the first pass.
On the third day, you can wear shorts and a t-shirt for the hike down to the valley, but keep a raincoat or poncho to hand. Aguas Calientes can be cooler at night, so comfy trousers are handy if you plan to browse the shops and market.
The last day is tricky, as you'll leave around 4:30 a.m. when it's pretty cold, so you'll want warmer clothes and a sports bra for tackling the climb, but once you're in Machu Picchu and the sun is up, it gets very hot. You probably won't need a jumper, as once you start climbing, you'll warm up quickly enough. We recommend wearing leggings or trousers and one of your already dirty t-shirts, but taking a bag with shorts and a clean t-shirt (and a spare bra, for girls) and changing when you get to the top.
If you plan on climbing either Machu Picchu Mountain or Huayna Picchu when you're inside, don't bother changing until after that! You can leave all your other stuff at the hotel in Aguas Calientes to make the climb easier; if you're in a group, you can share one backpack with food, water, and changes of clothes and take turns carrying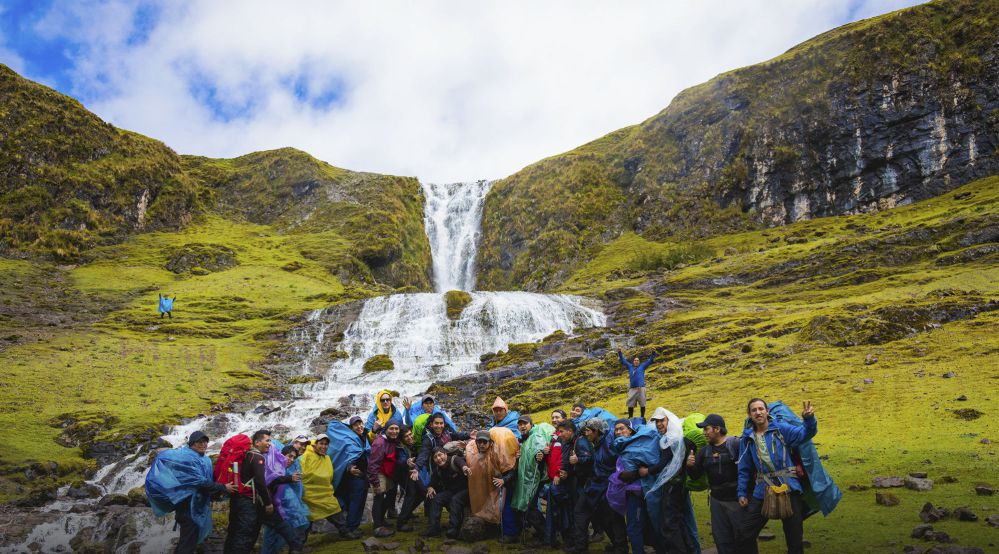 Toiletries
For the whole trek, we recommend bringing your own toiletries; there are not showers along the trail; however, the trekking team will provide some hot water each afternoon, which you can use to clean your body, and you can wait for the hot shower at the Aguas Calientes hotel on the last night. You don't need to take your normal beauty regime or makeup; it's heavy and unnecessary. Just tie your hair back, stick a hat on, and be grateful for your light backpack as you hike along steep Inca trails.!
Sun cream
Insect Repellent – make sure it's strong and that you have plenty of it.
Sachet or small bottle of shampoo*
Toothbrush and paste
One roll of toilet paper (don't skip this –during your hike you won't see a toilet with paper in it!)
Anti-bac hand gel
Small shower gel/bar of soap
You can buy shampoo in Aguas Calientes when you arrive and wash your hair in the hotel shower that evening, to save carrying it from Cusco.
Extra Items
Torch (a nice small head torch is best)
Camera
Batteries or charger
Sun hat
Sunglasses
Water bladder or bottled water
A few snacks like energy bars (you won't need too many)
Dry sacs or plastic bags to wrap your clean clothes in, in case it rains.
Swimwear and a towel – to save space we really recommend a lightweight travel towel like the Pack towel – it's a fraction of the size of an ordinary towel, dries in five minutes and weighs next to nothing.
Passport (you need this to enter Machu Picchu so don't forget it!)
Cash (there are no ATMs at all). All your meals are included with the tour, but you'll want cash for snacks and bottled water, entrance to the hot springs, tips for guides, lunch and dinner on the final day, and maybe souvenirs from Aguas Calientes. Try to get small notes and coins as Peruvians, especially in small villages, are allergic to giving change.
All of this should fit into one backpack of 20L-30L, so you can leave your big backpack and all your other luggage in Cusco. It may not seem like much, but it's only four days and this really is everything you'll need.
Always being ready for your next adventure, help to enjoy the moment