Ausangate Trek Information
Peru is famous for being home to many exhilarating treks. Though not as popular as some of the other trails accessible from Cusco, the Ausangate Trek is just as worthwhile. In fact, being less crowded with tourists is part of its charm. It guarantees travelers who venture on this remote journey a more unique experience. While you won't come across Incan ruins, it makes up for it with breathtaking natural scenery and spiritual significance. Spot spectacular snow-capped peaks, gorgeous lakes, and wonderful wildlife, including herds of llamas and alpacas. The centerpiece of the trek is the mighty Apu Ausangate, one of the tallest mountains in Peru.
Before embarking on the Ausangate trek, it is important to know what to expect. This will help you decide whether this trek is best suited for you. Firstly, it's useful to compare Ausangate to other trekking options in the Cusco area. Ausangate does not conclude at Machu Picchu, making it less crowded compared to other treks. This means it is ideal for travelers looking to get off the beaten path.
Most tour companies recommend at least 5 days for the trek, or 6 if visiting Rainbow Mountain. The average elevation during the hike is 13,000 feet (4,000 m). Thus, it's important to give yourself sufficient time to complete the trek. Taking some time to rest will decrease your chances of getting altitude sickness. Because of these challenges, previous experience hiking at altitude is recommended.
Length: 4-6 days
Distance: 43 miles (73 km)
Highest altitude: Palomani Pass – 17,000 ft (5,165 m)
Average altitude: 13,123 ft (4,000 m)
Elevation Gain: 9,406 ft (2,867 m)
Difficulty: Challenging
Comparing with Other Treks
The Ausangate trek doesn't end at Machu Picchu. If you want to combine a trek with a visit to the ancient citadel, consider one of the treks to Machu Picchu. The most popular are the Inca Trail, Salkantay Trek, and Lares Trek. That being said, there are several other reasons visitors choose to hike the Ausangate trek, especially those who have already seen Peru's World Wonder or travelers aiming to avoid the large crowds.
Unlike the Inca Trail, there is no permit needed for Ausangate. It is thus much easier to organize and does not require booking months in advance.
Ausangate is not as popular as other treks in Cusco, meaning fewer tourists can be found on the trails. You are guaranteed a more tranquil experience, even during the high season from June to August.
Ausangate gives you the unique opportunity to explore Vinicunca, the Rainbow Mountain. Vinicunca is not included on other treks and normally must be visited on a day trip from Cusco.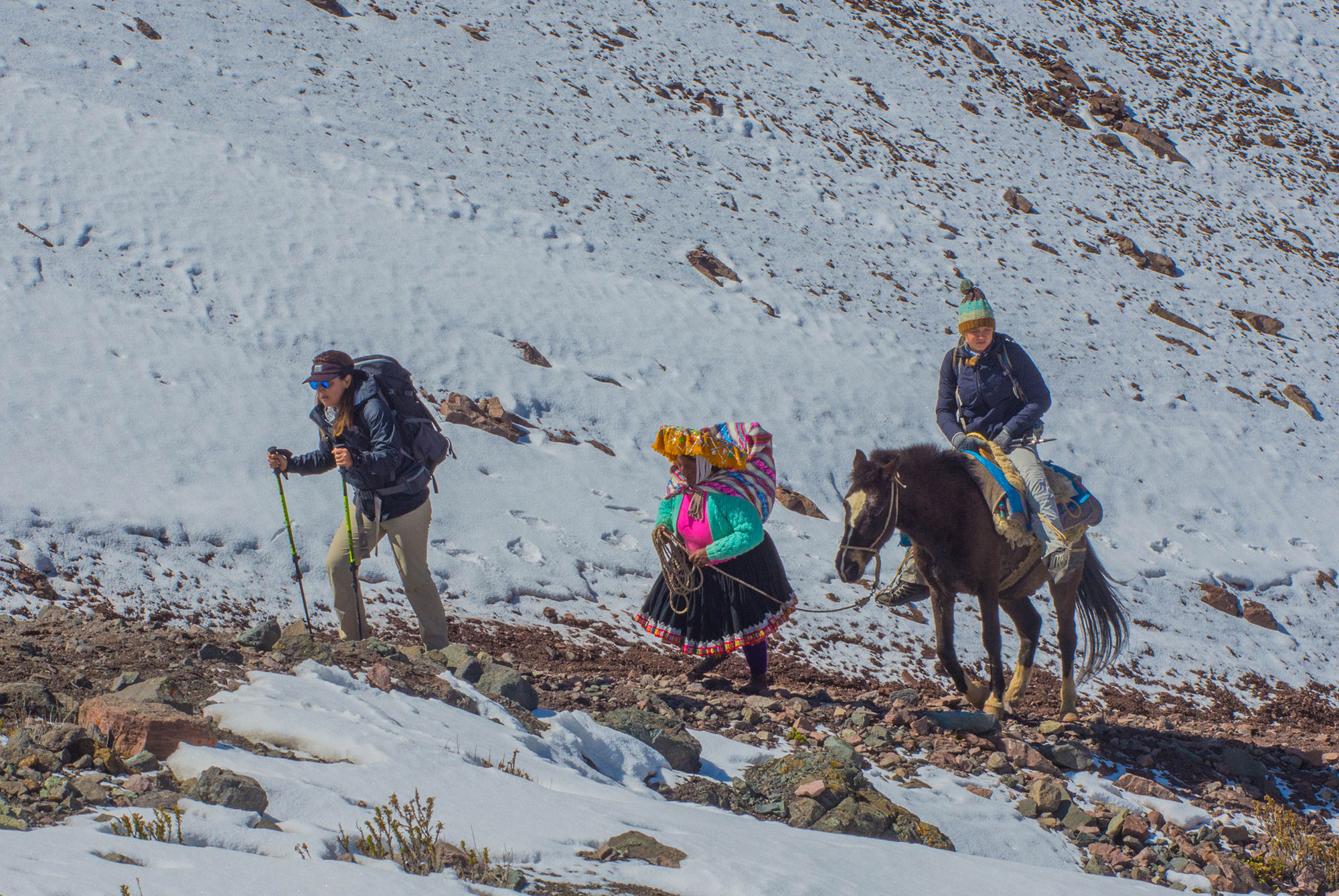 How Long is the Trek?
The recommended length of this Ausangate Trek 5 Days. This gives you enough time to relax and enjoy the beautiful scenery. It also accounts for time to rest in case you are suffering from symptoms of altitude sickness. Adding a visit to Rainbow Mountain will require an extra day, making it a total of 6 days. If you are short on time, some tour companies organize a 4-day Ausangate and Rainbow Mountain trek. This shortened trail takes you back to Cusco after visiting Rainbow Mountain.
However nowadays we have a varied of Ausangate Tours wich can fit on your journey to enjoy the beautiful Andes mountain. Have a look below to have an idea about what are the different of each trek:
Ausangate Trek 2 Days
It is mostly a short journey for people who do not have enough time to explore Peru. This trek allows you to visit the highlights of the Ausangate area, visiting the Seven Lakes Tour on the first day, and camping around the area with incredible views of the sunset and the starry night. On the second day, you will visit more lakes and get closer to the snowy mountains, which are not visited on the normal day tour. You will visit some local farms on the way back to Pacchanta, where you can relax at the hot spring before joining the bus back to Cusco.
Hiking Distance: 13 km (8 miles)
Highest Altitude: 4,710 meters (15,452 ft)
Difficulty: Moderate – Cold
Ausangate Trek 3 Days
On this tour, you will have more days to explore the west side of the Ausangate Mountain, with some breathtaking vistas along the way. The highlights of this trek are the hot springs at Upis, where you can relax during the first night before going to sleep. Visit some beautiful lakes on the south face of the mountain and climb over 5,100 meters above sea level, where you have stunning views of the Apu Ausangate and feel the energy of nature while the wind blows in your face. At the end of this 3-day trek, you will visit the famous Rainbow Mountain before the crowds arrive; if you are fit enough, you can also see the sunrise once you arrive there.
Hiking Distance: 28 km (13 miles)
Highest Altitude: 5,100 meters (16,702 ft)
Difficulty: Moderate- Hard – Cold
Ausangate Trek 4 Days
This is a quite longer trek due to the route going through the east face of Ausangate and connecting to the south face; if you choose the route, you will have more incredible spots along the way, from the Seven Lakes to the Rainbow Mountain. This tour is full of adventure. Doing the 4-day Ausangate Trek, which is a less known route for trekkers, you will be amazed to see closer the huge mountains, lakes, and lot of wildlife of the area, including the alpacas and lamas. The challenging section is on Day 3 that you will reach at 5,200 meters; this spot is closer to the Apu Ausangate where your tour guide will make some offers. Also following this route, you will visit some Andean villages where locals still preserve their traditions as the Incas did hundreds of years ago. At the end of your journey, you will visit Rainbow Mountain early in the morning and have breathtaking vistas before the crowds arrive. This tour offers you the option to explore the Red Valley as well.
Hiking Distance: 48 km (29.8 miles)
Highest Altitude: 5,200 meters (17,060 ft)
Difficulty: Moderate- Challenging – Cold
Ausangate Trek 5 Days
This is the most complete package for those who love to explore more about the Andes. The 5-day tour will take you to explore the complete classic circuit of Ausangate, hiking through the most remote areas to visit local families along the route with stunning views of glaciers, snow-capped mountains, lakes, green valleys, and colored mountains. A complete experience awaits you with this trek off the beaten track in the middle of the Andes. The highlights of this tour are the thermal baths of Upis, Puccaqocha Lake, Palomani Pass, Chocolate Lake, Qampa Pass, Seven Lakes, and Pacchanta Thermal Baths. This route also gives you the option to hike towards Rainbow Mountain on the third, but this is optional according to your physical condition.
Hiking Distance: 67 km (41.6 miles)
Highest Altitude: 5,200 meters (17,060 ft)
Difficulty: Challenging – Hard- Cold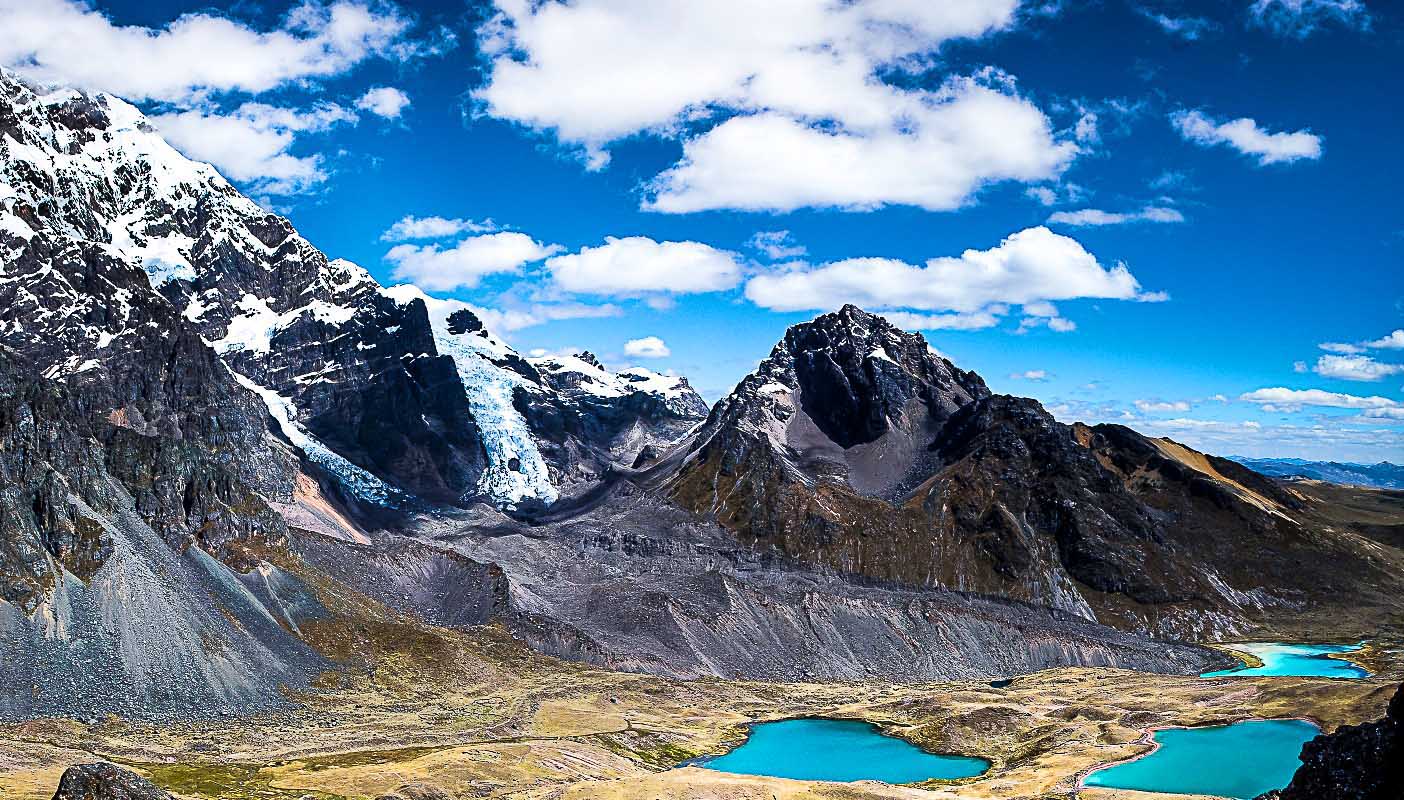 Difficulty of hiking on Ausangate Trek
Ausangate is considered to be a hard trek. It is important to consider the challenges carefully before embarking on your trip.
While the hike itself is comparable to other Andean treks, the average altitude is over 13,000 feet (4000 m) above sea level. Lower oxygen levels at this elevation can trigger altitude sickness and shortness of breath. There are a total of four steep passes to cross, measuring up to 17,000 ft (5,182 m). Previous experience hiking at high altitude is highly recommended.
Located in a very remote area, it can be difficult to navigate the trail. To avoid getting lost, hiking with a professional guide is suggested for all but the most seasoned adventurers.
Trail Highlights
The Ausangate trek is different from other treks, mostly because it does not offer a visit to Machu Picchu. Nor does it visit other Incan ruins. Instead, its highlights are natural attractions, including glaciers, colorful lakes, and precious wildlife. Being so close to Rainbow Mountain, it even offers trekkers a chance to visit this popular attraction. In addition, you will encounter remote Andean villages that still retain their traditions. Read more below about the highlights of hiking the Ausangate trek.
Apu Ausangate
For the Incas, mountains served as a connection between the middle and upper worlds. Important mountains were called "Apus", named after protective spirits they believed to live inside them. Apu Ausangate is the tallest peak of the Vilcanota Mountain Range in the Cusco region. It is also the fifth tallest mountain in Peru, measuring 20,940 ft (6,384 m). Though the trek does not take you to the top, you will get unrivaled views of its majestic, snowy peak.
Glaciers and Lakes
Apu Ausangate is called the "Creator of the Waters" because of its many glaciers. They are the source of several lakes and rivers that supply water to other parts of the country. For example, the Vilcanota River goes on to feed the famous Amazon River. Ausangate has a special significance for Peruvians to this day. On the trek, you will come across gorgeous lakes, each of which has its own unique color. The colors range from green to blue, turquoise, and even red.
Rainbow Mountain
One of the biggest attractions of the Ausangate Trek is the chance to visit the famous Rainbow Mountain before the crowds arrive from the day tour. Mineral rock sediments found in the sandstone give this mountain its iconic colors. While not on the trail itself, a visit can be easily arranged on a one-day detour. See the day-by-day itinerary below for more details on how to incorporate it into your trek.
Climate on the Ausangate Trek
There are two distinct seasons, the dry season from June to August, and the rainy season from November to March. During the dry season it is very hot and sunny during the day. However, temperatures decrease rapidly after sunset and can drop to below freezing at night.
The rainy season coincides with summer in the Southern Hemisphere. Therefore, nighttime temperatures are slightly warmer, though it can still get quite chilly. Rain comes in hard and heavy burts, often several times a day. This also makes the valleys much greener than during the dry season.
The remaining months form the shoulder season, which is mostly dry, but with a few afternoon showers. Despite these general patterns, the weather in the Andes is unpredictable. It can be rainy or sunny on any day of the year, and thus it is always best to be prepared.
Weather along the Ausangate Trek
Dry Season – June to August
Daytime: 64℉ (18℃)
Nighttime: 28℉ (-2℃)
Best Season – April to May & September to October
Daytime: 64℉ (18℃)
Nighttime: 46℉ (8℃)
Rainy Season – November to March
Daytime: 64℉ (18℃)
Nighttime: 42℉ (6℃)
Best Time to hike on the Ausangate Trek
Most travelers choose to trek during the dry season, from June to August. During these months, you can expect sunny, yet cool, days and very cold nights. The ideal weather conditions attract hordes of visitors to Cusco. Yet, even during the busy season, Ausangate remains much less crowded than the other treks in the region.
Hiking in the shoulder season, from April to May and September to October, is a good option. Crowds and prices fall, yet the weather remains pleasant. Most days are generally sunny, with a few light showers in the afternoon.
Few travelers decide to trek during the rainy season. From November to March, it can often rain heavily for hours at a time. For those who don't mind getting wet, temperatures are slightly warmer at night, and crowds are almost.
Trekking in February is not recommended because excessive rainfall can create bad hiking conditions on the trails. This can even lead to potentially dangerous mudslides. Peruvian authorities often close the trails and carry out maintenance on them.
Altitude Sickness on the Ausangate Trek
Altitude sickness is a common health concern for Andean trekkers, and for good reason. The average elevation of the Ausangate trek is very high at 13,123 ft (4,000 m). This means it is something to take seriously before setting off on your hike. Read more to find out what altitude sickness is, what are the most common symptoms, and how to prevent it.
What to Pack for your Ausangate Trek
The weather in the Andes can be unpredictable. Bringing the right clothing and gear will prepare you for any weather conditions you might encounter. Some electronics will be useful to document your trip, while others are best left at home, or at your Cusco hotel. In case of injury, it's always essential to bring a well-equipped first aid kit. Read the suggested packing list below to get an idea of what to take with you on the Ausangate trek.
When you decide to hike the Ausangate you must to pack the following items
Clothing
Long sleeve hiking shirt
Hiking pants
Thermal shirt and pants for sleeping
Impermeable raincoat
Underwear
Warm socks
Gloves
Hat
Sports bra for ladies
Sunglasses Gear
Backpack – minimum 30 L
Rainproof backpack cover
Water bottle
Zip-lock bags for storing money and documents
Hiking poles – recommended
Sleeping bag (can be rented from trekking company)
Electronics
Camera
SD card
Phone
Flashlight/headlamp
Spare battery back
Headphones
First Aid Kit
Paracetamol
Diamox (for altitude sickness)
Imodium
Antiseptic cream
Band-aids
Toiletries
Travel towel
Toothbrush and toothpaste
Deodorant
Soap
Toilet paper
Hand sanitizer
Sunscreen
Lip balm
"When everything feels like an uphill struggle, think about the view from the top."