USA: Expedition to Mount McKinley / Denali (6193 m), a trip with a Russian Mountain Guide 7 Summits Club Collection
Route: Moscow – Anchorage – Talkeetna – l. Kahiltna – the top of Mount McKinley (Denali) – descent along the ascent route.
Information: Seven Summits project. Expeditions and Travel Club 7 Summits. Climbing on the classic route (West Battres – West Buttress). Note: "7 Summits Club" – the only Russian company, which has a formal right to organize commercial expeditions on Mount McKinley. We work with one of the 6 licensed US companies have the exclusive right to provide guide services on McKinley! This program we organize our representative from the club 1 time per year. Climbing on Mount McKinley – the highest peak in North America – is sometimes compared with the ascent Everest in complexity. It's really hard and cold: tents among the deserted expanses of snow, glaciers with a lot of cracks, temperatures up to – 25-35 degrees. In general, it is necessary to think well before you go to such an adventure. The proposed route – this is a classic route of ascent to the summit of McKinley (or Denali, which is a place of language Aleut means "high" or "great") – on the West Buttress (West Buttress).
The main part of the road passes through the "closed" glacier (the glacier, the surface of which is covered with snow, ice cracks are not visible). All this snow and ice route does not pose any major technical difficulties, although the slope of the individual sections can be up to 40-45 degrees. These sites provesheny railing. The route (total length about 30 km) goes through the glacier Kahiltna camp 2400m, 3000m, 3300m. It is about 15km snowshoe, dragging a sledge loaded with. Then snegostupyostavlyayut (usually Eleven camp at 3300m) and in cats sovershaeyut sufficiently long transition through the "Windy Corner", a height of 4330m. This Advanced Base Camp (Camp or Rangers). Next go to the assault camp in 5200, and from here, through the "Pass Denali" ascent to the summit. The route is complicated by very low temperatures (a problem even go to the bathroom) and the abundance of larger cracks.
Included meals: B=breakfast; L=lunch; D=dinner
Contact: More information about the expedition.
Luda Korobeshko
Manager-guide of 7 Summits Club for Norh America
www.klub7vershin.ru
www.7summits-club.com

7 Summits Club Ltd.
B. Sampsonievskiy Av.#45,
St. Petersburg, RUSSIA
+7 921 185 25 28 Luba
+7 916 390 88 96 Alex
+7 916 390 88 51 Luda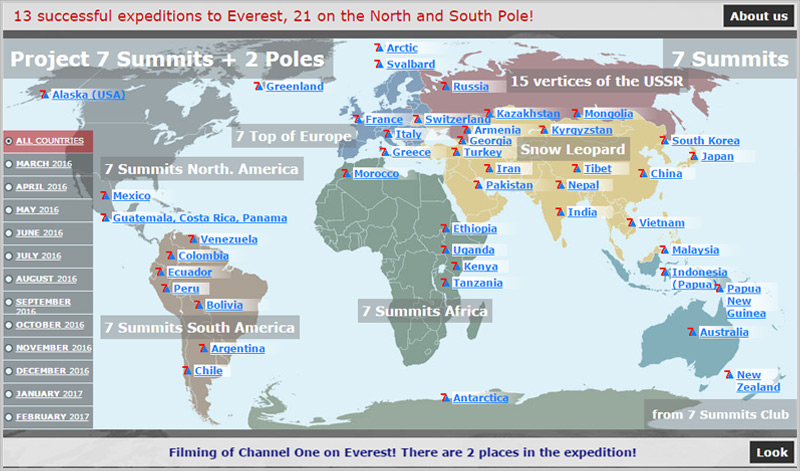 Services included in the prices:
Guide of the "7 Summits club"
Local guides 2 on the US group
Internal and / flights Talkeetna-Kahiltna Glacier (2200m) -Talkitna
Pereezd Anchorage – Talkeetna – Anchorage
Accommodation (double) Hotel (1 night in Anchorage) on arrival
Accommodation in house TAT for climbers (1 night on arrival)
Signing necessary documents to obtain the permit
Consultations route
All public equipment (tent, burners, ropes, public utensils, shovels)
Power on the climbing route (on Kahiltna glacier )
Aptechka
Airfare and airport taxes to and from Mendoza Regular service bus tickets to and from Mendoza
S / flight Moscow – Anchorage – Moscow (from 1100 USD)
Signing US visa (200 USD)
Alpinistskaya insurance (120 USD)
Personal equipment
Meals in the cities, and additional days in cities
Permit to climb (from 350 in .e.)
From / To
03.01. – 20.01.2023
» Additional dates available upon request
» Rates may vary from July 26th to 31th for the national holidays
Prices (per person): 14.400,00 USD (876 187 Rubles) ✓
Deposit for reservations: * 3.000,00 USD (182 564 Rubles) ✓ Full payment for 180 days if you cancel less than 180 days , no refund! Buy for less program – TODAY !!! On the 1st day of the next month the price will increase. The price is fixed when making payment.
Places:
*Available
Trip-code: Number
Duration: 23 days
Participants: Minimal: 6 Maximal: 9
Country / Location: Alaska (USA)
Mountain Guide: Luda Korobeshko and Alexande Abramov 7 Summits Club managers
Other dates / additional info: Contact us!
3% early bird discount when booking 6 months prior to departure 2023
Legend Booking-information:
EZZ Single room supplement
🟢 On this trip, places are still available.
🟡 On this trip, only a few places left.
🔴 This trip is sold out / closed.
Juventino Albino Caldua
Expert guide certified by IVBV - UIAGM - IFMGA
Co-Founder, Peru Expeditions
Telephone: (+51) 943780600
E-Mail: [email protected]
Transport
Recommended flight flight "Aeroflot" Moscow-Seattle-Anchorage (arrival day of departure). Moving Anchorage, Talkeetna, Anchorage -. Minivan Flight Talkeetna, Talkeetna Glacier Kahiltna-on small local firms aircraft (plane takes 4-5 people and goods in 50 kg per person) Accommodations
Anchorage accommodation in the hotel 1 night on arrival. In Talkeetna accommodation at the lodge for climbers (Hostel). Food
On the route guides made cooking.
Service staff
Throughout the program group operates an experienced guide from 7 Summits Club. On the route from Talkeetna to the group are also working on the American guides litsenzirovannnoy company (2 persons on a group of 6-8 participants) Health and Insurance
Doctors (volunteers) have Kahiltna Glacier in BC 4300 (Camp Rangers). First aid will be the leader, but it is necessary to take personal medication. Also we recommend that you start taking vitamins for a month before the trip. And even better – get a pre-acclimatization (for example, during the May holidays to go to Elbrus).
Weather
During the day on the glacier about 0 -10-20 night. At the height may fall to -30-35 ° C. The weather is changeable and unstable. Often, because of the weather we have to sit in the camps.
Estimated additional expenses
Food in Anchorage about $ 20-30 per day in Talkeetna powered 10-20 dollars cheaper than a good breakfast in the Road House (less than $ 10 polportsii).